Have you lost your joy as a mom? It can happen so easily, and often we don't even know we have lost our joy! What are some reasons that Moms lose their joy?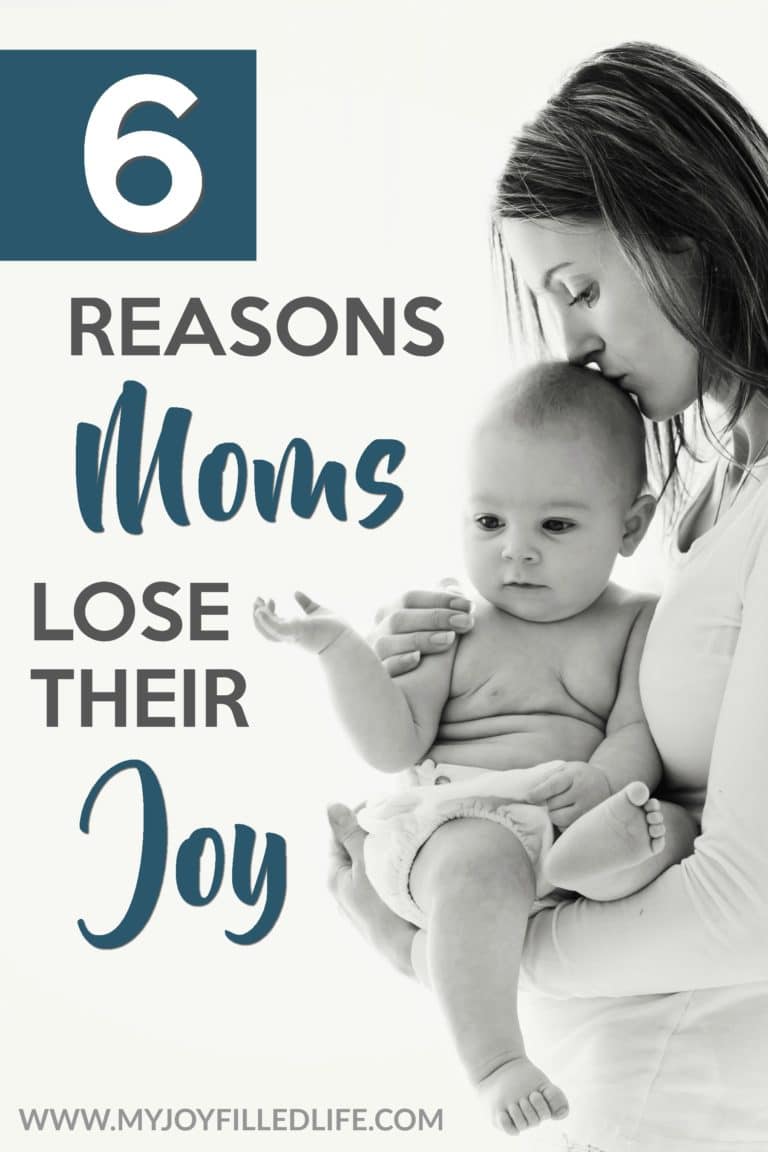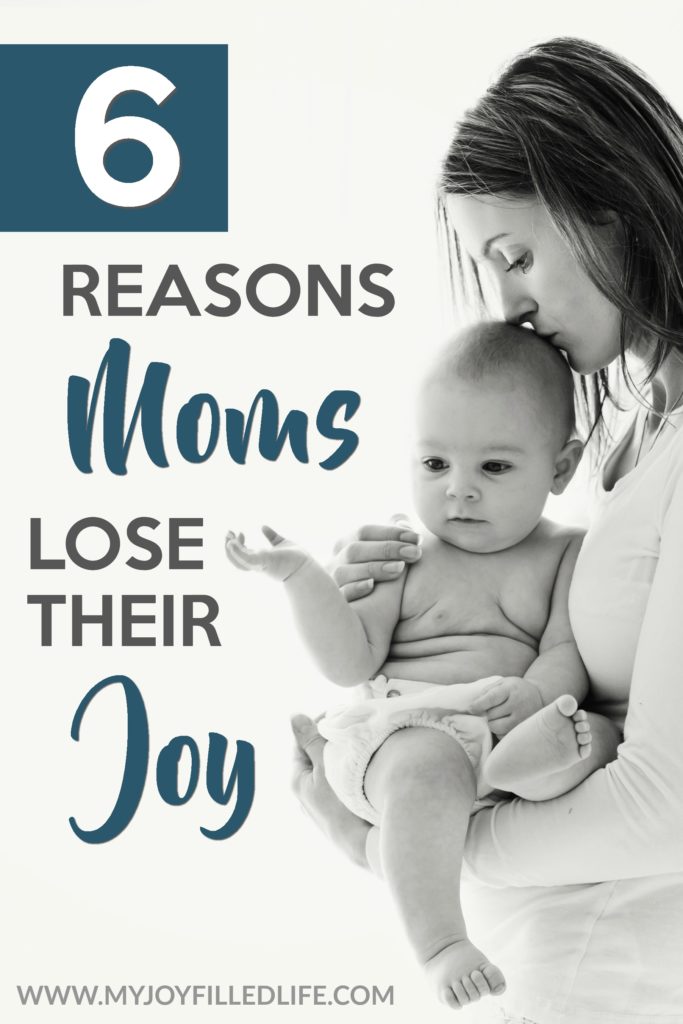 SIX REASONS MOMS LOSE THEIR JOY:
1. Fatigue.
It's so easy as busy moms to stay up late to get "a little work" done, then get up early BEFORE the kids, to get work done while they are still sleeping. However, when we do this on a regular basis, we end up worn down. Nothing steals my joy faster than being exhausted. At that point everything seems overwhelming to me, and worse than it really is. Simple solution? Guard your sleep! Make sure you get the rest you need. (Of course there are times when we have no control over this, such as when sick kids keep us up at night, or we have a new baby).
2. Uncontrolled children.
When children won't obey, or are in the habit of complaining and arguing, it makes for an unpleasant atmosphere in the home for not just Mom, but everyone. When you find that you are often mad and upset because of the kids' behavior, take a break from your normal routine and work on the character issues – especially obedience! (I recently wrote a post on this topic: 10 Tips for First Time Obedience).
3. Disorganization.
A house with young kids or many kids will never stay clean for long. There will, and should be signs that kids live there – such as toys and books. However, by decluttering regularly, having a place for everything, and regularly having kids help pick up or put things back, your home should stay fairly organized.
Another valuable part of keeping things organized is having a daily routine in the home. If you're daily accomplishing your priorities, you will have more peace and joy at the end of your day. Often we let the circumstances of the day determine our schedule, then we feel frustrated and stressed at the end of the day.
4. Hormones.
I don't think I need to say more here. We all know that sometimes our hormones can make us irritable, and weepy. I wrote a series of posts on hormone imbalance that talks about the effect our hormones can have on us, and some ways to combat the problems hormones can bring. (Homeschooling & Hormones)
5. Comparison.
Comparison is the thief of joy! Don't allow yourself to fall into the trap of comparing yourself to other moms. Each of us have different circumstances, and God doesn't call every family to the same thing. Be the mom God called YOU to be.
6. Unmet expectations.
Blessed is she who expects nothing, for she shall not be disappointed.
When we have expectations of what our kids should do or be, or what our husband should or shouldn't do, we set ourselves up to be disappointed. Give your expectations to God!
What is the reason you have lost your joy, Mom? Find the cause, then work on a solution. God wants us to be joyful mothers!
"He maketh the barren woman to keep house, and to be a joyful mother of children." Psalm 113:9

This was contributed by Kathie Morrissey of The Character Corner