Between laundry, dishes, school lessons, and dinnertime, we can rush around all day and still go to bed feeling like we haven't accomplished much! And while things will always come up, there are ways we can maximize our time and make forward progress in our lives instead of feeling like we're constantly just spinning around in circles.
Here are 5 Simple Ways to Be More Productive: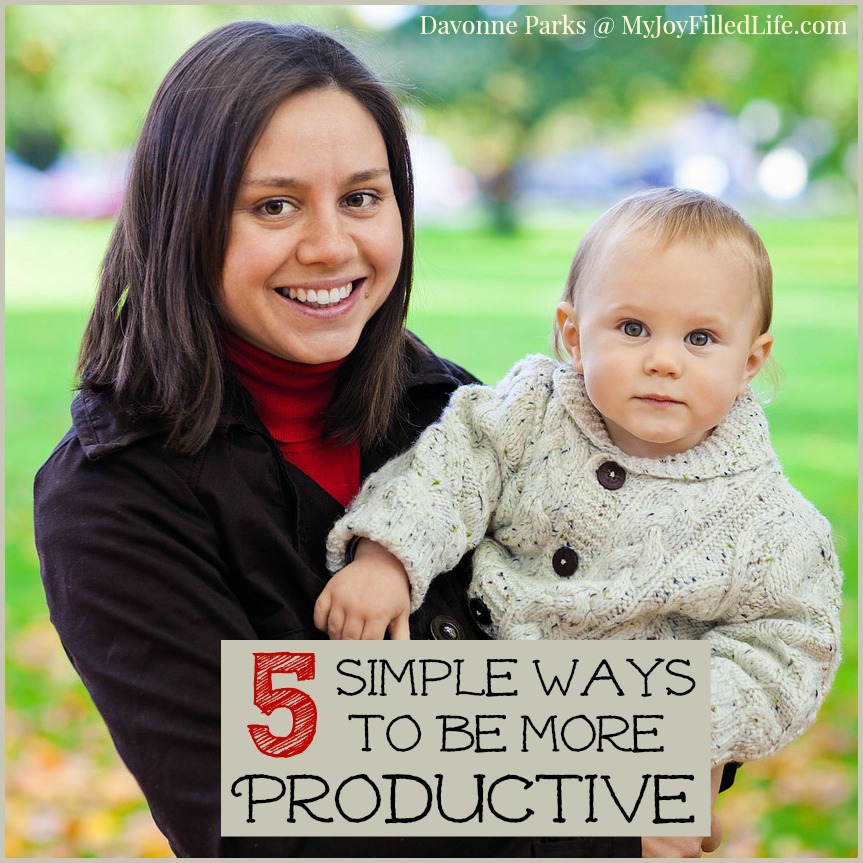 1) Limit Television Time

Even if you don't think you watch that much TV, try keeping your television off for a solid week and you may be amazed at how much more you can accomplish! If you don't want to turn the TV completely off for a week, just cutting out down by an hour a day will give you a full 60 minutes extra to accomplish a needed task or to do something you really enjoy.
2) Enlist help from your family members.
Getting others to help doesn't always mean you're going to save time at that moment. But all those hours spent teaching your children to clean up after themselves and to help with family chores will eventually pay off which will enable you to be more productive in the long run!
3) Don't worry about perfection.
The Pareto principle (or 80/20 rule) says you can do 80% of the work in 20% of the time, but it takes 80% of your time to complete the last 20% of the work. Much of the time, it's okay to simply leave that last 20% undone.
4) Bless – don't impress – others.
Whether we're taking a dish to a potluck, having company over for dinner, or meeting someone for lunch at the park, we can be tempted to try to impress others with our culinary or housekeeping skills.
Let's instead choose to tear the walls down, invite others into our imperfectness, and make sure we're more concerned with blessing others than we are with impressing them – it will save us a lot of time and energy as well as give others the freedom to let their guard down around us!
5) Recognize that you're in charge of your time.
One thing I learned from the time-management books I've read is that we're all in charge of our own time. Most of us chose to get married. Then we chose to have kids. And because of financial and personal reasons, we decided to either work outside the home, stay at home, or work from home. Yes, interruptions or stresses happen because of those choices, but they're still choices!
Bonus Tip: Have a good attitude. We all know the saying that mama sets the tone for the house. When we're stressed and grumpy, our kids will often mirror our bad mood by becoming whiny and clingy. Simply choosing to keep the environment positive by having a good attitude can often lead to more productiveness all the way around!
What tips do you have for becoming more productive?