Since becoming a mother and starting to homeschool I have gone through a lot of ups and downs. One day I feel like I am on top of the world and want to proclaim to everyone that I've got this! Then there are those days when I compare myself to other homeschoolers and moms (who seem to be doing way more than I am), put pressure on myself to cram everything into one day, start to think that there is no way that I can possibly teach my children everything they need to know, and begin to think that I should just give up.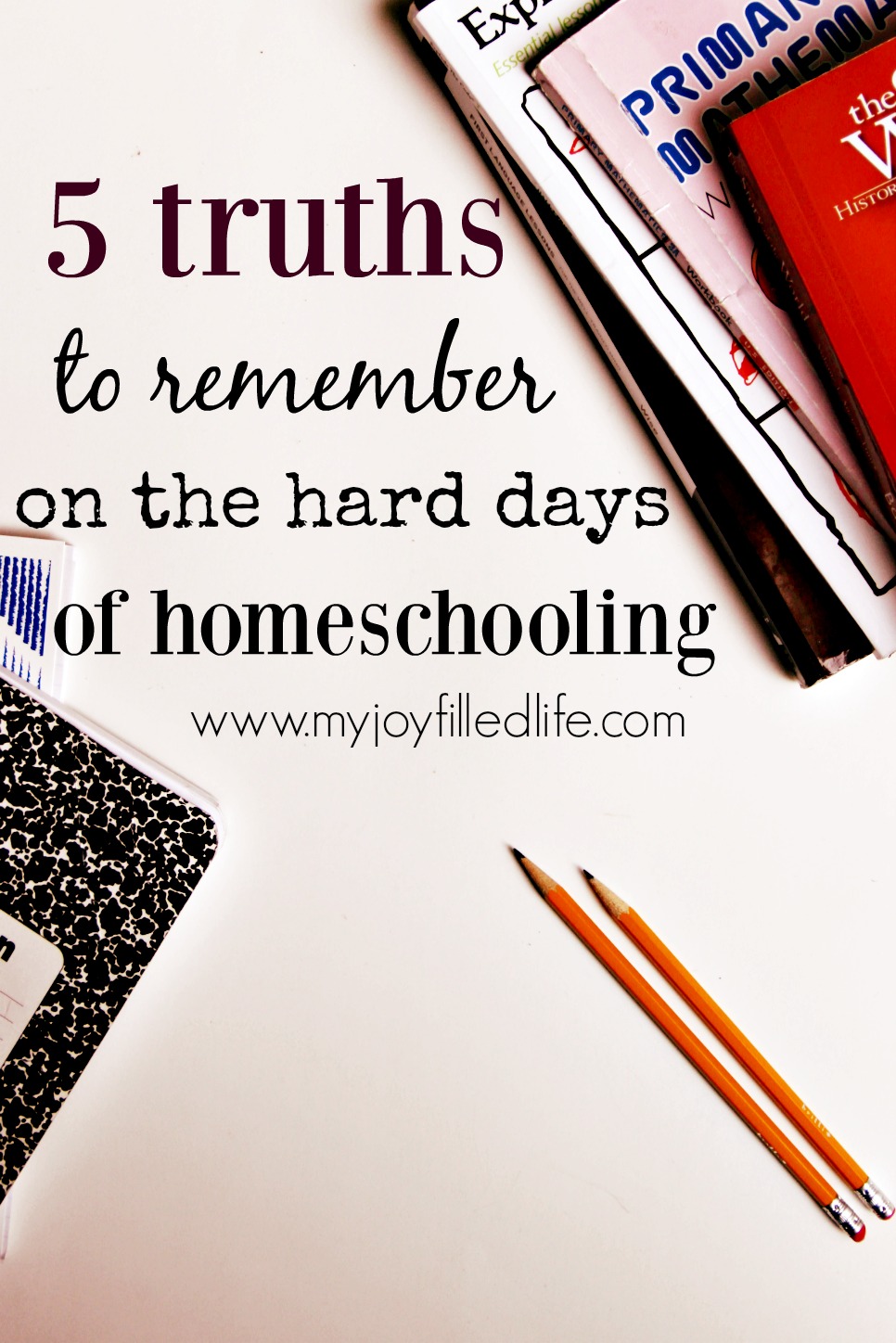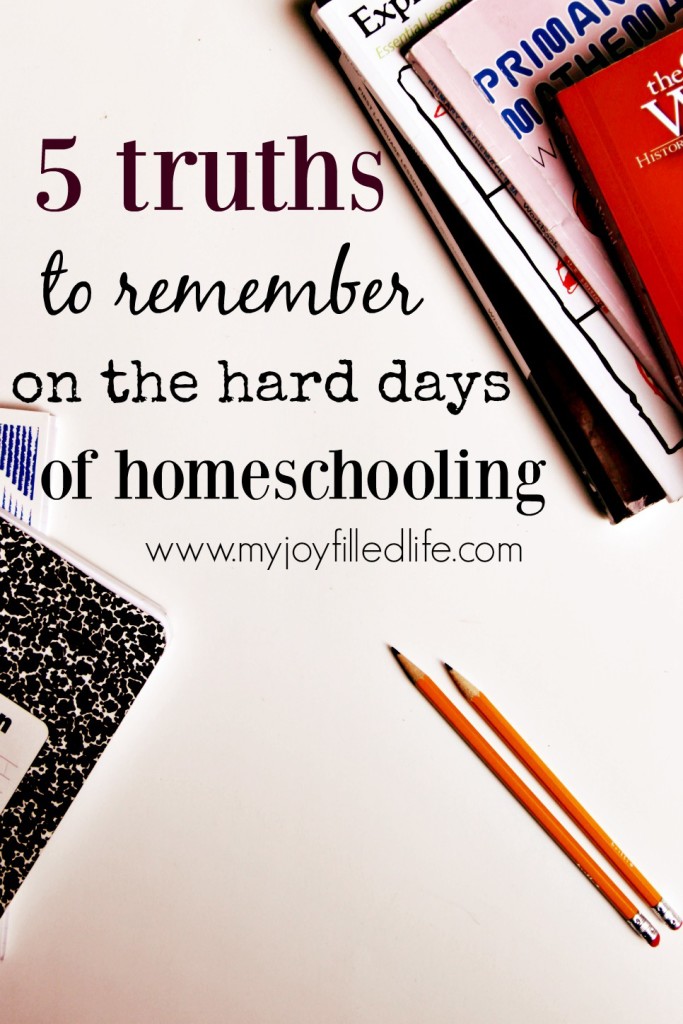 Do you have those days too?
I have come to realize that the failure or success of my homeschool is all in my mind. If I let myself sink into a pit of despair, comparing and drowning myself in fear and worry and giving in to the negative voices of the world, I will ultimately fail. But…if I look outward instead of inward, focus my eyes on Jesus and what he has called me to do, acknowledge that he has given me everything I need to train up my children in his ways and teach them at home, I will succeed. Not because I am smarter, stronger, or have more faith than others, but because I chose to be obedient to God's leading and calling on my life.
When I am having one of those days when everything seems to be falling apart, it's easy to let the rest of the day go in a downward spiral until I am barely able to breathe, floundering about, not knowing which way is up or down. When those days come, (because they will come) I have been asking God to give me the strength to not let those thoughts and emotions control me or take me and my children into a bad place. God has been so faithful to reveal some truths to me to hold onto during those times. With every truth I hold onto, I climb up out of the pit (in my mind) of my own making and find my way to a better place.
1. You are the best teacher for your children
Many days I would much rather pack my children off to school and let someone else teach them. I know that they would most likely not talk back or give someone else as hard a time as they give me. But I am finding that instead of avoiding these difficulties, I have to address the issues we are having and work through them. Because of this, I know our relationships are growing stronger and we are learning so much together. I might not always feel like I am cut out to teach my children but I know that as their mother, I am the best one for the job. The day will come when they will leave home and I will pack them off to learn from someone else, but until then I am thankful for each day I have to teach… and to learn from.
2. How much do you remember when you were in school
Whenever I get overwhelmed by all there is to teach my children I ask myself, "How much do I really remember from school"? This isn't to say that I shouldn't teach my children anything because they won't remember it, but to focus on teaching them the subjects that really matter and will stay with them the rest of their lives. We are so amazingly blessed in our age to have so much information, resources and tools right at our fingertips. The problem is it can often be overwhelming and intimidating. There are going to be many things that we teach our children that they will probably forget but don't let the pressure of doing it all get to you.
3. Give your children a love for learning, not just learning
Right along with focusing on teaching your children what really matters, comes giving them a love of learning. We are so quick to stuff information, facts, rules and mindless phrases into our children without even taking a second to think about how they are processing it. Many days my mantra is, "Hurry up so we can get done with school." I know…it's sad. I have to stop myself so often from rushing, from the urge to just get it done, from constantly trying to fill my children's heads with everything they need to know in as short a time as possible. I have been thinking about what it truly means to love learning, and the best way I can describe it is this:
A desire to know more about a particular area of study or interest so much so that you don't want to stop learning about it. It's enjoying the process, the journey so much that you don't even realize you are learning.
This is what I want for my children. Granted there are many days when I know it won't always be interesting. That being said, I want to be more intentional about giving my children the opportunity to delve into those subjects which bring them delight and excitement. I want to search for ways to open up their minds to learn in a way that ignites their passions.
4. Don't compare you or your homeschool to other's choice of education
This can be a struggle for so many, and I know is often for me. I find myself so many times thinking that I don't measure up or that what I am able to teach my children is an inferior education to others. The truth is that this is what is best for my family. I know they are learning so much that they wouldn't be in another situation. Homeschooling is not a one fits all solution, but it is the best fit for my family.
5. God has given you everything you need to teach your children
It all comes down to knowing that we as homeschoolers have been given such a gift. It might not seem like it every day, but it's a privilege and a joy to be able to homeschool our children. Some days are extremely hard. Not only are you caring for the physical and emotional needs of your household, but responsible for your children's educational needs as well. There are many days when I feel like I have had the life sucked out of me and I can't wait till it's the weekend. Then there are those days when I have to pinch myself that I get to do this. Many days I can't wait to hand them over to my husband when he gets home and many times I feel like I don't spend enough time with them. I know… I am so fickle. But I love that this is my job and God has called me to it. I might not always feel up to the task, but when I remember that God will give me everything I need to do this; I know I can succeed and so can you!
The following two tabs change content below.
Rebekah is living out her dreams as wife to her best friend and homeschooling mama to 5 crazy, beautiful little ones. She loves to encourage and empathize with other women and moms as she shares her heart, faith, joy and struggles on her blog
faithful with the little
. In the midst of meeting all the needs for her ever needy family you can find her running, thrifting, crafting, taking pictures, baking, writing and finding ways to be efficient and organized in her 2 bedroom home. Most of all she loves snuggling with her children and watching them play, create and learn. She lives in sunny Florida on a little farm in the city consisting of children, chickens, bees, gardens and lizards.