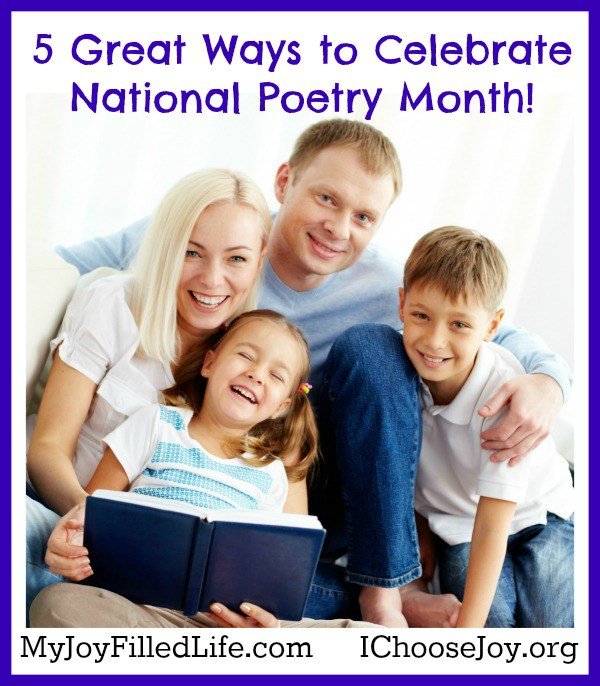 Did you know that April is National Poetry Month? If you aren't big into teaching poetry in your home, this is a great time to try a few things! Today I'm happy to share with you
5 Great Ways to Celebrate National Poetry Month
Read a new poem every day
I remember what inspired me to do this for the first time about eight years ago. I was doing some reading on the Charlotte Mason educational method and decided that the easiest way to start including poetry in my home, and hopefully start appreciating it more myself, was to actually read one poem every day to my kids. That was simple enough, right? One of my favorite books is A Child's Anthology of Poetry
by Elizabeth H. Sword. The first time I read through it I made a mark in the top right hand corner of each poem's page after I read it. I put an "X" if I didn't like the poem for some reason (and then didn't read those poems the next time through). I put a check mark if I thought it was okay. And I put a star if I thought the poem was worthy to have extra work done with it – like memorizing it or writing it out as copywork. A couple of other poetry books I've loved are Eric Carle's Animals Animals, A Child's Garden of Verses
by Robert Louis Stevenson, and When We Were Very Young
by A. A. Milne. And if you think humorous poetry is the best way to start with your kids, try Be Glad Your Nose Is on Your Face: And Other Poems: Some of the Best of Jack Prelutsky
and books by Shel Silverstein such as Where the Sidewalk Ends: Poems and Drawings
.
Write a Poem
There are many websites that can give you some tips on how to teach poetry to your kids and get them to write some poetry themselves. Here are two suggestions to get you started: Haiku Starter at ReadWriteThink.org and Jack Prelutsky's Poemstarts. See how a couple of my kids did these assignments.
Memorize a Poem
I think memorizing poetry is great for several reasons. Memorizing the poem gives the kids further and deeper appreciation for it because they really get to know it. If they're going to present it after it's memorized, help them learn which words to emphasize, how to speak slowly and enunciate, and maybe even add some gestures and facial expressions to express the poem even more for the audience. You can find shorter or longer poems, happy or sad, deep or funny–a poem perfect for each of your kids!
Put a Poem to Music
Find a poem that rhymes and make up some music- for singing it or accompanying it with an instrument such as piano or guitar. Also, write out some of your favorite songs and see how they are actually poems themselves put to music!
Decorate a Poem
For some artistic kids, this will be the most fun activity. Use one of the free printables found at I Choose Joy! to copy a favorite poem. Use calligraphy, creative lettering, or a fancy font on the computer if you wish. Then decorate all around the words to express the meaning of the poem.
If you are looking for a few more ideas to celebrate National Poetry Month, see Great Links and Free Printables for Fun Poetry Month Activities at I Choose Joy! Also, find a new series called Music and Poetry with some fun resources and tips at Music in Our Homeschool.
The following two tabs change content below.
Gena Mayo is a Christian homeschool mom of 8, ages 14 down to 3. She has been married to her best friend for 17 years and blogs at
Choose Joy!
about family, homeschool, and homemaking. You'll also find awesome giveaways and reviews there! When not busy with the above, you'll find Gena teaching music classes (voice lessons, music history, choir, musical theater) and writing music curricula. She is excited to have children at all stages in homeschooling now, preschool through high school.