Many years ago I just had toddlers in my home. I attended my first homeschool convention when my oldest was 17 months old and brought my newborn baby with me. I was so ready to get started!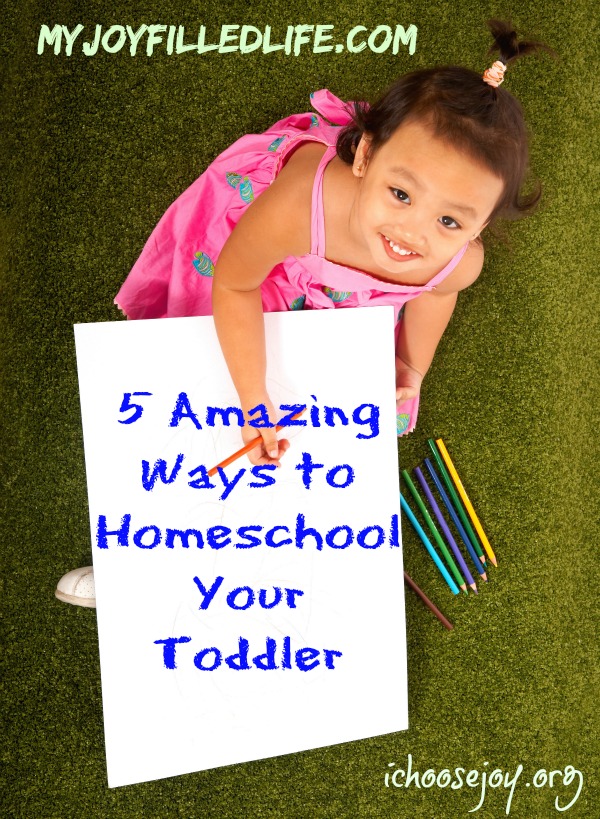 Now, after "homeschooling" 8 toddlers, I have some tips for you. Today I'll share 5 Amazing Ways to Homeschool Your Toddler.
Read to them
You probably knew this one! Here's how I did it. I nursed all my children until they were 12-18 months old (depending on when the next baby was going to be born). As I started weaning them, I replaced the nap time feeding with a short story time. Before long my toddlers had 3 reading times a day–before morning nap, before afternoon nap, and before bedtime. I have a great number of board books. I find that those with simple pictures and few words work best at first. But even if you use a book that seems too advanced, you can tailor it to your child. A lot of times I would just read one sentence per page, or maybe even just a short phrase. Those little ones often seem to want to turn the page quickly. Another thing I did was talk about what I saw on the page. "Do you see the dog? What does the dog say? Where is the girl? What color is the horse?"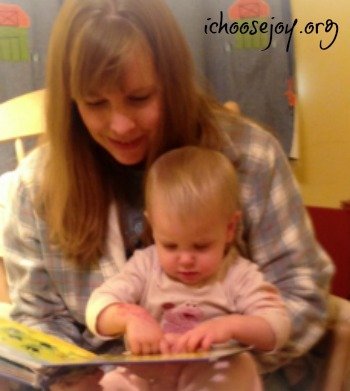 Teach letters and sounds
Teaching letters and sounds is the most important step to getting the kids ready to learn how to read. I've taught 7 kids how to read so far, and am glad I always worked hard at this step. I loved using books such as Eating the Alphabet
by Lois Ehrlet and Dr. Seuss's ABC: An Amazing Alphabet Book in their story time to help my toddlers learn the letter names. After they knew the names, we started talking about sounds. I just taught the "first" sound of each letter– the short vowel sound or hard consonant sound to my toddlers. Some of my other favorite resources for helping them learn the letter names and sounds are the LeapFrog Fridge Phonics Magnetic Letter Set
and the DVD LeapFrog: Letter Factory
. I don't let my toddlers watch many videos, but this DVD, which we affectionately call the "Letter Movie," is truly genius in helping them learn the sounds quickly!
Provide busy bags and other learning toys
A couple of times I've joined in with some other ladies to swap busy bags or quiet book pages. I have quite a few posts about these at I Choose Joy! and also a great Quiet Books/Busy Bags Pinterest Board. I keep a group of different sets of bags, toys, art supplies, play-doh, or games that are age-appropriate in boxes and bring them out at special times to help the toddler have a great educational experience. Sometimes I or the other older children will work with him or her; other times it's free play time.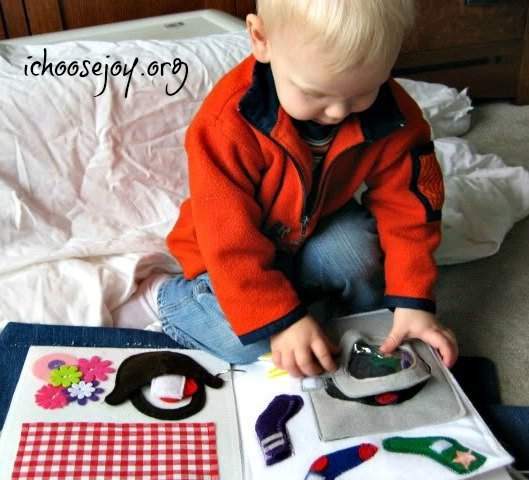 Play with them to help them explore their world
There are other ways that toddlers need parents or older siblings to play with them. Help them build a train track. Play dress-up or house. Make a car with Magformers. Run around at the park. And go on field trips to the zoo, the children's museum, or the botanical garden!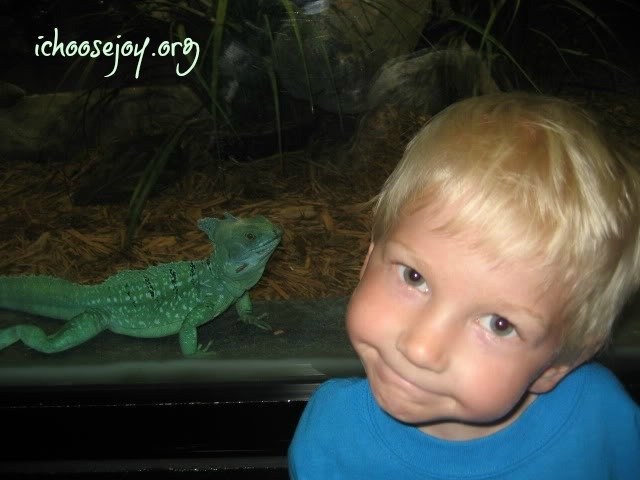 Start setting good habits early
We are certainly not perfect in this area, but we did do a few things right. And, believe me, it's so much easier to start these habits with a toddler than to try to add them in later!
Have set nap times (or rest time if they no longer sleep) and early bedtimes.
No TV, except for a short educational DVD during pre-dinner time or movie nights on weekends. They will learn to play so much more if the TV is kept off! One DVD I do like them to watch is ABC Say it With Me: Bible Memory Verses.
Set very strict times for computer or other screen time. My younger kids get only 20 minutes a day on iPad or computer, 30 minutes on the weekends.
Eat together as a family most nights.
Pray with them at mealtimes and bedtimes, among other times!
I hope you are excited about your homeschool career. Yes, start with you toddler and enjoy these wonderful years.! They go quickly and are such precious times. If you liked this post, you might also like Homeschooling With Toddlers: Tips and Resources.
The following two tabs change content below.
Gena Mayo is a Christian homeschool mom of 8, ages 14 down to 3. She has been married to her best friend for 17 years and blogs at
Choose Joy!
about family, homeschool, and homemaking. You'll also find awesome giveaways and reviews there! When not busy with the above, you'll find Gena teaching music classes (voice lessons, music history, choir, musical theater) and writing music curricula. She is excited to have children at all stages in homeschooling now, preschool through high school.