As a Christian homeschooling mom, I try to incorporate the Lord and our Biblical worldview into our studies and curriculum whenever I can. It's easy to do with some subjects, but for some subjects it takes a little creative thinking.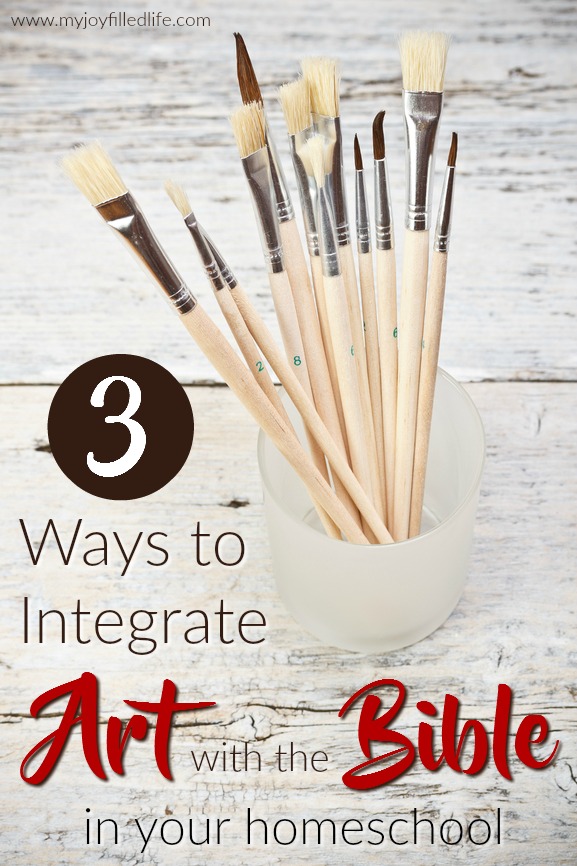 When it comes to art, we use the following ideas to integrate our art lessons with the Bible.
Bible Arts & Crafts
I have quite a few young children, so arts and crafts is always a fun time at our house. We don't do them nearly enough, so when we do, the kids get extra excited and I want to make them count – meaning that I want their projects to serve a purpose and be memorable, so I like it when we can do an art project or craft that relates to our Biblical studies.
There are so many great Bible art and craft ideas floating around on the internet. From beautiful stained-glass art projects to making your favorite Bible characters out of empty toilet paper rolls, you really can find an array of ideas, using many different mediums on the internet. My favorite place to find ideas is Pinterest. You simply search for 'Bible art for kids' or 'Bible crafts for kids' and you will immediately have a multitude of project ideas at your finger tips. You can also start out by looking through my growing Pinterest board of Bible Arts and Crafts.
Bible Journaling
Now this is something that is pretty new to us, so I don't have that much experience with it. Bible journaling is so much more than drawing and coloring; it is a fun way for you to connect with the Lord and get into his word. Bible journaling can be anything from reading a passage and then drawing out the scene or story, or simply drawing whatever comes to you from reading a certain passage, to meditating on a specific verse and rewriting it with fun or fancy handwriting. There really is no right or wrong way to journal as you submerge yourself in God's word. They even make Bibles now that leave blank spaces for artistic expression. And you can buy coloring books with beautiful, elaborate drawings surrounding different Bible verses. If Bible journaling is something that interests you, this post is perfect for beginners.
Christian Curriculum
Choosing an art curriculum for your homeschool that is Bible-based can making integrating your child's art lessons with the Bible very easy for you as a busy homeschool mom. Several years ago we found such an art curriculum that we very much enjoy – See the Light.

See the Light is an art curriculum company that brings their love of the Lord, their love of children, and their love of art all together to teach a wide variety of artistic techniques. See the Light is a Bible-based DVD series, that is offered in 3 different sets (you can also buy each DVD individually) – Art Class, Art Projects, and Bible Stories.
The Art Class series contains 9 DVDs and 36 step-by-step lessons. Each lesson runs approximately 15 minutes and includes suggestions for follow-up drawing activities. Your child will learn about things such as shape and space, texture and form, and coloring blending techniques. Art history is also included, and your child will learn about many famous artists and their masterpieces. And most importantly Biblical truth is integrated into every lesson.
Art Projects is a boxed set of 9 DVDs that will provide a full-year of art lessons and even fulfills an art credit for your highschooler. With each Art Projects DVD, your student will create their own masterpiece in the style of famous artists – they will create an oil pastel sunflower in the style of Dutch Artist Vincent van Gogh, paint a watercolor seascape in the style of American Artist Winslow Homer, and much more.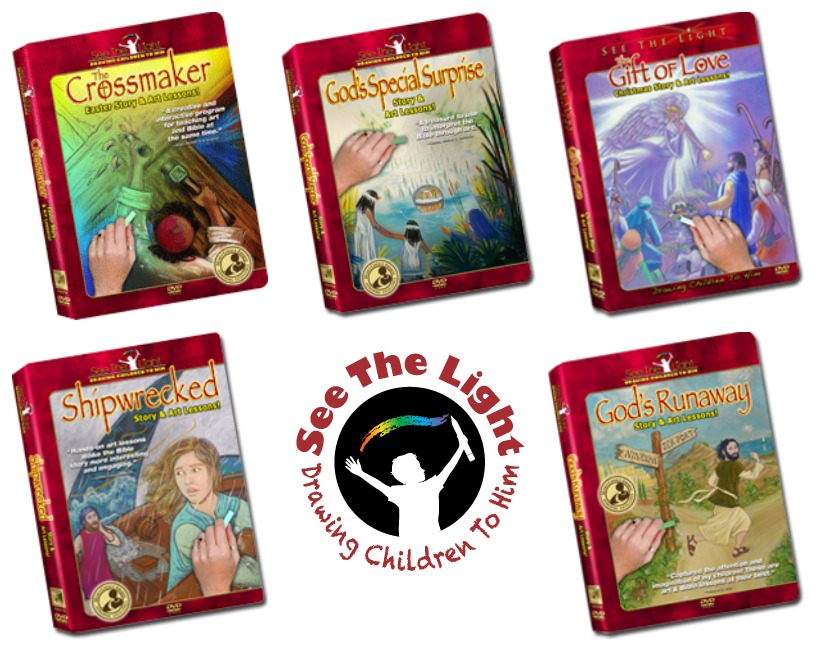 My kids' latest creations were from the Bible Stories series. With Easter right around the corner, I decided to have them do a lesson from the Crossmaker DVD. The Bible Stories series contains 5 DVDs that will allow your children to explore the Bible through interactive art. First your child will watch as the artist draws the Bible story, then they will watch and listen to a dramatic telling of the story, and then they can do one or all three of the step-by-step Bible related lessons that follow.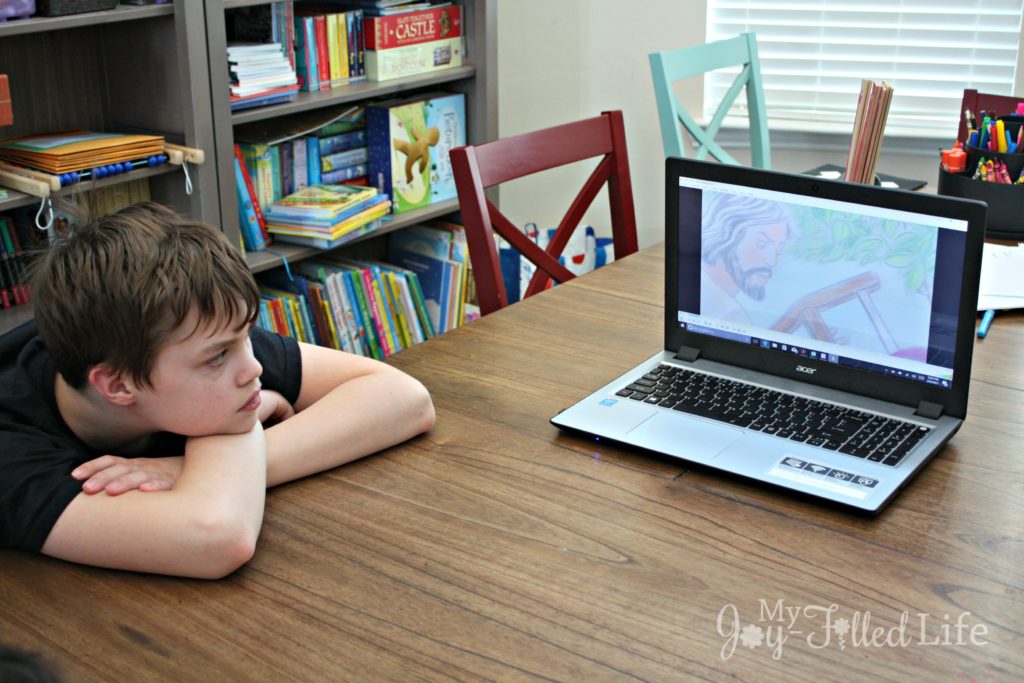 The lesson my kids just completed from the Crossmaker DVD was Three Crosses on a Hill. This is a tutorial in water colors with a special glowing feature when you view the finished piece under a black light. The video instructions are very easy to understand and follow, and my kids were very pleased with the finished product.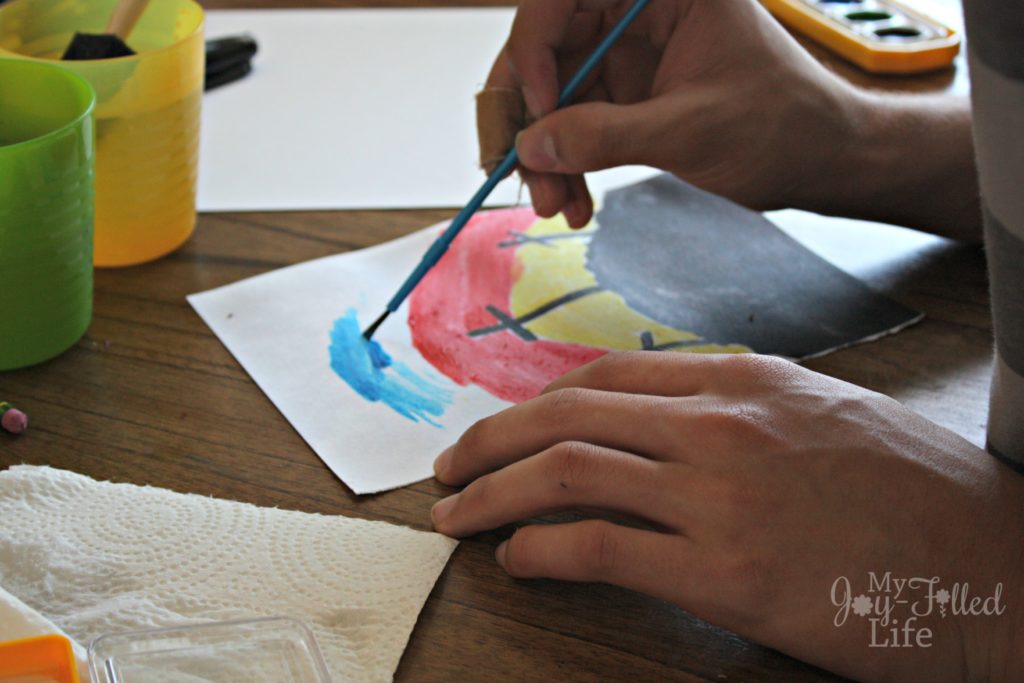 I apologize for the blurry photo, as I haven't mastered taking pictures in the dark with no flash yet. But I wanted you to see the cool black light affect from using fluorescent crayons around the crosses and along the ground.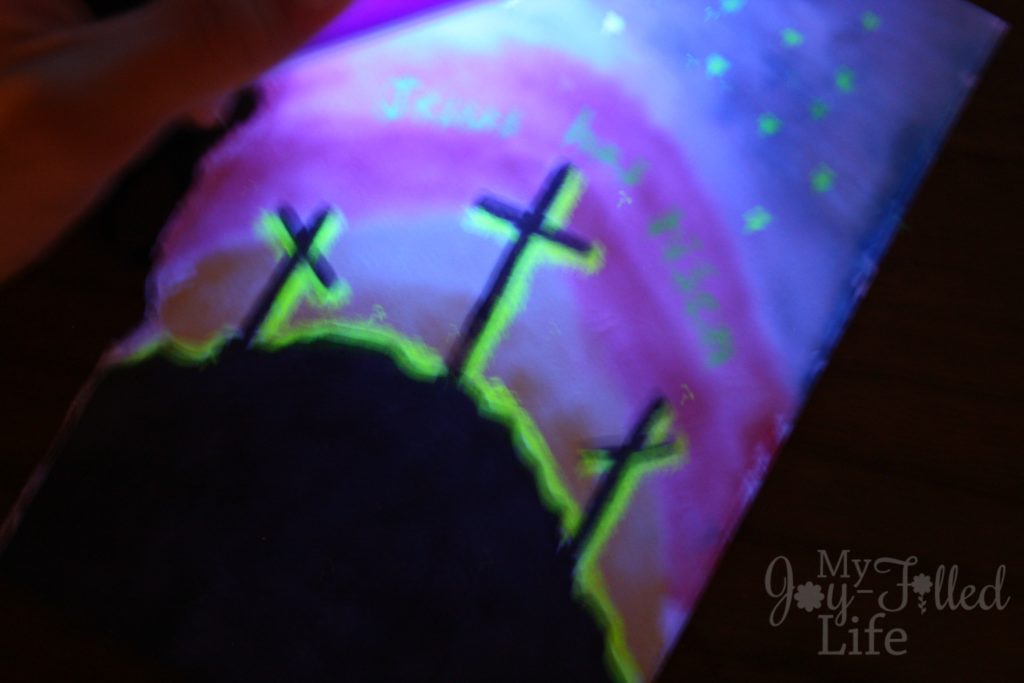 I love that this curriculum is Biblical and wholesome, yet entertaining and educational. Plus I can use it with a wide age range; I've used See the Light DVDs with kids as young as 4 and as old as 14. And…. I don't have to know a thing about art!
When you head over to the See the Light website to check out all of the DVDs that are available, be sure to check out the video previews, tips, free lessons, and downloads as well. They have lots of great resources available on their site for you to explore.
If you've been looking for a Biblical art curriculum, look no further than See the Light! You won't be disappointed.
How would you like to win the Bible Stories boxed set for your family? Use the Rafflecopter form below to enter:
Giveaway ends April 2nd at 11:59pm EDT. The winner will have 48 hours to respond to email to claim prize. Please be sure to read the Terms & Conditions upon entering the giveaway.