When we first start our journey as parent, or start homeschooling, we are usually excited about it. It's common to have a vision and be passionate about it. To stay focused on and excited about that vision, as parents we must be careful to remember three vital things.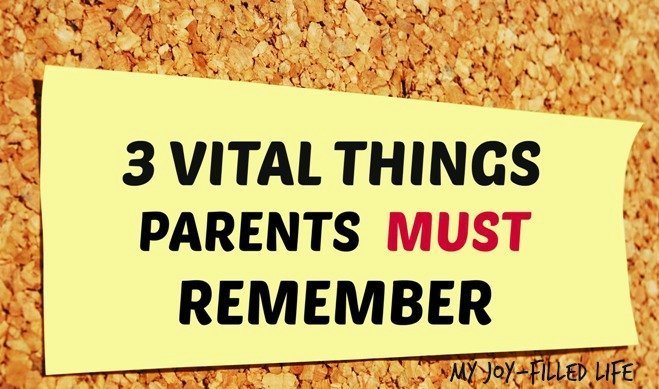 In the midst of your early excitement, you may feel that you'll never lose your passion and vision. However, it's easy to forget those things as we struggle with the busyness that parenting brings, schedule decisions, what outside activities to be involved in, etc. Homeschooling parents can get overwhelmed with all the curriculum choices.
It's a common thing to not only get overwhelmed as parents, but to end up getting off track from where we started. This often leads to discouragement.
The key to dealing with the discouragement, and the feeling of being overwhelmed is recognizing what we have forgotten. I'm going to share three things that are easy to forget at times over the years of parenting and homeschooling.
THREE THINGS WE MUST REMEMBER
1. Our Purpose
Purpose is defined as an aim or a goal; an intention.
What are your parenting goals?
If you home school, what is your purpose?
As Christian parents, we MUST have an active purpose and philosophy of teaching and training our children.
"The emphasis throughout the Word of God is to train our children from their infancy to serve the Lord; to train them on purpose to be righteous; to train them specifically to be godly; to particularly train them to be disciplined; to train them to do the things they ought to do; to train them to walk in the spirit. The goal of every Christian parent ought to be that his children grow up to be godly, not just good." (From TRAINING OUR CHILDREN TO TURN OUT RIGHT by Dave Sorenson)
This is something vital to remember as a parent.
2. The Need For Perseverance
Perseverance means to persist in or remain constant to a purpose, an idea, or a task in the face of obstacles or discouragement. When discouragement comes in our parenting or homeschooling, we must keep going and persevere.
"Praying always with all prayer and supplication in the Spirit, and watching thereunto with all perseverence and supplication." Eph. 6:18
Discouragement will come in your parenting, and homeschooling. It just goes with the territory. Sometimes we are just tired; other times we are facing difficult challenges. At those times, it's very important to go back to our goals and purpose.
When your perseverance is waning, claim I Peter 5:7,8:
"Casting all your care upon Him for He careth for you. Be sober, be vigilant; because your adversary the devil, as a roaring lion, walketh about seeking whom he may devour."
Remember, Satan NEVER quits seeking to devour us or our children. He is always on the lookout to destroy our families. If we quit persevering, we are giving him an open door to do that.
3. God's Promises
BUSY is probably one of the best ways to describe our parenting and homeschooling days. Often in the midst of all the busy, we begin to carry the weight of all our responsibilities on our own shoulders. We forget about the power we have through prayer, and the promises that are ours to claim. God doesn't lie, and if He promised it, we can believe it. We need to remember and claim His promises!
A few of my favorites promises:
"Let us not be weary in well doing, for in due season we shall reap, if we faint not." Galatians 6:9
"Call unto me and I will answer thee, and show thee great and mighty things which thou knowest not." Jeremiah 33:3
"So shall my word be that goeth forth out of my mouth; it shall not return unto me void, but it shall accomplish that which I please, and it shall prosper in the thing whereto I sent it." "Isaiah 55:11
As we use God's Word to teach and train our kids, let's remember these promises, and that His Word will NOT return unto Him void. When you are weary, remember you WILL reap results, but you have to keep on.
In summary, going back to our first point – what is your purpose, or what are your goals? What do you want to see in your kids as a result of your teaching and training? To accomplish those goals, daily remind yourself of your purpose, the need to persevere, and the power that God promises in His Word.
The following two tabs change content below.
Kathie Morrissey is the mother of 8 children, wife to Alan for 37 years, and a committed homeschooling mom of 31 years. She is the founder of
The Character Corner
, where she loves to blog about parenting, family life, homeschooling, and life in general. Kathie is a popular speaker at home school conventions and support groups, as well as ladies retreats. Her heart's desire is to help and encourage parents to be purposeful in raising Godly children with strong Christian character, who walk in purity, and have a heart for God.