This is a post from Nicole Crone of Children are a Blessing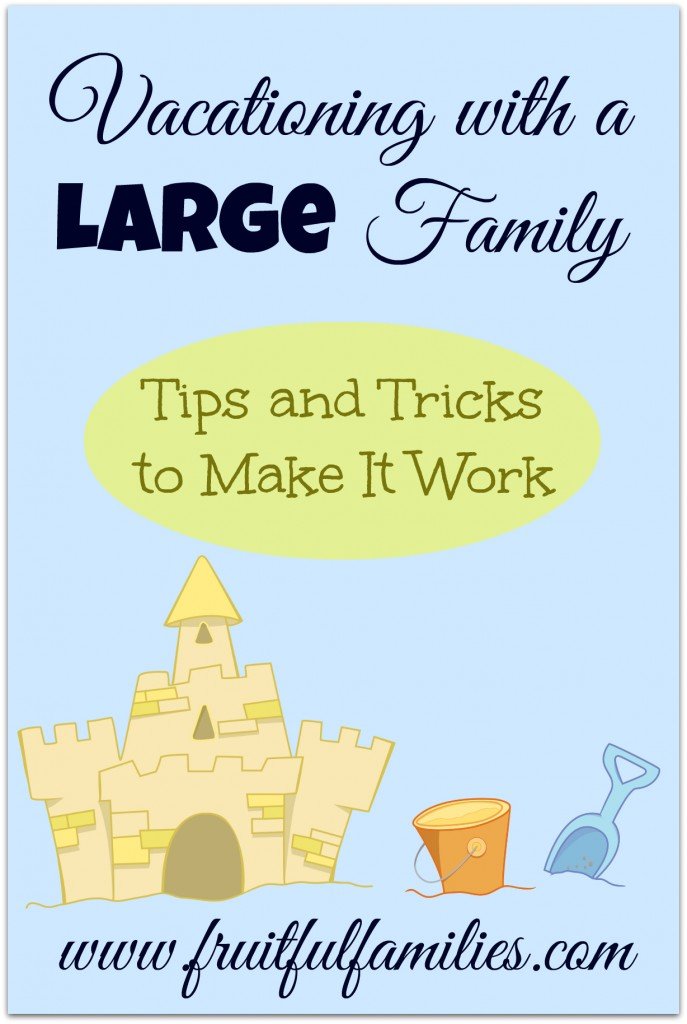 I'm not sure about your family, but mine really loves to travel! As a homeschool mom, I'm always on the lookout for fun, yet educational excursions for my crew to embark on. When we only had a few children, vacationing wasn't too much of a logistical nightmare. Now with six (soon to be seven) children, sometimes we do things a bit differently such as getting a camper van. If you're considering going on extended road trips or cross-country journeys, an offroad caravan from Prime Campers can make these trips more enjoyable and convenient. Vacationing with a large family has a few additional challenges. I would love to share some tips that I have learned along the way with you!
What we do on the journey…
Packing: If I can, I combine several children's clothing into one suitcase. I usually pack the "baby" of the family's clothes along with mine. If we are staying somewhere for a week or longer, I try my best to book a condo with a washer and dryer so we do not need to bring as many clothing items. Thankfully my husband is a master organizer when it comes to loading our van!
Snacks: We bring juice boxes along the way, which work as a drink for snacks and meals alike. A frugal way to separate snacks is to say, purchase a big box of crackers and then divide it into Ziploc bags instead of purchasing smaller snack sizes. If you are like us however, an entire box of snacks can be devoured in one sitting, so there is really no need for bags.
Meals and Rest Stops: We try our best to stop at meal times only. Everybody makes a trip to the restroom, whether they want to or not. (On a side note, we most definitely stop if someone really needs to go!) We usually eat at a fast food restaurant.
Entertainment: The older children bring books, and I bring a goodie bag for each child with a few of their toys. I also normally bring along a new $1 coloring book and crayons for each child under 10. Sometimes I will download a new children's CD especially for the trip and surprise the kids!
What we do when we arrive…
A few of the older children are designated to help dad with the unloading, while myself and the younger children stay out of the way. Things go much more smoothly when we do this!
Before we arrive I usually already have a plan of action in regards to sleeping arrangements. Once I know the room configuration, I give the kids a heads-up so there is no complaining or swapping once we arrive. Also, we always try our best to vacation during the off-season. As homeschoolers, we have this luxury. Off-season vacationing means lower rates and smaller crowds!
We usually make a run to the nearest grocery store for food items. Most trips we only eat out 2-3 times during the week. Unless we are at Disney World with a free dining plan! We do always do our best to find a hotel near Disney so that we are able to fully enjoy the day, and waste a lot of time coming and going. Those that are nearby are also really nice as well.
What we do during the bulk of our vacation…
We look online and try to find nearby state parks and other similar attractions to visit preferably ones with portable restrooms. These places usually contain interesting natural or historical landmarks, and they are free!
We set a souvenir budget for each child and try to stick with it. I've been known to splurge a bit if the "souvenir" is educational however. If we are going to a high dollar location, like an amusement park, I usually try to pick up some special items beforehand. The Dollar Tree and Michaels has lots of fun Disney merchandise for around $1.00.
We have children that range from teenagers to toddlers, and so their interests vary widely. We try our best to stick together as a family, and we do activities for different age ranges each day.
On our way home…
We try to copy what we did on our journey to the best of our ability!
We try to stick to the plan, but if things don't go according to schedule we try not to sweat it! Enjoy your babies, enjoy your husband, and have a memorable vacation!
Do you have any vacationing tips that you would like to share?