The written word is powerful.
It can lift you up or tear you down.
Not only can you remember those words/books that have impacted your life but you can tangibly keep going back to them over and over again when you need encouragement and inspiration.
I can think back and remember those books that have left their imprint on my life. They encouraged me when I was down, and spoke life and truth to me just when I needed to hear it.
I try to make it a point to read a few books every year that I know will rekindle my passion for Jesus, inspire and encourage me to be a better homemaker,homeschooler, mother and wife; edifying my mind and soul. If I am not intentional about it I know it won't happen, because let's face it we are all busy. We shouldn't be too busy though that we don't take time to refresh and renew our minds.
I have not read all of these books but I have heard only good things about them. And the ones that I have read I can testify to being must reads.
I hope every woman in whatever stage of life; will be able to find a book that speaks to you.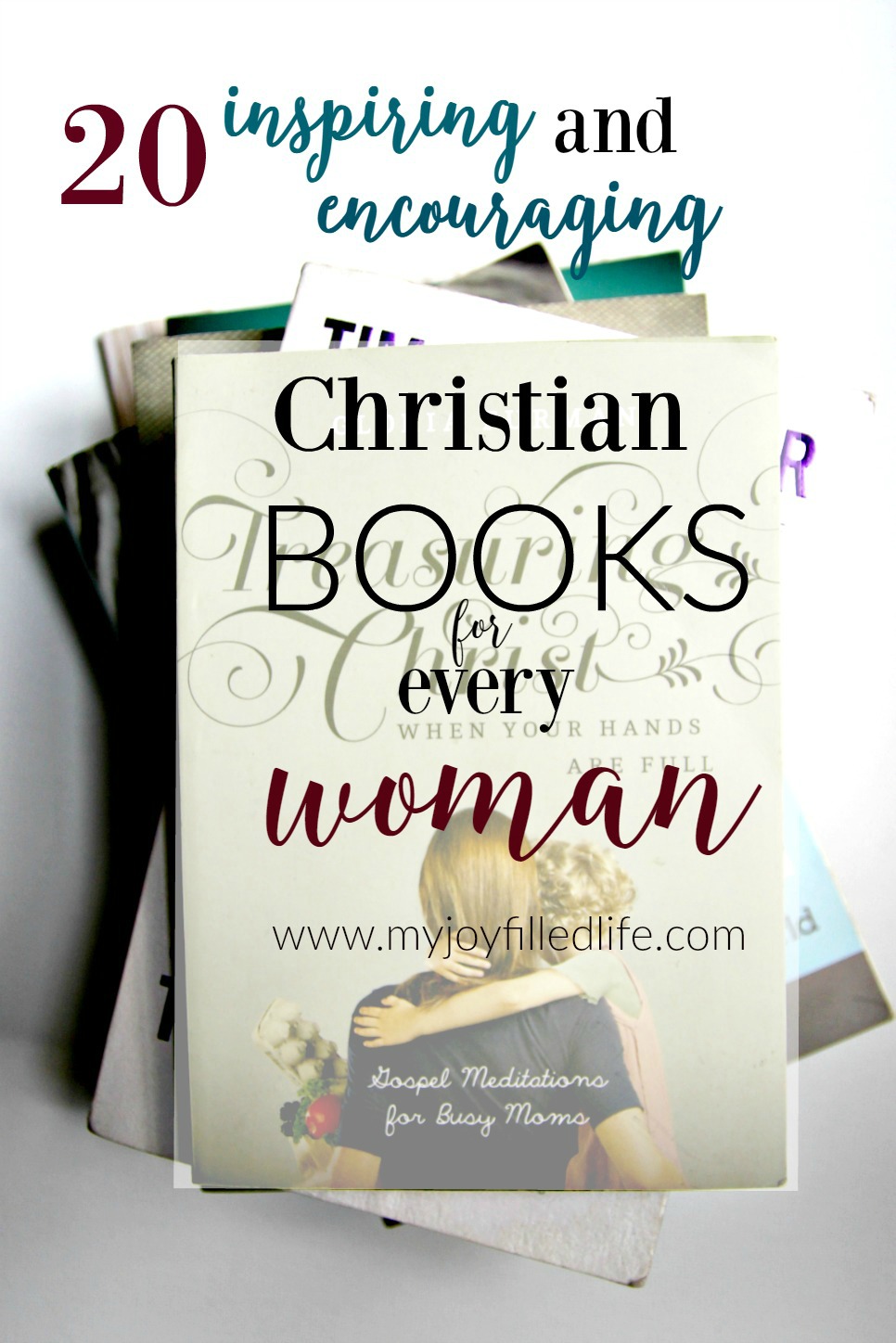 MOTHERING BOOKS
Treasuring Christ When Your Hands Are Full: Gospel Meditations for Busy Moms

I read this book last year and it is one of the best books on mothering I have ever read. Gloria shares the straight gospel truth and speaks the words that we all need to hear whether we like it or not. I just love her passion for the Lord, her family and encouraging other women and mothers.
Glimpses of Grace: Treasuring the Gospel in Your Home

In this book by Gloria, she helps you to search for God in the everyday mundane tasks of being a mother and homemaker. Seeking to serve God in all that we do no matter how big or small. I know I need to hear that every day!
In Gloria's newest book she shares and points out scriptures that show God's divine purpose and mission for you in motherhood. She highlights how motherhood is one of the most important jobs and is anything but insignificant.
I read this book when I had three little ones who were in constant need of my attention. Things haven't changed too much now that I have more but this book was like a breath of fresh air. I so needed to hear Rachel's words of truth tired and overwhelmed as I was…to learn to love this time and embrace it.
I have heard so many good things about this book. From a women who initially never intended to have children you will find words of wisdom and hilarity in learning to love all the surprises of motherhood.
If you have found yourself rushing through life. Going from one activity to another that you can't even enjoy it; this book is for you. Emily encourages us to slow down and enjoy the simple moments; where life really happens.
I just love the premise behind this book. It can be so easy to neglect taking care of ourselves when we are so busy caring for our families. Yes there are many times that we need to make sacrifices and put our families above ourselves, but we will so much better be able to care for our families when we are taking time for ourselves. It's okay and healthy to prioritize outlets and time for what gives us joy and keeps us healthy.
CHRISTIAN LIVING
Change is inevitable for all of us. So many times we can resist it because we are scared of the unknown. Kristen knows many different kinds of changes especially unexpected change. She shares how it is to be embraced as a blessing to be received with grace instead of as a burden that causes stress.
Annie shares from her personal experience and biblical truth how to love what is right in front of you. No matter what place you are in life we all need to embrace the lovely and find beauty in the everyday.
There are so many voices that tell women what they should be but as daughters of God we can walk in the freedom of
who he has called us to be. Friends Jess and Hayley share their stories of overcoming the lies of this world and the struggles of their own insecurities to help you experience the meaningful life that God wants you to partake in. We can't possibly be everything to everyone or have it all together all the time, and we don't have to suppress those gifts that God has given us. We can trust in him and be obedient to the path that he leads us on to give him glory in all that we do.
I read this book this year…2x this year!! It is purely what the Gospel is about. Tim perfectly describes why Jesus came to die for us and why and how we should live for him. So, so good!!!
The Freedom of Self Forgetfulness
It's so easy to get caught up in thinking more or less of ourselves. As we look to Christ and find our identity in him, we will learn the freedom of not being a self hating or self loving person but a self forgetting person. A heart supernaturally changed by the gospel doesn't connect every person, conversation and experience to ourselves freeing us
live as he has called us to in whatever capacity.
Many of you have probably heard of the Hiding Place. This is the book that Corrie ten Boom wrote after that book. It's the amazing and inspiring story of how she traveled the world sharing her story and the Gospel. Corrie shares her struggles as well as her faith in what God called her to do. So compelling!
Choose Joy
Join Sarah(who died from a terminal disease) on her journey as she chooses to see the beauty and grace in life amidst pain, heartache, the unplanned and unthinkable.
Although Kara Tippetts lost her battle with cancer
she learned and shared how to see God in the hard and the good. I was so blessed by her book The hardest peace and I know this book will be just as powerful and helpful for those who are going through sickness or have friends and family who are. Sometimes it's so hard to know how to help those who are going through such difficult times; let alone what to say. Kara and her close friend write about what friendship looks like in the midst of changing seasons, sickness and tragedy. This beautiful books shows what it looks like to be a friend, the art of receiving help, giving it and just being there for someone in pain.
HOMESCHOOLING
If you homeschool you know that all you want for your children is a great education. It can be so easy to get overwhelmed by the huge task it is to teach your children at home. Sarah addresses these issues and shares from her own desire for her children how to create an environment of learning that teaches from rest not worry.
The Unhurried Homeschooler
I read this book earlier this year. It was exactly what I needed to hear! The one thing that often gives me the most trouble in homeschooling is myself. Thinking I am not doing enough and worrying about how I am going to teach my children everything. Durenda is so gracious and encouraging as she shares how she teaches her eight children not from a place of worry but of trust in her instincts. She gently reminds us of the things that really matter and helps us not to worry about those things that will come in time. A must read for every homeschooler and parent!!
HOMEMAKING
When you are home all the time you might feel that you want to escape it. Sally and her daughter Sarah share how to make your home a special and important place that you will never want to leave. I can't wait to get my hands on this book!
Sometimes we can get so disillusioned as to what our dream home should look and be like that it steals our joy
and leaves us dissatisfied with the home we live in now. Believe me I know! (I live in a 2 bedroom home with 5+kids) Melissa shares how to turn your home into a home you love and enjoy living in and embrace the gifts that God has given you right where you are.
Our lives can get so full with busy schedules, plans and stuff that we miss out on what is really important.
Ruth shares her personal journey with biblical truth and practical tips of how she started decluttering and getting rid of things that were only weighing her life down. If you feel like you are suffocating in all the unnecessary stuff in your life you need to read this book!
We are so blessed to be in an age with so many inspiring and encouraging resources right at our fingertips.
I could go on and on listing great books that would speak into the many aspects of your life. These are the ones that stuck out to me this year. I hope by reading this list you will be motivated to pick up one or all of them (as time allows) and find inspiration, encouragement and hope to be all that God has called you to be as wife, mother, homemaker and daughter of God.
The following two tabs change content below.
Rebekah is living out her dreams as wife to her best friend and homeschooling mama to 5 crazy, beautiful little ones. She loves to encourage and empathize with other women and moms as she shares her heart, faith, joy and struggles on her blog
faithful with the little
. In the midst of meeting all the needs for her ever needy family you can find her running, thrifting, crafting, taking pictures, baking, writing and finding ways to be efficient and organized in her 2 bedroom home. Most of all she loves snuggling with her children and watching them play, create and learn. She lives in sunny Florida on a little farm in the city consisting of children, chickens, bees, gardens and lizards.