As summer approaches I have been gathering up as many good books as I can find for my boys (ages 9 and 11) and I to read this summer. I read many of these books when I was their age and even though I really enjoyed them as a girl, I know they will too.
I have been so excited that my boys have finally taken up a love for reading. My heart skips a beat when I find them reading all on their own.
We do a lot of reading together but I really want them to be able to go off and read on their own also.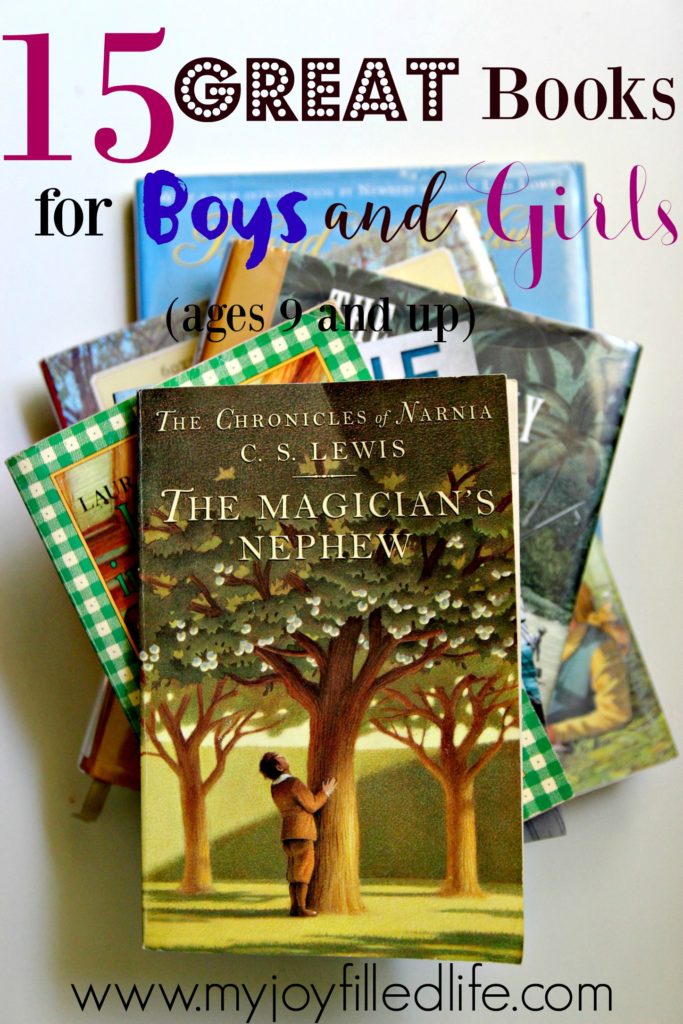 We started homeschooling through the summer last year and it has been so great for us. This summer we still plan on doing a lot of fun summer activities in the mornings but then doing school in the afternoons. I really want to focus on reading, math and writing/grammar along with a few science/art/history projects.
Last week I tested out our new schedule on them. We went to the beach in the morning and when we got back and settled in we did a math, writing and had a nice quiet afternoon of reading. It went better than I had hoped. The little ones were asleep and since my older boys had gotten all their wiggles out in the morning, they didn't put up a fight. I am really liking this new schedule.
I foresee many quiet afternoons of reading in our future this summer. Here are some of the books that we are hoping to tackle. Most of these are great classics. In my opinion they are the best. They never go out of style and are the ones you come back to over and over again, no matter how old you are.
I loved this book when I was young. A story about an Indian girl who lives alone on an island. I know my boys will love it too as they read about how she has to survive by making weapons and finding food.
A boy dreams of owning his own coon hunting dogs. He learns many life lessons as he and his dogs are tested with tragedy but find hope in the end.
The classic story of a young boy who is sent away to live with his uncle.When he discovers that he might be the rightful heir to his uncle's estate he finds himself kidnapped and castaway on a desert island.
When two of the families Charlotte was supposed to travel with cancel their trips, Charlotte finds herself alone on a long sea voyage with a cruel captain and a mutinous crew.
Following a violent storm the swiss family Robinson finds themselves stranded at sea. They make a new life for themselves on an island and soon adapt to their new life, finding new dangers and delights every day.
The Alden Children begin their adventure in a boxcar and along the way find many adventures and a grandpa they didn't knew they had.
The Little House on the Prairie Books
The Adventures of Laura Ingalls and her family as they set out in their covered wagon across open prairies. Always traveling to a new destination and living in many homes. Finding new adventures, trials and lessons along the way. These were my favorite books growing up and now they are my boys. We have made to the 5th book in the series and are excited to finish the rest.
Epic battles of good versus evil are beautifully told in this allegory of the Christian life. I blazed through these delightful storytales of mythical like creatures and the young children that took part in them. I have been enjoying reading them to my boys.
I think I have read every L.M. Montgomery book I could get my hands on. To this day I still get them out and read them. They never get old. I really think my boys will like them also. Anne has so many misadventures she gets into that I know will entertain them just as much as girls.
We watched the movie version of this book last year. Though it was made in the 60's and a little cheesy the premise of the story really interested my kids. A boy who survives by himself on a mountain. My kids love anything to do with survival, nature and animals. Soon after we got the book and enjoyed reading in more detail about how he survived.
A story of four sisters who go on vacation on a beautiful estate where they have many delightful adventures. They make many discoveries, the best of all being a boy who is the son of the owner of the estate who quickly becomes friends with them and joins them on their adventures.
Good, clean, wholesome books about the 5 Hollister children who are always on the trail of a mystery. Each one of the children helps to find clues to solve the mysteries they encounter. The first one being that of their new home as things disappear and they learn of a treasure buried somewhere inside the house!
Roberta, Peter and Phyllis have to leave the comfort of their city home in London for the quaint country life when their father mysteriously disappears. They find themselves often at the local railway station. Unbeknownst to them the station master knows the secret to their father's disappearance.
Caddie Woodlawn loves to hunt, garden and challenge her brothers. She befriends some Indians who scare her family and neighbors, but not her. Caddie is a special and brave girl whose story is based on the true life story of the author's grandmother.
The Cooper Kids Adventure Series (The Door in the Dragon's Throat)
This book is first in the series of many incredible adventures and encounters with a Biblical perspective that won't disappoint. Teenagers Jay and Lila Cooper accompany their archaeologist father as they search to uncover the truth behind an ancient legend. With the truth of God and his word they are not afraid to delve into the mysterious Dragon's throat and find out what lays on the other side. I read these books when I was young and could not put them down. I was so excited to see that there has been new books added to the series and can't wait to read them with my boys.
Whether you and your family are headed out on a long car ride to your vacation destination this summer or are staying close to home; you are going to want to get your hands on some of these great books that will be sure to occupy your children (boys or girls) for countless hours.
One of the greatest thing I love about good books is that not only are my children being wholesomely entertained, but they are gaining inspiration, imagination and information as they journey to new destinations, learn new things and are enlightened by so many captivating stories.
I hope you and your children will find some of your new favorite books on this list that they will want to read over and over again!
The following two tabs change content below.
Rebekah is living out her dreams as wife to her best friend and homeschooling mama to 5 crazy, beautiful little ones. She loves to encourage and empathize with other women and moms as she shares her heart, faith, joy and struggles on her blog
faithful with the little
. In the midst of meeting all the needs for her ever needy family you can find her running, thrifting, crafting, taking pictures, baking, writing and finding ways to be efficient and organized in her 2 bedroom home. Most of all she loves snuggling with her children and watching them play, create and learn. She lives in sunny Florida on a little farm in the city consisting of children, chickens, bees, gardens and lizards.