Whether you are a homeschooler or send your children to a private, public or charter school, praying over our kids' learning is so important!
As a mom of four young kids, three of whom are school age, I desire our children to not only grow academically but also in wisdom and character as they learn. All the A+ grades in the world do no good if our children do not grow in godly wisdom throughout their school years.
I wanted to share 12 school year prayers that you can pray over your children at any time, but especially as many families prepare to begin school again! I'll list them below. Each includes a sample prayer with a coordinating Bible verse. At the end of this post you will find a free printable with all the prayers listed.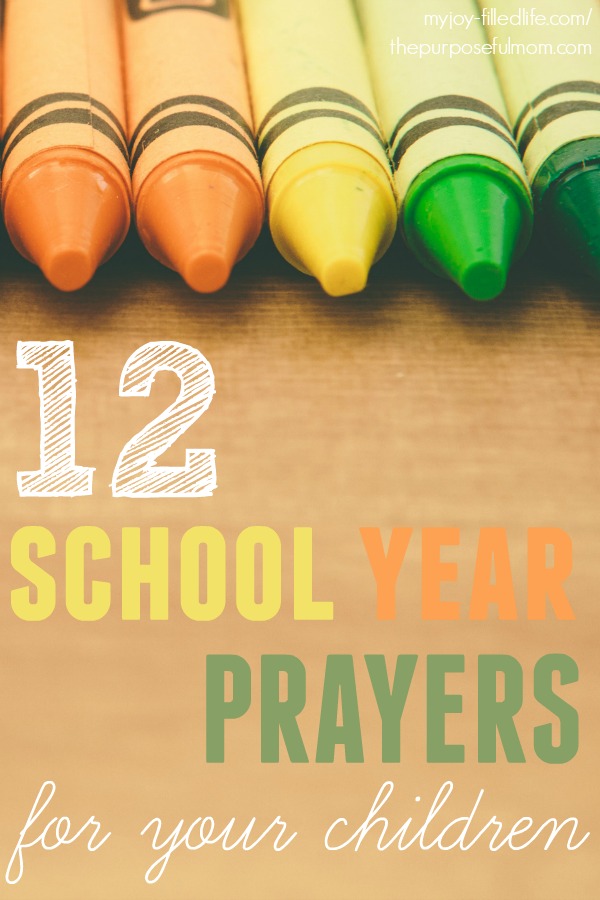 12 "School Year" Prayers for Your Children
Prayer #1
Lord, I pray that my children would hear your voice and increase in learning. Proverbs 1:5
Prayer #2
Lord, I ask that you would direct my child's mind to know, investigate and seek truth and to understand the difference between wise and foolish choices. Ecclesiastes 7:25
Prayer #3
God, please help my children make the best use of their time, both when they do school work and when they go about the rest of their day. Ephesians 5:15-16
Prayer #4
I pray that my children would be reminded, whether they are at home or in school, that their lives are hidden with Christ. Help them to set their minds on things above. Colossians 3:2-3
Prayer #5
Lord, please give my children joy in doing their work. Help them to see that the joy of the Lord is their strength as they work on more difficult schoolwork and projects. Philippians 4:4
Prayer #6
As my kids interact with their siblings or classmates, help them to honor others and look to the needs of others over their own. Romans 12:10
Prayer #7
God, remind my children that they are called to obey those who are in leadership over them. Whether that be a schoolteacher, professor, administrator or a parent at home, help them to act in a way that makes teaching them a joy to the person in authority. Hebrews 13:17
Prayer #8
During times of confusion or difficulty, let your Holy Spirit impress upon my child to seek the wisdom that you promise to give to those who ask. James 1:5
Prayer #9
Help my children to be a friend to those who need one and to notice when others need encouragement. Proverbs 17:17
Prayer #10
When my child feels frustrated and experiences the "growing pains" of life and learning, help them to heed instruction so that they will not go astray. Proverbs 10:17
Prayer #11
Remind my children of my love for them, whether they are with me all day or in the schoolroom learning. Help them to know that they can come to me with any need or just for a hug and a prayer. 1 John 4:7
Prayer #12
In the midst of busy school days, help my kids to see the beauty, providence and power of God in each circumstance of their lives. Psalm 33, especially verses 4, 5, and 22.
Download your school prayers printable and keep it in a visual place to remind yourself to pray for your kids school year!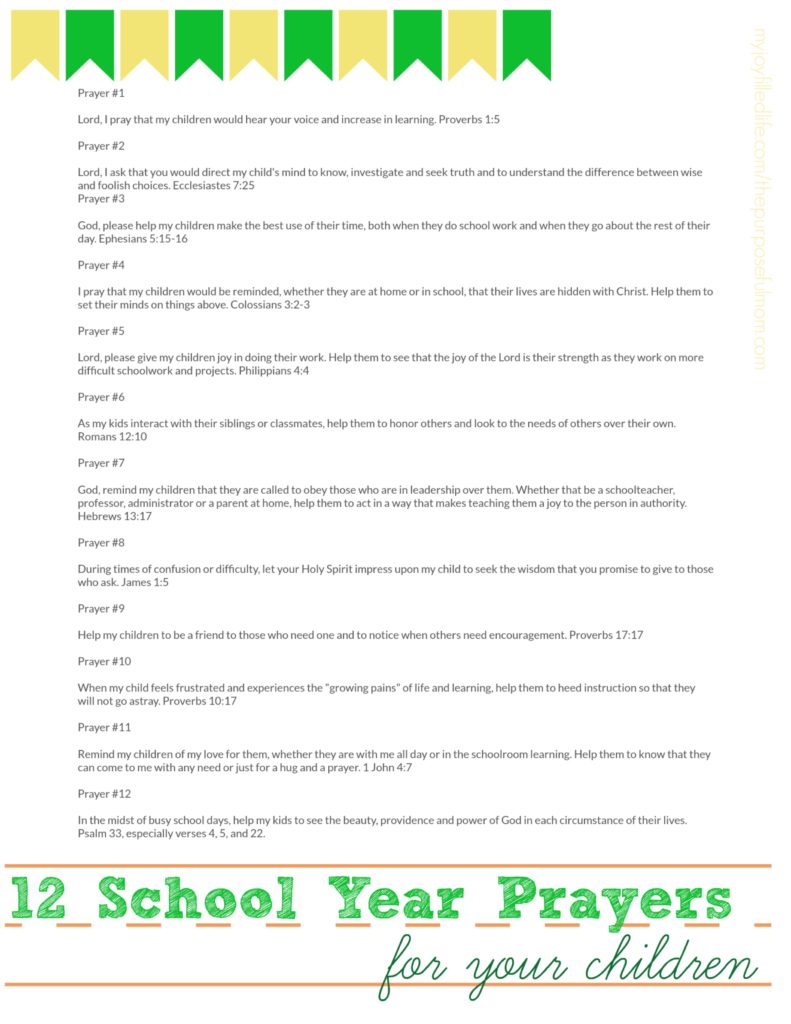 Also, if you'd like a full-size calendar with 31 Days of Back to School Prayer for your Children, head on over to my blog, The Purposeful Mom, where you can download a printable prayer calendar with prayer topics and corresponding Scripture verses completely free through August 15, 2016!
Save
Save
The following two tabs change content below.
Jenn blogs at
The Purposeful Mom
. Her goal is to encourage women to trust in the grace of God and embrace motherhood purposefully, without the pressure to be perfect.
Latest posts by Jennifer T (see all)