Peeps… you either love them or hate them. Am I right? Although many people eat these marshmallow confections as a standalone treat, there are many other ways to enjoy them. Here are 10 possibilities to consider.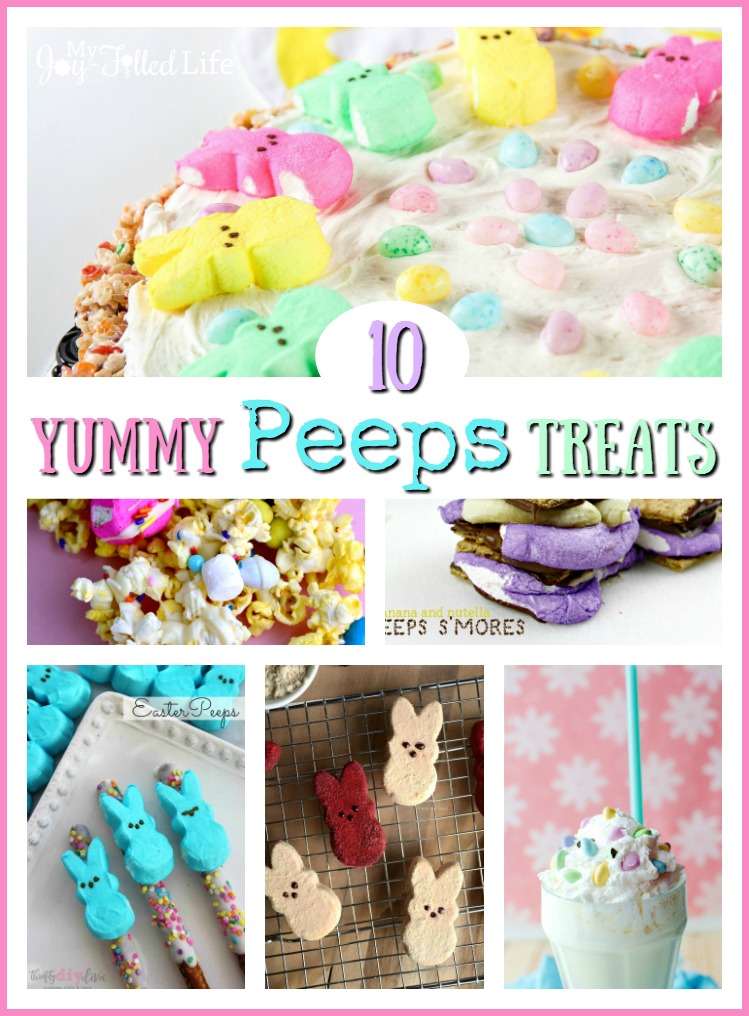 1. Gimme Some Oven – Peeps Pops
Chocolate-covered Peeps on a stick, the perfect portable treat. Your decorating options are virtually endless. See how creative you can be.
2. Baking Beauty – Peeps Pizza
This totally adorable Peeps pizza, features Fruity Pebbles in the crust and Easter M&M's on top. You can even use it as a centerpiece, if you'd like!
3. Forest and Fauna – Homemade Marshmallow Peeps
There's no reason to go out and buy Peeps when you can make them at home. Better yet, it's probably easier than you think.
4. Thrifty Diva – Easter Peeps Pretzel Rods
These pretzel rods are covered in white chocolate and colorful sprinkles. So easy to make, even the littlest chef can pitch in and help.
5. OhMy Creative – Peeps Pudding Pops
If you don't have popsicle molds, you can just as easily make these pudding pops in paper cups. The coconut Easter grass really completes the look. Don't you think?
6. Totally the Bomb – Hoppin' Good Easter Trail Mix
Raise your hands. Who thinks this trail mix is to cute to eat? Popcorn, white chocolate, Peeps, sprinkles, Robin Eggs and mini marshmallows… oh my!
7. Long Wait for Isabella – Banana Nutella Peeps S'mores
Who doesn't go ga-ga over s'mores? The added banana propels this yummy recipe to a whole new level!
8. Dorky's Deals – Peek-a-Boo Easter Cupcakes
These peek-a-boo cupcakes will be the hit of the dessert table. If you're not all that "into" vanilla, there's nothing stopping you from whipping up the batter of your choice. The bunnies won't mind!
9. DIY Candy – Easter Peeps Banana Milkshake
This particular milkshake recipe calls for banana milk. If your can't find it where you shop, you can probably use a mashed banana instead. Garnish with Easter M&Ms or the candy of your choice.
10. Baking Beauty – Peeps Easter Pudding Cups
Whether you make homemade pudding or buy ready-made cups, your kids are going to love these. Get creative and opt for a Peeps flavor other than original.