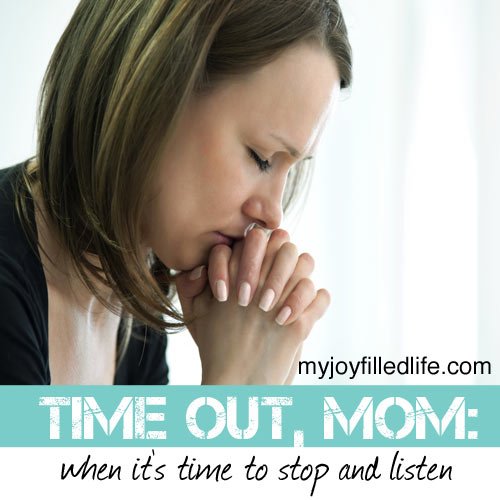 A few months back I took our beloved eight-year-old van to the mechanic.
Begrudgingly.
I knew the brakes were really bad. And that it was waaaaaaaay overdue for an oil change.
And yet, I kept putting off the car maintenance.
"It still runs well…" I rationalized. "And maybe I'm just imagining the brake issue."
Taking the van in seemed like a huge inconvenience that I didn't have time for. Something always kept coming up and our hectic schedule never seemed to let up.
So when I finally did take it in, I was terribly embarrassed when the mechanic told me that it was basically a miracle that my brakes hadn't failed. Not only were the brake pads toast, but the rotors were cracked and the brake fluid was black instead of yellow (TK). And I won't even describe to you how disgusting he told me the oil filter was.
Yes, every day I'd been driving myself and my babies around in a vehicle in THAT kind of shape (talk about mom guilt!).
Our van had basically been a ticking time bomb—all because I'd been "too busy" to take care of the essentials.
And as I drove away from the mechanic (thanking God for his protection even in my foolishness), I began thinking about how busyness can lull us into this blissful state that everything is OK (when it's really not).
I began thinking about myself, my kids, and our schedule. And how I often convince my soul that—in the name of being too occupied with other "more important" things—I don't really need to do those things to take care of myself.
That really, I am fine in certain areas (despite the warning signs I may see in my heart).
Ever felt that way too? As if God is telling you that certain inner issues need to be addressed… and yet you simply plug your ears and keep going on—in the name of being the glue for the family and the one who has to keep everything running for everyone else?
We moms really are fragile creatures. We like to think we're not (we do take care of the amazing and impossible on a daily basis), but really, we are.
We are finite. We have limits. And we get worn down. Like brake pads and oil filters.
But, yet, we push ourselves on, don't we? We often ignore those warning signs.
We soldier on, relying on that momma instinct to carry us through the toughest days. Instead of dealing with these ongoing issues, we let the negative thoughts, half-truths (and feelings of exhaustion) just kind of bounce around in there.
We seem to be able to manage it all, and yet, on the inside we feel like we're being sucked dry by the increasing levels of internal chaos.
Even if we don't "crack" under all the pressure, many days it just seems like too much.
Have you been there? I definitely have.
I am guilty of ignoring the warning signs and pushing myself on, letting my soul get to a dangerous state where I pretend that "everything is fine, thank you very much"—when really it is definitely not.
The Very Real Issues Every Homeschool Mom Must Face
The longer I homeschool (and the more homeschool moms I meet) the more I realize how much we all have in common:
None of us have perfect children, perfect marriages or perfect lives (despite what our Instagram feed portrays).
Most of us, at some point, have to interact with folks who definitely don't agree with our decision to homeschool (which only breeds anger, resentment and doubt in our own heart).
We must manage our children's overwhelming list of ever-changing needs (is this curriculum still working? what life skills does she need to learn now? etc) and this enormous task can leave us depleted, anxious and insecure.
Anger is a very real, very powerful temptation that continually plagues our hearts (and leaves us feeling trapped in a vicious cycle of guilt).
We know we need to rest, but we have no clue how to (really) make rest part of our extremely demanding, everyday rhythms.
We are convinced that we must have missed the boat, because everyone else seems to have children who speak multiple languages, play nearly every sport, receive continual accolades for their artistic talents, and never squabble over who gets the last piece of pizza.
And some days we are completely and utterly overwhelmed by our responsibilities as a mom, wife, homeschooler, friend, and daughter (and the list goes on).
The Cold, Hard Truth (and the Incredible, Powerful Hope)
And here's the hardest truth of all to swallow: These issues will probably never, ever go away.
Despite our best intentions and deepest longings, there isn't a magic pill that will make these troubles disappear.
But there is a great hope that shines through this despair:
We can develop strategies and plans to navigate these tumultuous waters.
We can establish quantifiable boundaries that reign in the flood of half-truths.
And we can create a new reality that isn't an attempt at false perfection, but instead a grace-filled approach that seeks to discover the beauty in the midst of the storm.
This is true and lasting hope. This is the honest, imperfect, joy-filled life that we all seek.
And that, friend, is what I want to help you discover.
Where Are You At (and Where Do You Want to Be?)
There's a well-known Chinese saying that states: The journey of a thousand miles begins with a single step.
And your journey to lasting, real-world joy and hope will take that same path.
This first step is simply assessing where you are now.
I've created a free worksheet that asks some simple questions to help you discover those answers.
Without shame, without condemnation, I encourage you to work through this simple assessment. If you are a follower of Christ, I'd encourage you to prayerfully ask God to guide you in this self-discovery.
And then, I want to invite you to join us in a unique opportunity to walk together toward healing and health in these issues: the online video course "bloom: A Journey to Joy (and Sanity) for Homeschool Moms."
You'll be hearing more about this amazing, life-changing course in the next few weeks when we re-open registration.
Next Steps
First, I encourage you to go through the assessment, and take an honest glimpse "under the hood" of your heart.
Second, if this opportunity sounds at all interesting to you, click here to enter your information and we'll be sure to notify you when registration opens.
Summer is a wonderful time to step away from your everyday homeschooling role, and to take a time out for much-needed reflection, strategy-building and replenishment.
It's easy for the busy-ness of life to distract you from the warning signs that your life is not all that its meant to be. Make the most of this opportunity to stop, refocus and take an honest assessment.
It's the best gift you can give your family (and yourself).
Download the free assessment "A Simple Assessment: Mama How Are You Doing (Really?)" here.
This post contributed by Alicia from Your Vibrant Family