This post is for all my fellow bloggers.
If I had you at 'Monetize' and you are ready to apply, you can do so through my referral link —–> click here to apply.
Now if you'd like a little more info on what Linqia is all about and how it works, read on. I'm also going to share why Linqia is my favorite blogging network that I've worked with so far.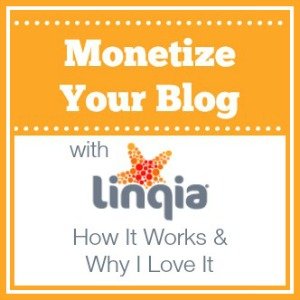 Linqia helps brands and bloggers connect.
When you are accepted into the Linqia network, your blog – your online presence – will be considered a community. You are the community leader.
If Linqia and the trusted brands they work with think your community is a good fit for their product, Linqia will email you and ask if you are interested in participating in the paid campaign. If you think the brand/product will resonate with your readership and you have an authentic story to tell along with it, you will simply respond to the email letting them know you would like to participate.
Linqia is a pay-per-click network, which means you get paid when someone clicks on the link(s) in your blog post or social media outlets. Before starting a campaign with Linqia, they will email you with your potential earnings budget based on the size of your community. You will not earn more than the set budget even if you get more clicks than your goal. But…. if you do get more clicks than your goal, it helps to increase your goal for your next campaign, which means more money next time.
For example, say that Linqia projects that you should be able to get 100 clicks during a campaign and your pay-per-click is $0.80. The maximum amount of money you can earn is $80. Even if you got 150 clicks, you would still only earn $80. If you only got 50 clicks, you will only make $40. Does that make sense? Don't worry though, Linqia does a good job estimating how many clicks a community should be able to get in a campaign. So far with all my Linqia campaigns, I've been able to attain my goals.
You will get an official 'invite' to the campaign on the day it starts and you just need to log in to your dashboard and 'accept' it. Then you are all set to start! From the campaign control panel you will have access to all of the information you need to make your campaign a success – the requirements/instructions, product specifications, story ideas, your tracking links, sample tweets and facebook posts, hashtags, plus an activity stream where you can interact with other community leaders participating in the same campaign (as well as the Linqia customer service manager for that campaign).
There are some requirements for a community to be considered for the Linqia network.
Community requirements:
Have at least 10,000 social followers (total).
Demonstrate healthy engagement from members.
Have at least 60% non-branded/sponsored content
Based in the U.S.A.
Cover any of the following topics – Parenting, Pets, Home & Garden, Lifestyle, Fashion, Food, Travel, Active Living, Home Decor & Design, Eco-Friendly Living, Wedding & Entertaining, Millennial Interests, Men's Interests
What I love about Linqia:
Linqia works with trusted, quality brands such as Huggies, Kotex, Pillsbury, Yoplait, Cottonelle, and Ghirardelli.
They pay well, and quickly. Yes, you have to work a little more to get the clicks, but in my experience, Linqia pays more (if you reach your goal) than other networks I've worked with. And you are payed usually within a week from the campaign end date (my last campaign ended May 31st and I got paid on June 5th).
They give you a product allowance. If you have to buy the product for your post, the money doesn't come out of your pocket or out of your earnings. And the allowance is usually generous.
The communication is excellent. Either through emails or the activity stream, a customer service manager is always readily available to answer any questions you have.
There is potential for increased future earnings.
Linqia's vision – Linqia is committed to ensuring every campaign tells a story that's authentic, relevant and will never compromise the integrity of our member's communities. When a community leader joins Linqia, they join a family of communities dedicated to telling meaningful, rewarding stories that enrich their communities and help them reach more people who share their passion.
So if you meet the above requirements and you like what you've read about Linqia and would like to apply, please consider using my referral link. If you have any questions about the program, please leave them in the comments and I'd be more than happy to answer them.