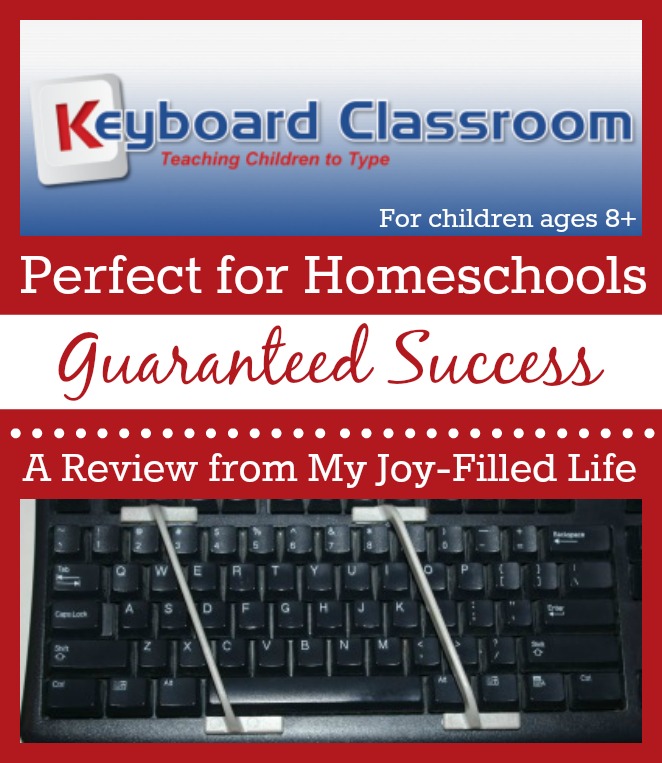 When I was in school, keyboarding was not a required course. But it's definitely one of those courses that I'm so thankful that I took. I use my computer every single day and being able to type quickly and efficiently is such a time-saver, maybe even a life-saver.
Technology is all around us, and more than ever, computers are a huge part of daily life. In my opinion, it's imperative for kids to learn the skill of keyboarding to support them in this computer-savvy world we live in.
I'm not sure what the requirements are in public schools today, but it will be a requirement in our homeschool for all of our children to take a keyboarding class and become comfortable with typing. As my children get older, they are doing more and more of their schoolwork and assignments on the computer, so it's important that they learn this skill early on. I didn't take keyboarding until about junior high school, but I think that in today's computer-age, it would be more beneficial to learn in the elementary grades. Keyboard Classroom is recommended for children ages 8 and up.
My oldest two children are 9 and 11 and I've been looking for a keyboarding course for them for well over a year now. There are multiple free typing programs online but I felt that they were limited and not thorough enough. And the ones I had found to purchase were just too pricey, were geared more toward regular classroom instruction (making them pricey), or just didn't fit what I was looking for.
I was recently given the opportunity to try out Keyboard Classroom with my oldest son, and so far, we are very pleased. He uses it every school day for 20 minutes each day.
Keyboard Classroom is an easy-to-use, affordable, and effective keyboarding program that is an excellent option for homeschoolers. It is easy to install, straight-forward, and easy to navigate. There is one major difference in this keyboarding program than in any other program I have seen – the finger guides. The finger guides are simply attached to your keyboard with Velcro (so they are easily removed as well) between the middle and ring fingers helping your child keep their hands on the home positions and learn at a faster and more effective rate.
Keyboard Classroom has 5 typing fluencies, or skills, in the program. They are Typing Finger Trainer, Typing Words, Home Stretch, Typing Sentences, and Capital Search.
The first exercise, Typing Finger Trainer, teaches correct finger placement on the keyboard.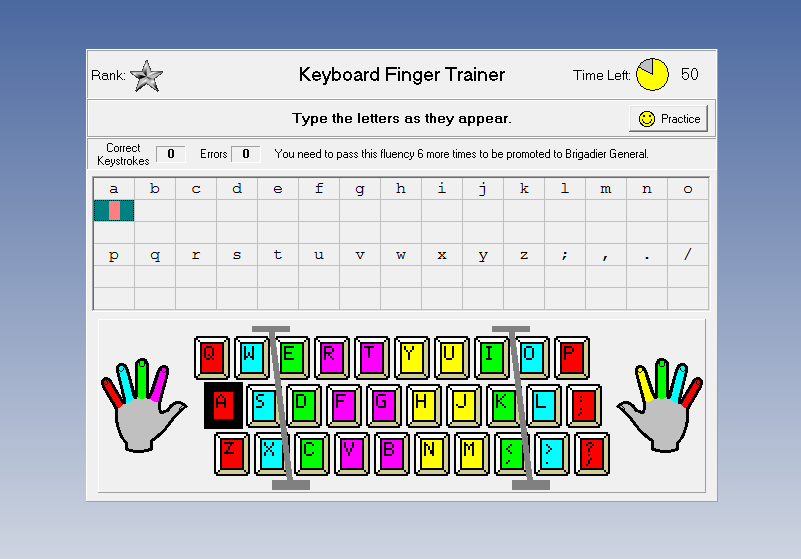 The next exercise, Typing Words teaches the home keys.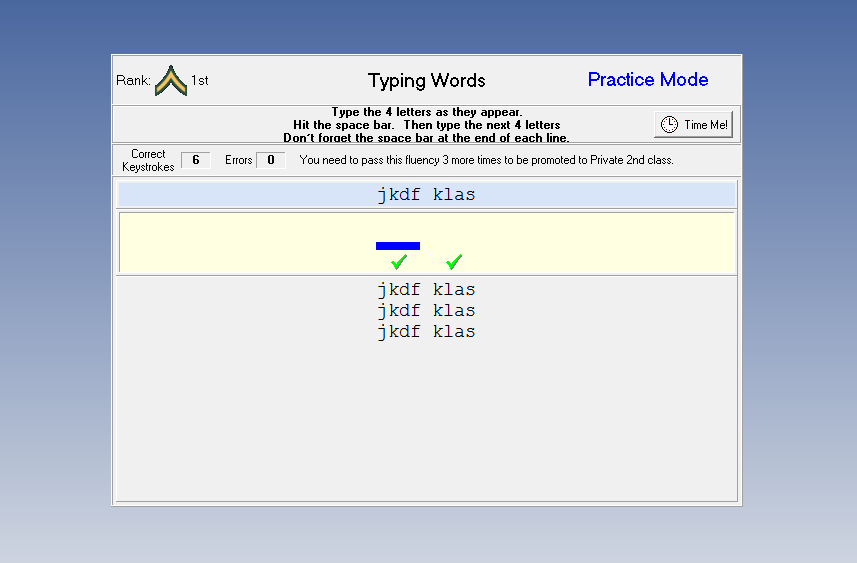 The Home Stretch exercise helps to practice each finger stretch in three letter combinations, bringing the fingers back to the home keys, which builds the habit of maintaining the home position.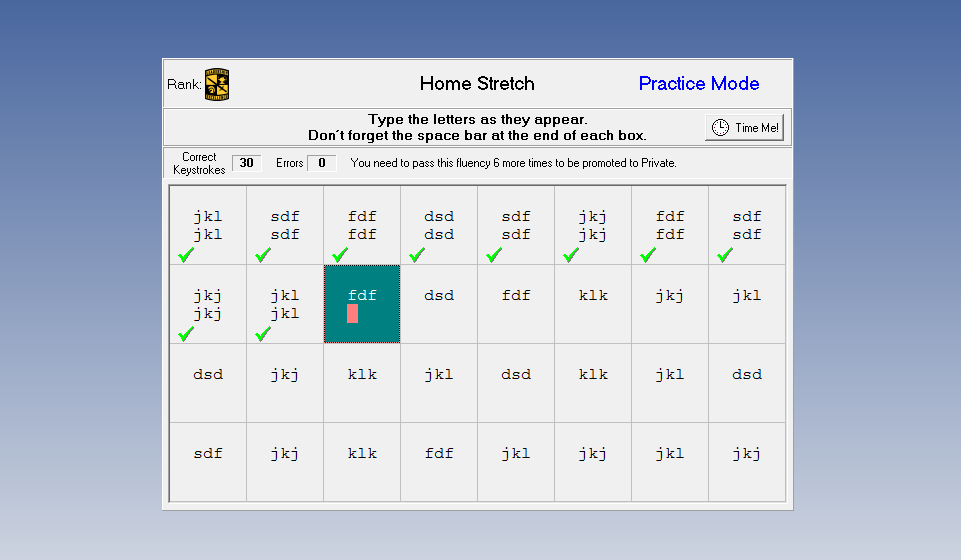 Typing Sentences and Capital Search only become available after mastering certain levels of previous fluencies. As the titles imply, Typing Sentences works on typing sentences, and Capital Search helps your child learn to capitalize letters by using the correct shift key.
In each of the 5 fluencies, there are 2 different modes your child can work in – practice mode and timed mode. In practice mode, your child can practice as much as they want until they are comfortable with the skill. Once comfortable, they can move to timed mode. The timed mode sessions are 1 minute long and once your child passes the fluency a certain number of times in timed mode, they move up to the next ranking. Also, after each timed sessions, they earn tokens that they can redeem to play games.
As your child progresses and works through each fluency, they will go through 10 different ranking levels – from Cadet all the way to Brigadier General.
My 11-year-old son has really enjoyed this program so far. He likes the challenge of moving up in ranks and earning tokens, plus he simply likes the fact that he is learning to type quicker and more efficiently which will only help him with his computer games schoolwork. With this structured learning he has improved greatly in just a short period of time and this is one of the few classes he doesn't moan and groan about doing.
Keyboard Classroom guarantees that if your child practices diligently for 15 minutes per day for 6 months that they will become a proficient typist (35 words or more per minute). You can purchase a single user license for $19.95. They also offer a 5-user family license for $29.95. The finger guides sold separately for $15.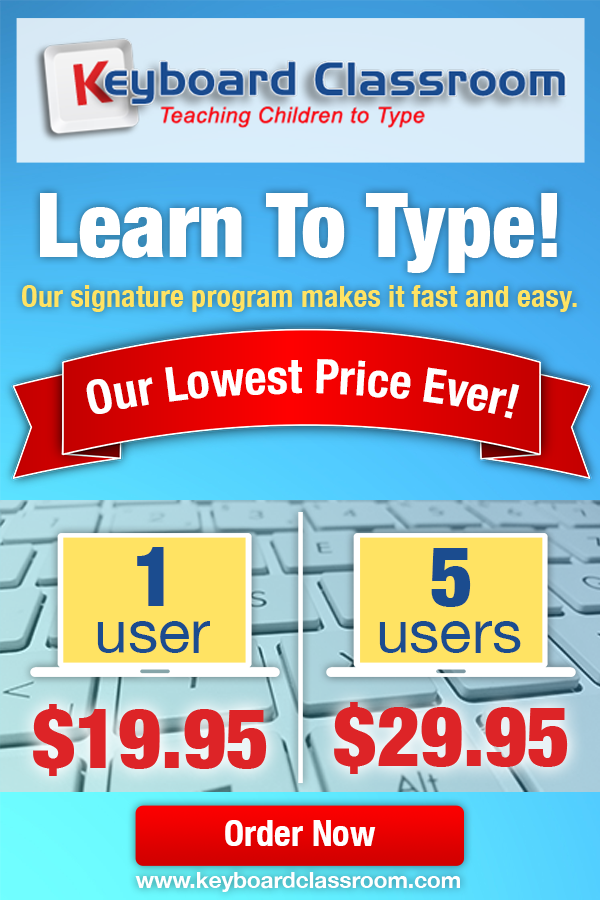 Something to note – the finger guides do not fit on all keyboards. I had to hunt around the house to find one that they would work on and thankfully I was able to find one. If you don't have a keyboard that works with the finger guides you can purchase an inexpensive one at your local office supply store.
Overall, I think we found a winner when it comes to typing programs. My plan is to continue using this program as each one of my kids is ready for it.