I just read one of the sweetest books about Jesus to my children.
My Friend Jesus: The Gospel for Kids by Kathryn Slattery tells the story of Jesus in a gentle way that your children will be able to easily follow and understand. This book is a great way to teach your 5-10 year old children (although I feel it can be easily enjoyed by children even younger; it's never too earlier to teach your kids about Jesus) about the life of Jesus, why He is the most important person that ever lived, and why He is the best friend they will ever have.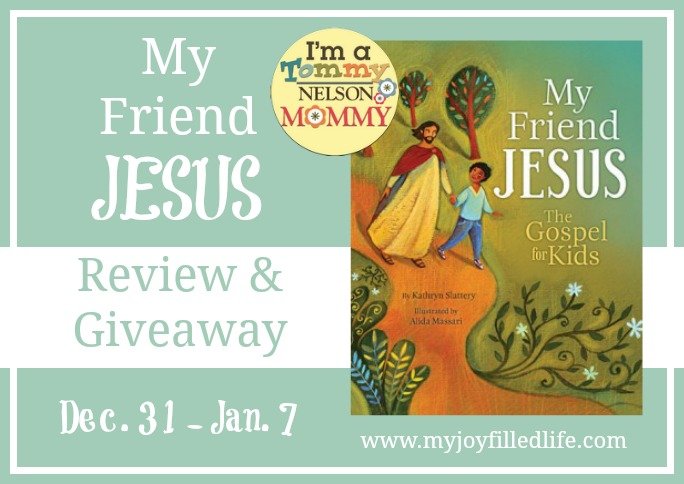 My Friend Jesus: The Gospel for Kids begins with Jesus' birth, then goes on to tell about the things He did and said while living on earth, why He died on the cross for us, and that He came back to life and is now living in heaven. The book finishes up by telling children that if we love and believe in Jesus, that we too will live in heaven with Jesus when our life on earth is over. There is even a short, simple prayer at the end that will help your child ask Jesus into their hearts.
From the publisher:
Jesus can be your friend and Savior.

All Christian parents want their children to come to a relationship with Jesus. My Friend Jesus is written in fresh, clear language that children can understand and is appropriate for all denominations. The book not only tells the gospel story about Jesus, but also, in the most natural, gentle way, introduces children to a personal relationship with Him. A prayer at the end of the book guides children into that life-changing friendship with Jesus. This is the book author Kathryn Slattery wishes she had when her own children were young—which is the reason she wrote it!
I'm so thrilled to add My Friend Jesus: The Gospel for Kids to our bookshelf. I love the sweet and gentle way the author writes to her young audience, so they can understand just how important and special Jesus is to them and how much God loves each and every one of us. If you are looking for a book that will help you tell your children the good news of Jesus so they will easily comprehend it, then this is your book. I highly recommend it!
This 32-page, hardcover book retails for $12.00.
Would you like to try and win this book for your family?
Just enter by using the Rafflecopter entry form below.
Giveaway ends on January 7, 2014 at 11:59pm EST; winner will be notified by email.
Be sure to check out my other Tommy Nelson giveaway:
Bible in a Year – For Kids
My Story: David & My Story: Joseph Children's Books
My Friend Jesus: The Gospel for Kids
God's Little Princess Bedtime Devotional
Devotional for Teens – One God, One Plan, One Life