When our family moved last year, I was heartbroken to have to pack up our school room – for several reasons. I had worked so hard to get it all set up just a short time before (we had only lived there 6 months before we learned we had to move for my husband's job), and I wouldn't have all of our books and supplies readily available. I also had to take down all of the posters, cork boards, and white boards and figure out a way to make all of this portable or just do without it until we were in our new home (which didn't end up being for another 2 years after we learned of our move).
There were just some things I didn't want to give up. I liked having my bulletin board with our calendar on it. I had slacked in this area with my two oldest boys (my husband still quizzes them often on the months of the year), and I didn't want to let this slide with my younger ones. So I decided to make a calendar board that was portable – one we could move with us, as we were going to have to live in temporary housing for a bit, and one that I could easily put away when we had a house showing.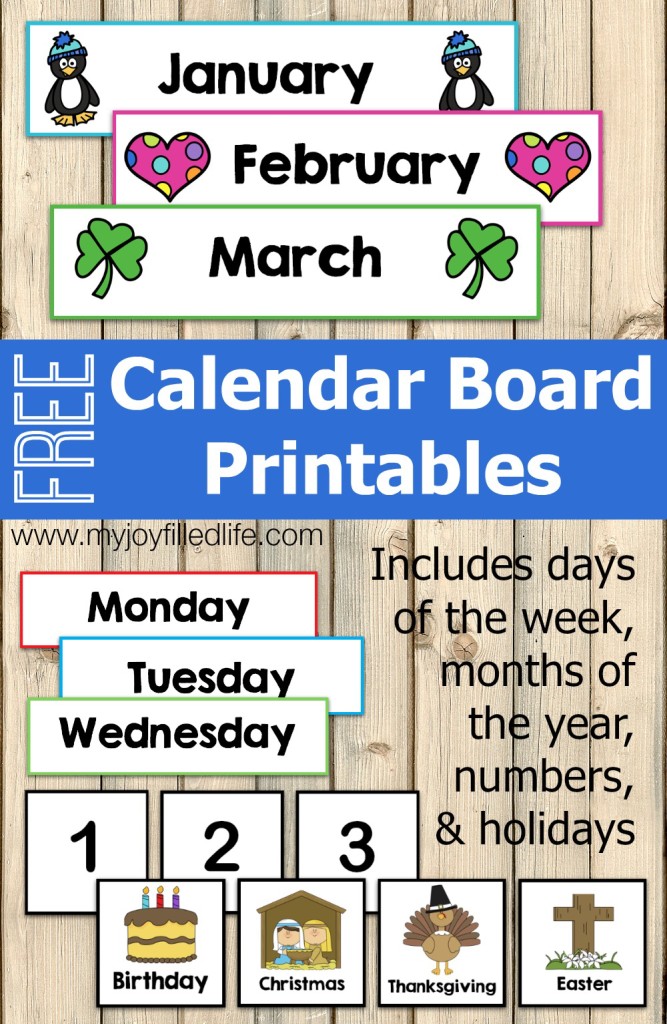 In this post I'm just sharing the printables with you, and in the next couple weeks, I'll explain how I put it all together. You can simply use these printables on a cork board, a large poster board, make your own portable board, or how ever else you can dream up.
The printables include all the months of the year, days of the week, numbers 1-31, major holidays and several birthday cards, and today, tomorrow, and yesterday tabs.
I'm offering these printable FREE to My Joy-Filled Life subscribers. To get yours, simply subscribe by clicking the download button below and going through the checkout process (don't worry, it's FREE).
As a subscriber to My Joy-Filled Life you will get weekly(ish) updates and occasional information about great freebies, giveaways, and offers.