It was only recently that we started doing Elf on the Shelf. A couple of years ago I decided to give it a try after digging my heels in and refusing to jump on the Elf on the Shelf bandwagon for years. I was worried it would just add more to my plate during the holiday season and that it would take away from our focus on Jesus.
So, I decided not to stress about coming up with a cute new elf scenario every day (some days we did something simple, some days we just moved him to a new spot, and some days he just stayed in the same place) and to incorporate Jesus into our elf's tactics as much as possible.
Here is one of the Christian Elf on the Shelf ideas we came up with – donate toys.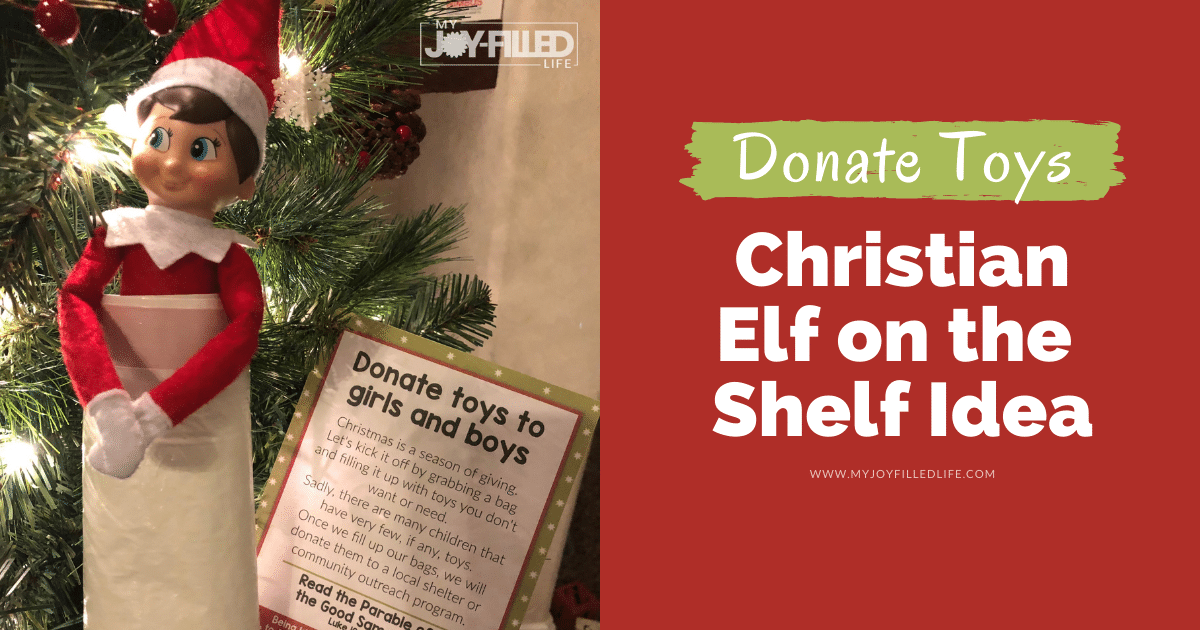 Christmas time is a great time to get the kids on board with purging the house of unwanted and unused toys. There are so many children out there that would love to have the toys that are just sitting on your shelf or in your toy box that get overlooked day after day. Why not donate those toys to a local shelter, ministry, or toy drive (if they take used toys)? Plus, I bet you'll be thankful for less clutter around the house as well.
Here's how we set up this elf scene….. I got a roll of garbage bags (we have 8 kids, so I had a bag for each kid) and put our elf inside the roll. Then we placed him in the Christmas tree with a note. Here is what the note said –
Christmas is a season of giving.
Let's kick it off by grabbing a bag and filling it with toys you don't want or need.
Sadly, there are many children that have very few, if any, toys.
Once we fill up our bags, we will donate them to a local shelter or community outreach program.
The note also suggests reading the parable of the Good Samaritan and ended with a scripture to focus on or memorize.
You could also put your elf in a big donation box and put it under the tree; there are many ways you could present this idea to your kids.
If you'd like, you can get the printable of the Donate Toys note, along with nine other printable notes and ideas by clicking the button below.