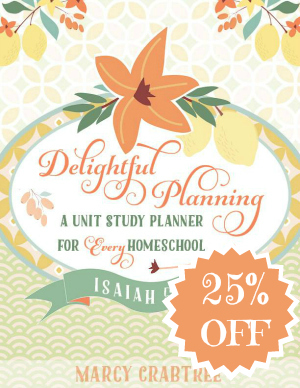 From Ben & Me –
Delightful Planning is designed to assist you with creating interest-led unit studies no matter what homeschool method you prefer. You can continue with your usual curriculum while allowing delightful learning to permeate your homeschool daily, weekly, or during particular holidays and seasons — whatever works best for your family!
Delightful Planning is flexible, containing the tools you need to make planning unit studies simple and effective, with our step-by-step instructions, tips for incorporating rabbit trails, field trips, and fun school jar ideas, plus 20 useful (not to mention beautiful) planning and resource pages. Delightful Planning is truly the unit study planner for EVERY homeschool!
For the month of July you can get this planner for 25% off (reg. price $10.95). If you'd like to check the planner out before you buy, you can download a FREE sample first.