The Ranger Mike DVDs are here! The first two episodes of The Adventures of Ranger Mike are now available on DVD.
The Ranger Mike DVDs are creation-based, real-life episodes (not animated). They are fun and educational, helping children learn about the amazing wildlife God created in an entertaining, memorable way.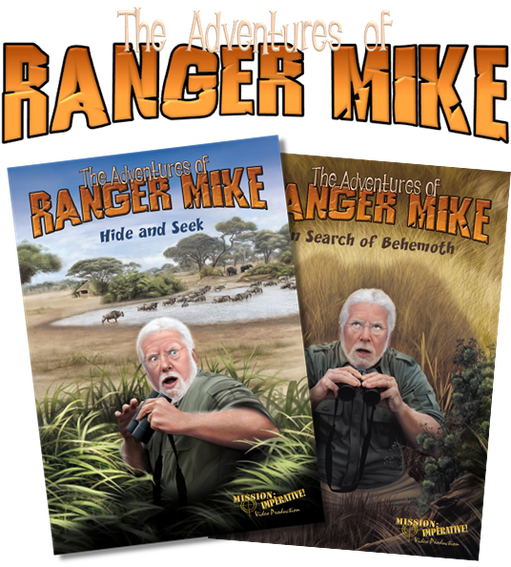 The creator of this series, Mike Snavely (who is also the founder and president of Mission: Imperative), was raised in South Africa (which is where the episodes take place) by missionary parents. He returned to Africa after graduating from Oak Hills Christian College in Minnesota and began working for the National Parks Service in the Kruger National Park, which helped him earn the nickname, Ranger Mike. For more information about Mike, check out the Mission: Imperative website.
The two episodes that are currently available are Hide and Seek and In Search of Behemoth.
In Hide and Seek, Ranger Mike plays an unusual game of hide and see with the animals. While trying to solve the mystery of the elusive "monster," Ranger Mike shows the viewer all sorts of secret wonders of God's creation, as well as animals that hide from each other.
Join Ranger Mike in In Search of Behemoth as he takes the viewer on a quest to discover what behemoth actually was. He'll use the Bible to help solve the mystery and you'll learn about many fascinating creatures along the way, including dinosaurs.
Each DVD is approximately 30 minutes long and can be purchased for $14. You can buy both of the DVDs for $25 and save! The DVDs (along with others) are available in the Mission: Imperative online store. When you purchase the Ranger Mike DVDs you'll also get FREE shipping when you use code RM2DEC at checkout. These DVDs can be enjoyed by viewers of all ages and would make wonderful gifts or stocking stuffers.
GIVEAWAY!
Use the form below to enter for your chance to win a set of The Adventures of Ranger Mike DVDs – Hide and Seek and In Search of Behemoth. The giveaway will end Tuesday, December 20th at 11:59pm ET.
Check out this giveaway too….