My husband is an extremely picky eater. We've always jokingly referred to him as the "kid's menu guy" because pizza, burgers, and chicken fingers are right up his alley. Sure, once in a while he'll try a teeny, tiny bite of my asparagus or salmon. I think he does that more because he knows it makes my wannabe-foodie heart smile. But at the end of the day, he always sticks with what he knows.
As you can imagine, we eat a lot of meat and potatoes in our home, and especially chicken. I'm always in search of new and interesting ways to prepare chicken. So when a good friend suggested that I try using Corn Flakes to bread some chicken breast tenders that I had thawing in my refrigerator, I got excited. Who doesn't like to use items that they already have on hand? And just like that, my version of Corn Flake Crusted Chicken was born.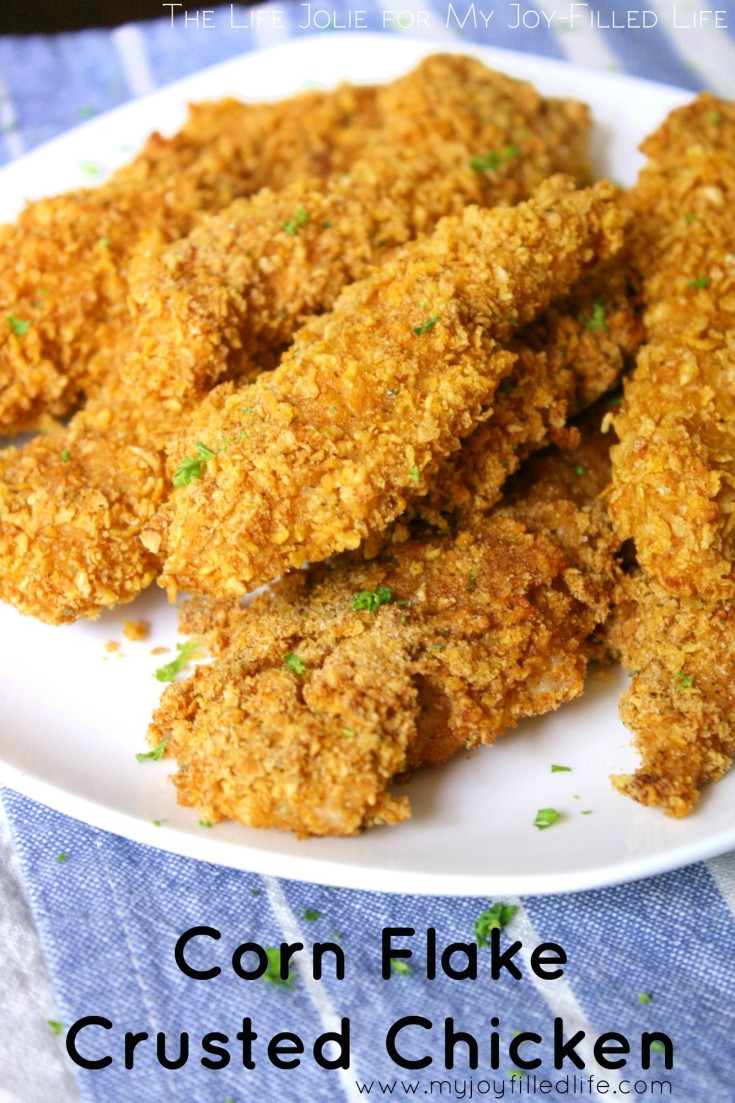 In all fairness, it wasn't just like that. I did have one false start. You see, another thing that my husband loves besides breaded chicken is ranch dressing. I'm pretty sure he would drink it if I gave him a straw and a bottle. Immediately after my friend mentioned using corn flakes, I began thinking about how to get some ranch dressing into the mix. I wanted to include it in a more interesting way than simply serving it on the side as a dipping sauce. So instead of using eggs to adhere the Corn Flakes to the chicken, I used ranch dressing. And while the flavor was pretty delicious, the texture was kind of mushy. So it was back to the drawing board.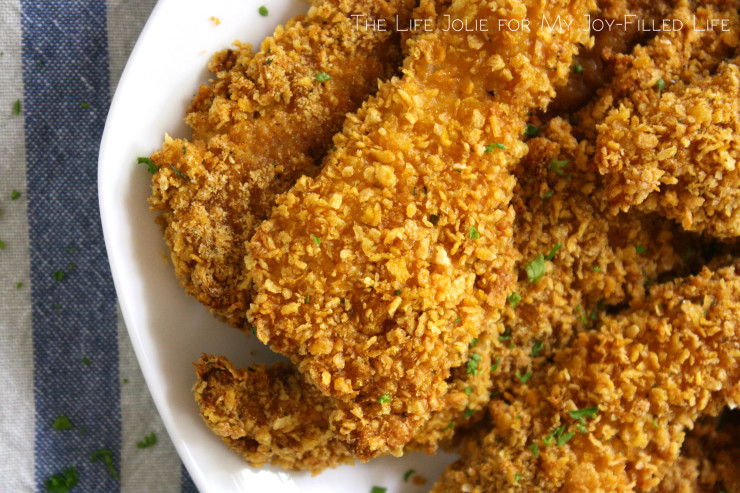 After consulting one of my cooking experts (i.e. my mom), I had a little more direction and some new-found resolve. The new plan involved marinating the chicken in buttermilk with Ranch seasoning mixed into the marinade. In addition to tenderizing the chicken, the thinner texture of the buttermilk made an excellent adhesive, while still managing to maintain the delicious Ranch flavor. The combination of the zesty Ranch with the crispy, crunch of the Corn Flakes made this a huge hit in our home. Even my one year old daughter dug right in, which was a pleasant surprise considering how few teeth she has.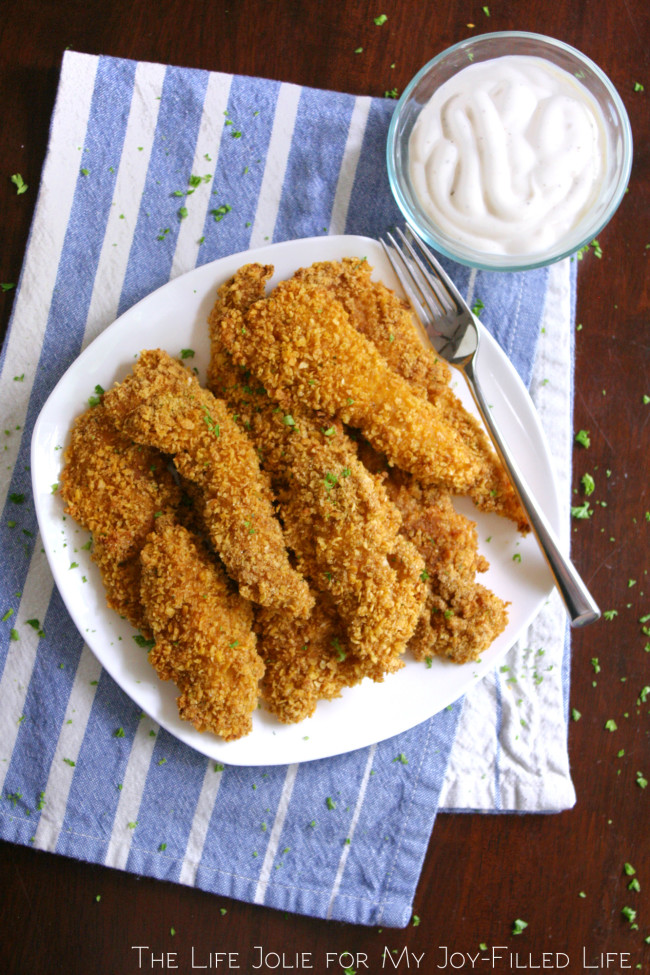 The great thing is, you can put together a few different aspects of this dish in advance like marinating the chicken and running the Corn Flakes through the food processor. I baked these to try and keep it healthy and simple, but you can pan fry them if you prefer. While my husband enjoyed dipping them in ranch dressing (what can I say? He can't get enough!) I enjoyed them on their own.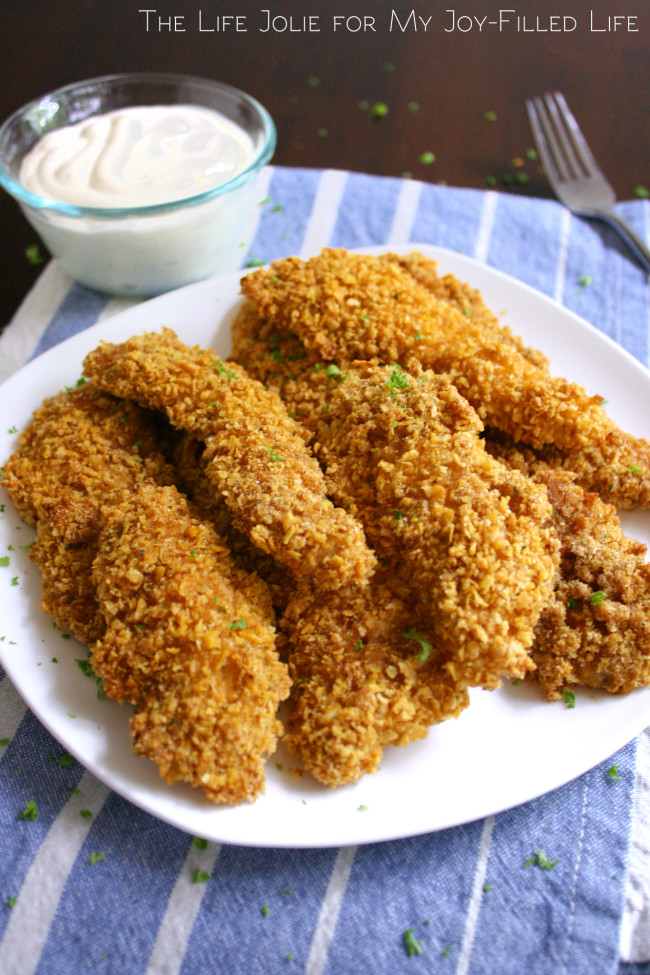 Corn Flake Crusted Chicken
2015-07-07 21:34:13
This delicious Corn Flake Crusted Chicken is family-friendly and super easy to make. You get the combination of zesty Ranch seasoning with the crunch of the Corn Flakes.
For marinating the chicken
1 lb. chicken breast tenders
2 cups buttermilk
1 packet of Ranch dressing seasoning
For the breading
4 cups Corn Flakes
1/2 tsp. salt
1/2 tsp. pepper
1/4 cup Romano or Parmesan cheese
Instructions
In a large bowl, combine the buttermilk, Ranch seasoning and the chicken.
Refrigerate for at least an hour (you can also do this the night before).
In a food processor combine the corn flakes, salt, pepper and cheese until ground to a crumb-like texture. Put aside until you're ready to cook the chicken.
When you are ready to cook your chicken, take each individual chicken tender, shake off the excess liquid and roll it in your Corn Flake crumbs (you can also shake them in a sealed bag filled with the crumbs).
Once it's completely covered in the Corn Flake crumbs, lightly shake off the excess crumbs and placed on a greased baking sheet.
Bake at 375 degrees for 20-30 minutes or until the internal temperature reaches 165 degrees.
Enjoy!
Notes
Serve with Ranch dressing or your favorite dipping sauce.
My Joy-Filled Life https://www.myjoyfilledlife.com/
The following two tabs change content below.
Jessy is the founder of
The Life Jolie, which celebrates all of the pretty things in life and also contributes recipes at Organized Home Organized School. She has the privilege of being a wife to her husband Justin, and a mother to her daughter Alice and dog Macie. Jessy is a financial professional by day. She has a passion for cooking (eating!), home design, crafts, theater, singing, travel, laughing, and learning. She aims to spread positivity and build a community through The Life Jolie and to continue growing, learning and evolving as a person.