Is it really snowing already? Sheesh! Anyways, countdown to Christmas with this free printable calendar, including my top 25 favorite Christmas books. Some will make you laugh, some will make you cry. Some will simply warm your heart with joy. When making this list, I wanted to include real, quality literature, not just the most obvious or trendy choice. I also didn't want to pick too many books you've probably already read.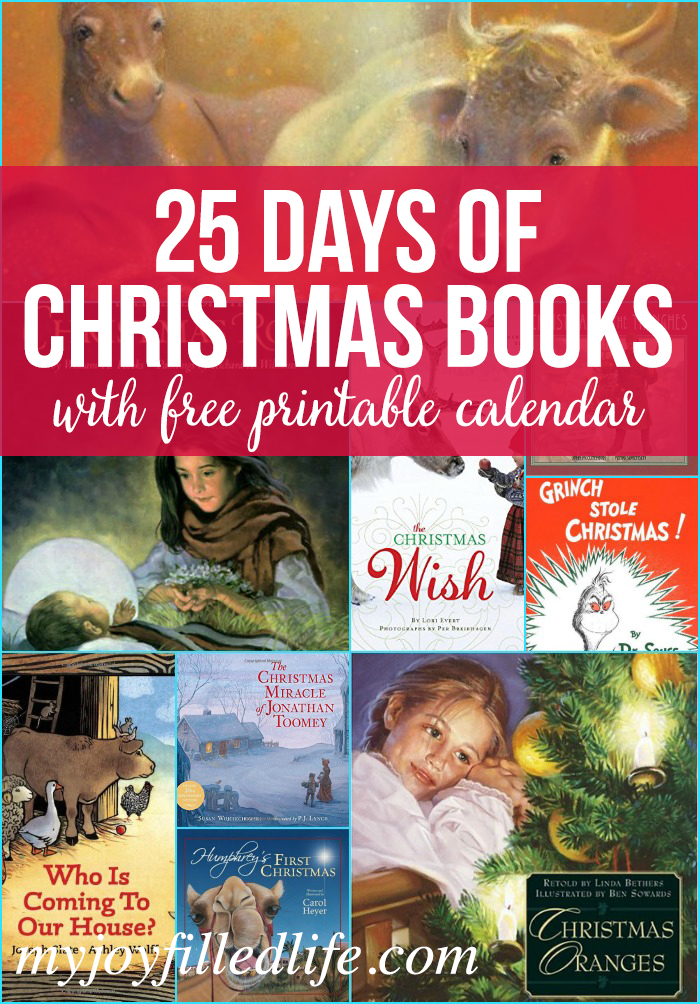 1. Who is Coming To Our House? by Joseph Slate
Who is coming to our house? "Someone, someone," whispers Mouse. Kick off this Christmas' reading list with this sweet Nativity story from the point of view of the stable animals.
2. The Legend of St. Nicholas by Dandi Mackall
Meet St. Nick, a young man who goes around town secretly spreading generosity and kindness by helping the poor across the world and giving gifts on Christmas Eve in remembrance of the greatest gift of all, Jesus Christ.
3. A Charlie Brown Christmas by Charles M. Schulz
This is the book inspired by the classic "Peanuts" TV special. I love Charlie Brown and had to include this!
4. Corduroy's Christmas Surprise by Don Freeman
Christmas is coming, and Corduroy has a list of gifts he'd like from Santa-until he discovers the true meaning of Christmas is not about train sets and ice skates, but about good friends. Celebrate the season with Corduroy in this Christmas story that is sure to be a holiday read-aloud favorite.
5. Christmas Day in the Morning by Pearl S. Buck
Rob wants to get his father something special for Christmas this year — something that shows how much he really loves him. But it's Christmas Eve, and he doesn't have much money to spend. What could he possibly get? Suddenly, Rob thinks of the best gift of all…
6. Christmas Oranges by Linda Bethers
Oliver Twist meets A Little Princess meets Christmas! When orphaned Rose is eight years old, an epidemic forces the closing of her beloved Greenwoods Orphanage, and she is shipped to Irongates. Headmaster Crampton punishes Rose severely for a tiny infraction, decreeing that she miss the special treat of an orange on Christmas morning. But, Rose's friend are willing to help her.. There's also a movie out by the same title.
7. How the Grinch Stole Christmas by Dr. Seuss
Every Who down in Who-ville liked Christmas a lot . . . but the Grinch, who lived just north of Who-ville, did NOT!
8. The Christmas Miracle of Jonathan Toomey by Susan Wojciechowski
Jonathan Toomey is the best woodcarver in the valley, but he is always alone and never smiles. No one knows about the mementos of his lost wife and child that he keeps in an unopened drawer. But one early winter's day, a widow and her young son approach him with a gentle request that leads to a joyful miracle. (Also check out the film.)

9. The Christmas Wish by Lori Evert
Little Anja wants to be one of Santa's elves. On her quest to find Santa, she meets a bird, horse, ox, polar bear, and reindeer that assist her.
10. Splendiferous Christmas (Fancy Nancy) by Jane O'Conner
Presents with elegant wrapping paper, festive decorations, Christmas cookies with sprinkles—and who could forget the tree? After all, there is no such thing as too much tinsel. Ooh la la! This year, Nancy is especially excited about decorating the Christmas tree. She bought a brand-new sparkly tree topper with her own money and has been waiting for Christmas to come. But when things don't turn out the way Nancy planned, will Christmas still be splendiferous?
11. How to Catch Santa by Jean Reagan
It's Christmas Eve. You've waited a whole 364 days to catch Santa! This picture book is a how-to guide!
12. Shaoey and Dot: The Christmas Miracle by Steven Curtis Chapman and Mary Beth Chapman
Written by Steven Curtis Chapman and his wife Mary Beth, this is a follow up to Shaoey and Dot, the story of a little ladybug who watches the adoption of a little Chinese girl in an orphanage. In this follow up, the pair (inspired by Steven and Mary Beth's own adopted daughter, Shaoey) learn the true meaning of Christmas.
13. The Carpenter's Gift by David Rubel
The Depression is in full swing in New York City, where young Henry and his father are selling Christmas trees. After giving a Christmas tree to construction workers, the workers and neighbors grant Henry his wish for a nice, warm home to replace his family's shack. In another pay-it-forward act of kindness, Henry plants a pinecone, and decades later, after turning into a beautiful Christmas tree bringing smiles to many, Henry uses the wood to build a house for another family in need.
14. The Legend of the Christmas Rose by William Hooks
Young Dorothy and her older brothers head to Bethlehem to see the new baby Jesus, and she worries she has no good gift for the new child. Until…Dorothy meets an angel who shows her some beautiful white flowers.
15. Dream Snow by Eric Carle
On a snow-less Christmas Eve, an old farmer wonders how Christmas can come with no snow!
16. Humphrey's First Christmas by Carol Heyer
Here the Nativity story through the eyes of Humphrey the camel and his long journey to Bethlehem.
17. Christmas in the Trenches by John McCutcheon
This picture book is inspired by the true story of the Christmas Peace Treaty during WWI in 1914. On Christmas Eve, British soldiers heard the Germans singing Stille Nacht and joined in. Soldiers on both sides climbed out of their trenches and met in between the lines, sharing small gifts, food, and drink. They played a game of soccer. Then they went back to their trenches. The next day, the shooting resumed. (Also check out Shooting at the Stars)
18. God Gave Us Christmas by Lisa Bergen
"Who invented Christmas?" little cub wonders. Written by the author of God Gave Us You, this book offers many questions on the true meaning of Christmas.
19. Bear Stays Up For Christmas by Karma Wilson
Bear's friends are determined to keep Bear awake for Christmas! So they wake Bear up and have him help them find a Christmas tree, bake cakes, hang up stockings, and sing Christmas songs. Bear stays up — by discovering that giving is one of the best Christmas presents!
20. The Littlest Elf by Brandi Dougherty
Oliver may be the littlest elf in the North Pole, but he has a big desire to discover his very special job in Santa's workshop! But after getting lost in the toy shop, making a mess at the book shop, and falling in the mixing machine at the bakery, is the littlest elf just too little?
21. The Legend of the Christmas Stocking by Rick Osborne
Peter sells newspapers for his family as his father is away overseas, and he is saving up for a model schooner in the woodworker's shop. But, the woodworker teaches Peter the story of the Christmas stocking, and generosity. This is the sequel/sister book to The Legend of the Candy Cane.
22. The Crippled Lamb by Max Lucado
Joshua is a young lamb with a crippled leg. Because he can't play with the other lambs, he often feels left out. But, Joshua learns that God has a special plan for his life. Weaving into the story of the birth of Jesus, this is an inspiring, sweet story with amazing oil painting illustrations.
23. The Legend of the Candy Cane by Lori Walburg
Beautifully illustrated, a young girl learns the legend of the candy cane when a stranger comes to town. There's also an animated movie.
24. Room for a Little One by Martin Waddell
In a stable next to an inn, Kind Ox begins to settle in for the night when Old Dog appears, looking for a place to stay. "There's always room for a little one here." Next comes Stray Cat, and so on, until finally, a Tired Donkey, with Mary and Joseph, arrives.
25. Matthew 2
Celebrate Christmas with the biblical account of Christ's birth. Merry Christmas!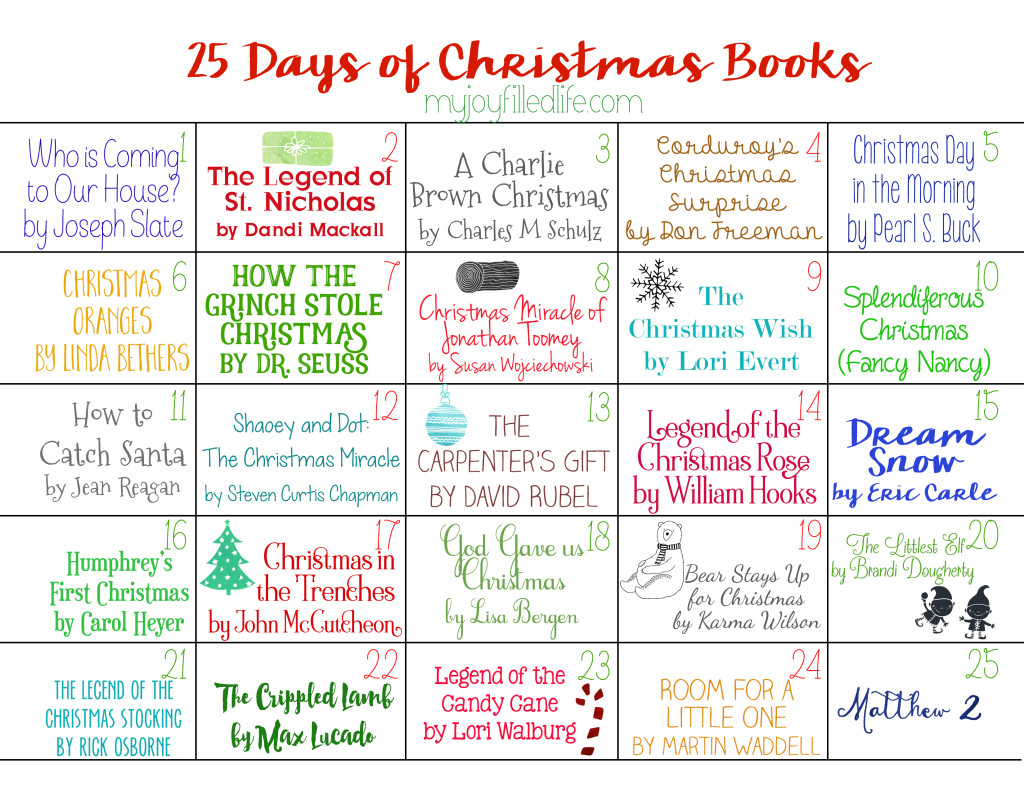 Click below to download!
This post contributed by Samantha from Le Chaim on the Right