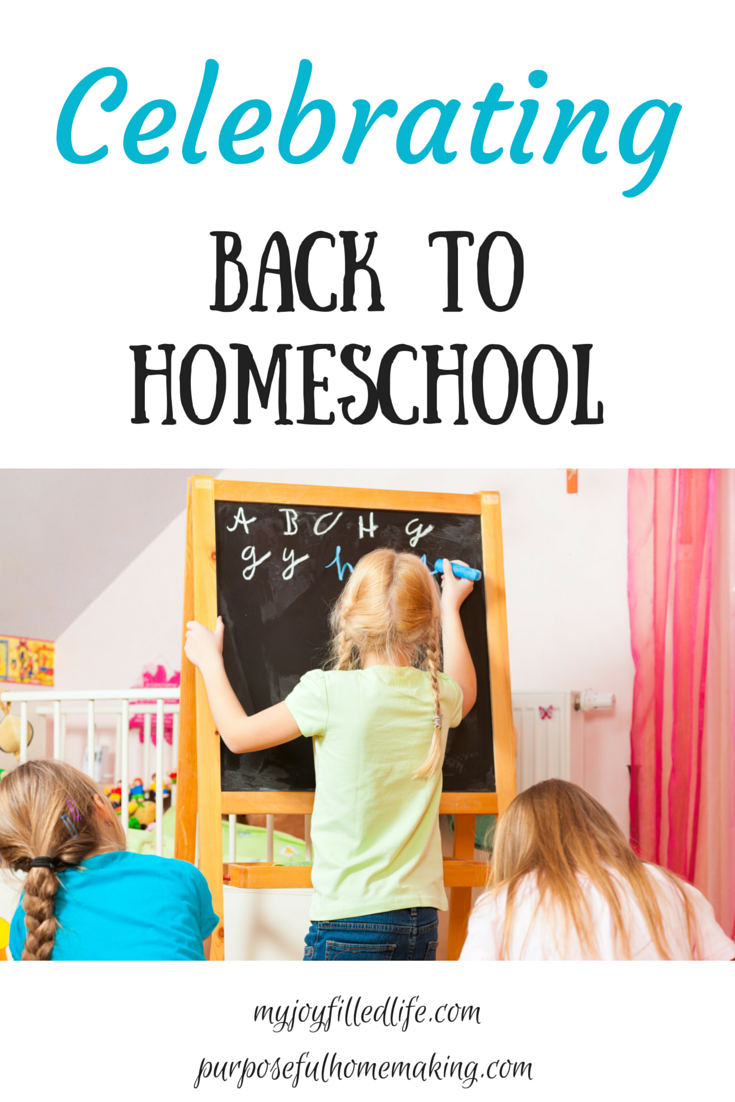 You may remember that last month I wrote about four different ways I help myself prepare for a new school year and I've been busily chipping away at those. Today I'd like to share with you what I like to do to make that first day back to homeschool special for our children. It's not over the top by any means, but it's enough to set the day apart and an opportunity to bless our children in a special way.
Homeschooling, as a whole, blesses me in more ways than I ever could have imagined. I say as a whole because we ALL have bad days and days that we just want to quit! But when I look at the big picture, I'm just in awe that this is where we are at. It humbles me and blesses me and makes my heart say a big thank you to God for directing us this way.
I think that's one reason why homeschooling has been such a good fit for us (even though I said I would never do it.) 🙂 Over the years I have learned that we can inspire our children to learn simply by learning alongside them. It's like you're in this amazing adventure together and you get to share the excitement over newly discovered science facts, incredible stories from history and share blessings about the ways that God has worked specifically in your family.
So, as I'm writing this post, I find our family speed-skating past the middle of August with only a week and a half left before we start up a new school year. That means my mind is double checking school supplies, lesson plans (this is my first year branching away from a boxed curriculum and we are SUPER excited!), first day of school printables, and working on fun ways to make that first day extra special.
[Tweet "Free First Day of School Printables"]
It's really important to me to make that first day memorable because I love the nostalgia that comes from looking back on those first day of school pictures and first day of school interviews (these are my favorites!). It's so fun to bless the kids in small ways and to hear their excitement as they eye their school supplies and special treats just for them at the school table.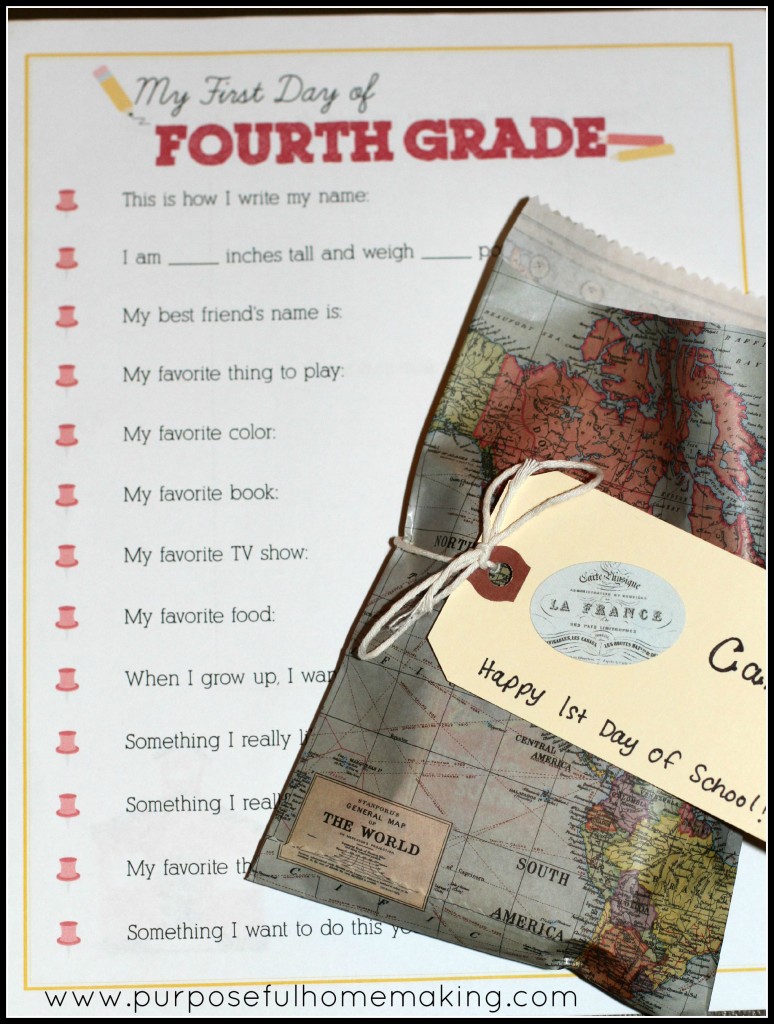 A New Article of Clothing
Since we homeschool, it saves us from having to do back to school clothes shopping. But, I still enjoy taking the kids to the store to let them pick out one new shirt or dress. It's so fun to have something new to wear that first day and since it's not often that I buy brand new clothes, it is extra special for them to pick out something special to wear the first day back.
I love the individual first day of school pictures and last year I made my own Printable Back to School Signs for each child to hold.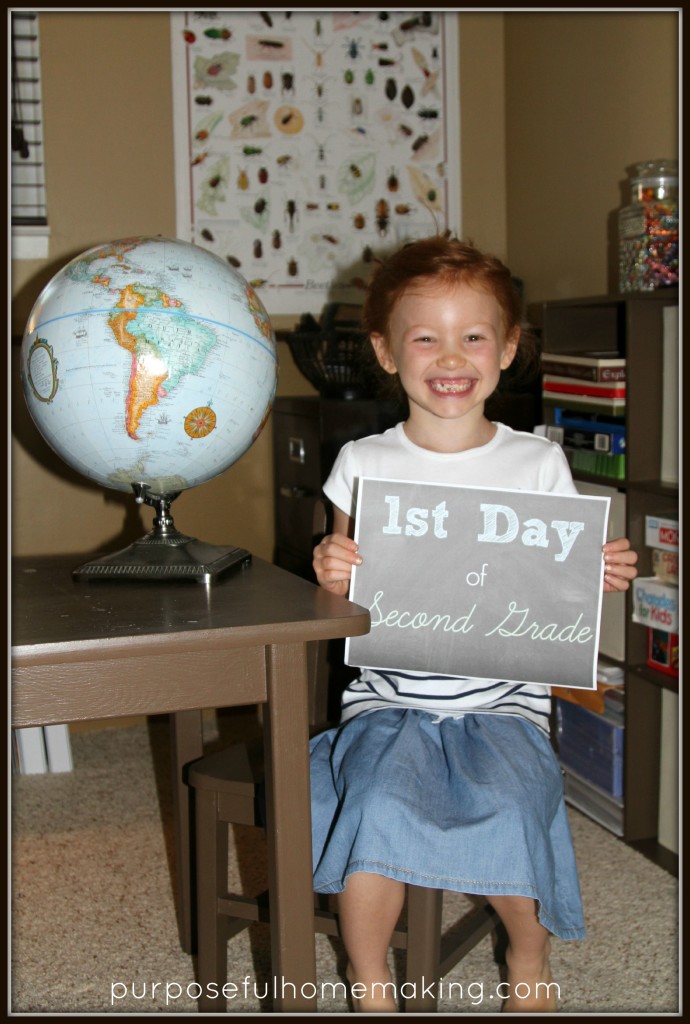 Something to Show Them That They're Maturing
We all know that kids love independence and it's an important age-appropriate responsibility to teach our children. The more independent our children can become with their school work, the more time that frees up for us to work with younger siblings, catch up on laundry or do a load of dishes. Plus, it teaches them to "own" their work and it gives them a great feeling of accomplishment.
This year I made individual schedules for each of our school aged children and a master schedule for myself. I know in reality that I will probably end up deviating from this a lot. However, it will be a helpful tool so we can accomplish more in a smaller amount of time than previous years. I'm hoping it will eliminate the wasted time when in the past the kids didn't know what to do next or I got distracted by social media, the baby or just Momma's chores! Each child will get a color coded, laminated individual schedule. It's something simple, really, but I know it will make each of them feel all grown up. 🙂
Something New for the School Area
Adding something new to your school area helps makes the space fun and exciting. This year, after 5 years of homeschooling, I am finally getting around to having a wall calendar in our school area. I LOVED Sarah's idea for having a portable school calendar since we have a very small home and I try to keep our school area neat and tidy and not too schoolish since it's in our living room. Having a portable school calendar is perfect because I can fold it up and tuck it neatly behind our school cubby.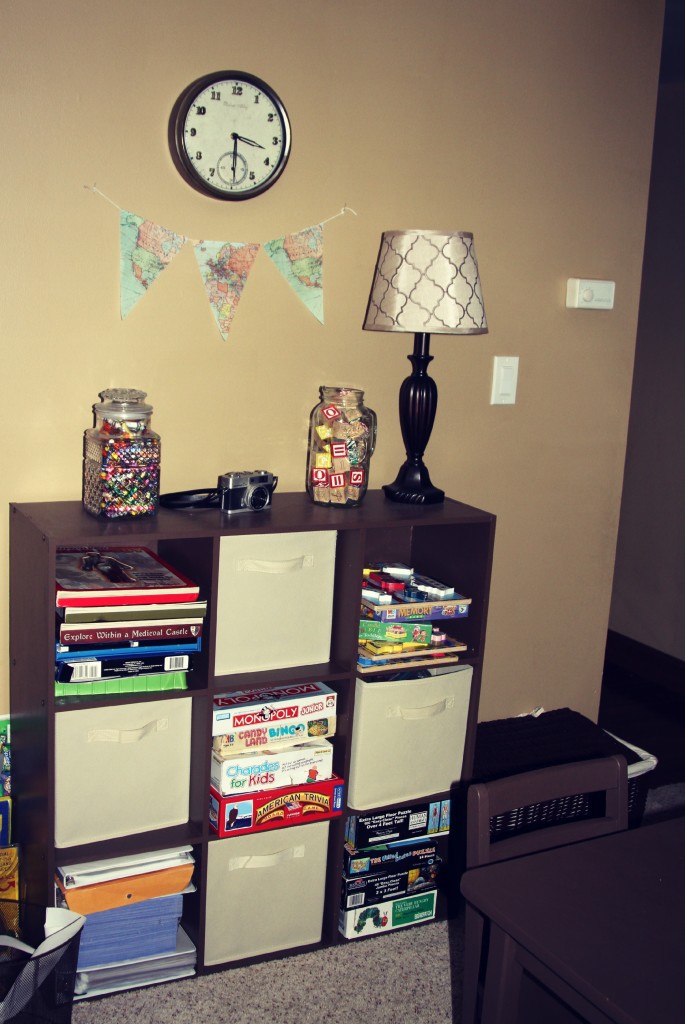 It was pretty easy to pull together because I ordered an interactive school calendar for just under $11 off of Amazon. I also bought a Tri-fold Presentation Board to mount it on, along with some round Velcro sticky coins so that the kids can easily change the calendar each month. Whether you decide to buy a calendar or make your own, Sarah, our blog host, also has all the free printables you will need to add a few extra details to your school calendar area.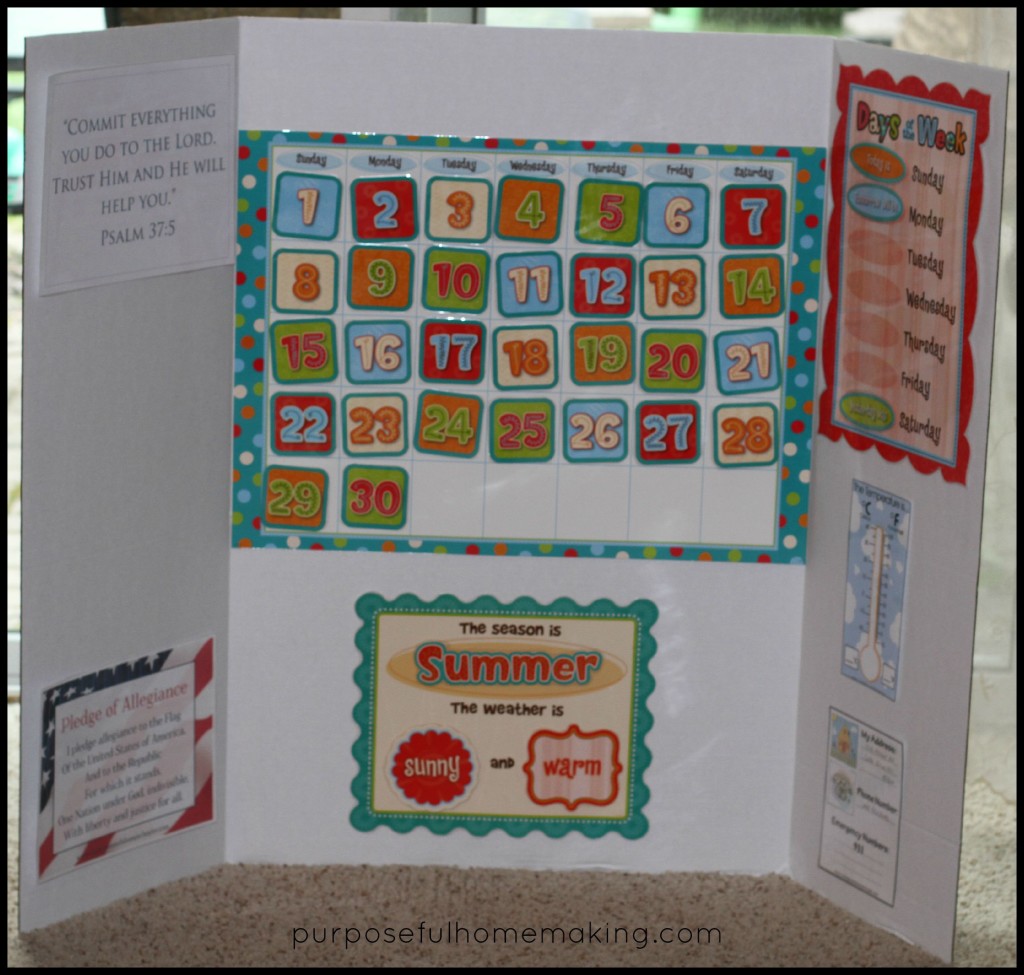 Exciting New Books for Your Curriculum
We love to use living books as part of our homeschool education and it just so happened that I hosted an Usborne book show through my friend Lindsey from The Road to 31 and got LOTS of books either free or half off with my hostess rewards. Yippee!! I already gave the kids some of the books, but I chose a lot that would tie in with our subjects this year for school. I'm saving those for a huge surprise for the first day back. I'm sure once they get them, all other learning will fly out the window though (which is fine) because the last time I gave them Usborne books, this is what they looked like…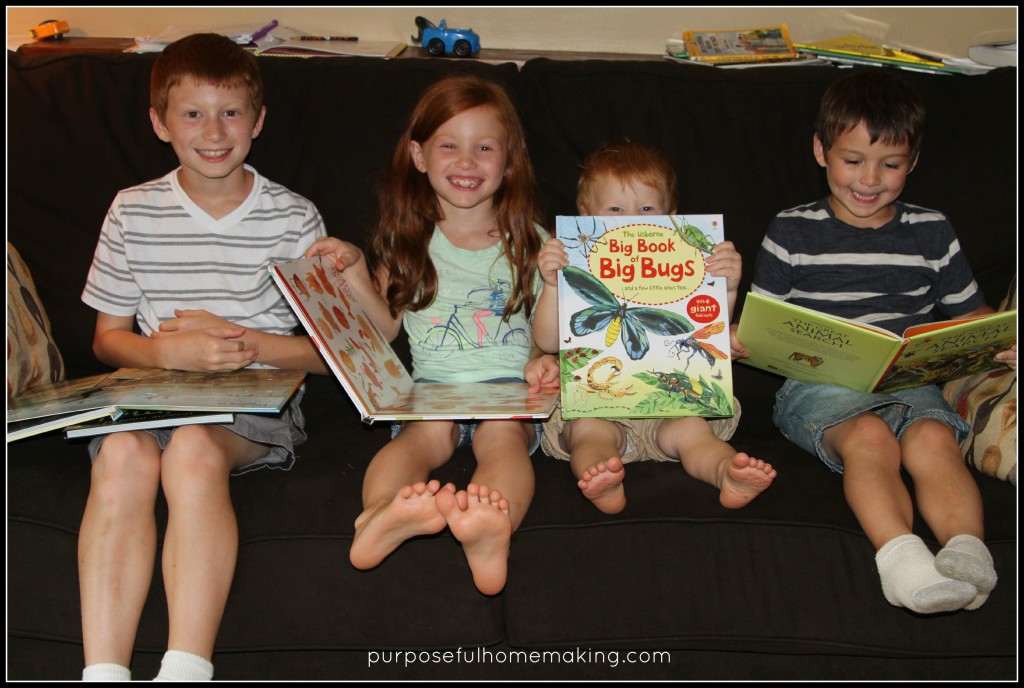 Usborne made it easy to pick books that went with our subjects this year. While the kids will be sharing all of the books amongst themselves, I did choose some with each child specifically in mind. Here's what I picked:
For our toddler:
Very First 1, 2, 3 Board Book
Noisy Castle (My 5 year old really wanted this book, too, but I picked it out specifically with my toddler in mind because I'm hoping he'll have so much fun with it that it will give me some uninterrupted time to teach the older kids! Fingers crossed! Regardless, I know everyone will use it. Even my 10 year old!)
That's Not My Lamb (LOVE this series and have used it with all of my kids for the past 10 years! I think what I love most about this series is that it is a little bit silly which of course toddlers love but it is also a touchy feely kind of book which helps hold their attention when you're working on building their attention span. If I had to choose one series to recommend for this age group it would defintiely be this one.)
For our 5 year old son:
The Great Animal Search (This is one of our son's all-time favorite books and when we had to sell it with our boxed curriculum set, I promised him I would get him a new one. Thanks to hosting an Usborne show on Facebook, I got it for FREE! This book covers different regions of the world and some of the animals that live there. The child has to find a certain number of each kind of animal that is in the picture. Our 5 year old has spent HOURS in this book.)
See Inside Your Body (With over 50 flaps to lift I thought this book would be helpful to my 5 year old since I am doing Anatomy from Apologia this year. The older kids will get more from the Apologia study than he will but this will be a really nice book for him to feel included in our subject matter but it will be more on his level.)
For our 8 year old daughter:
Big Book of Colors (This book is so fun! Not only is it filled with lots of facts about colors and, of course, lots of wonderful illustrations, but it also has this cool little flap so you can overlap colors when learning about secondary and tertiary colors. Great book to supplement your art study.)
For our 10 year old son:
Electricity and Magnetism (Colorful illustrations, very informative and has a few projects kids can do.)
Animals (This has long been a favorite of our 10 year old son. He has spent HOURS reading this book and never seems to tire of it. He enjoyed this book several years back but again, we had to sell it with our boxed curriculum set. I was so thankful for the opportunity to get it again for him when I hosted.)
Write Your Own Adventure Stories (This book is PERFECT for either reluctant writers or kids who can't write enough.)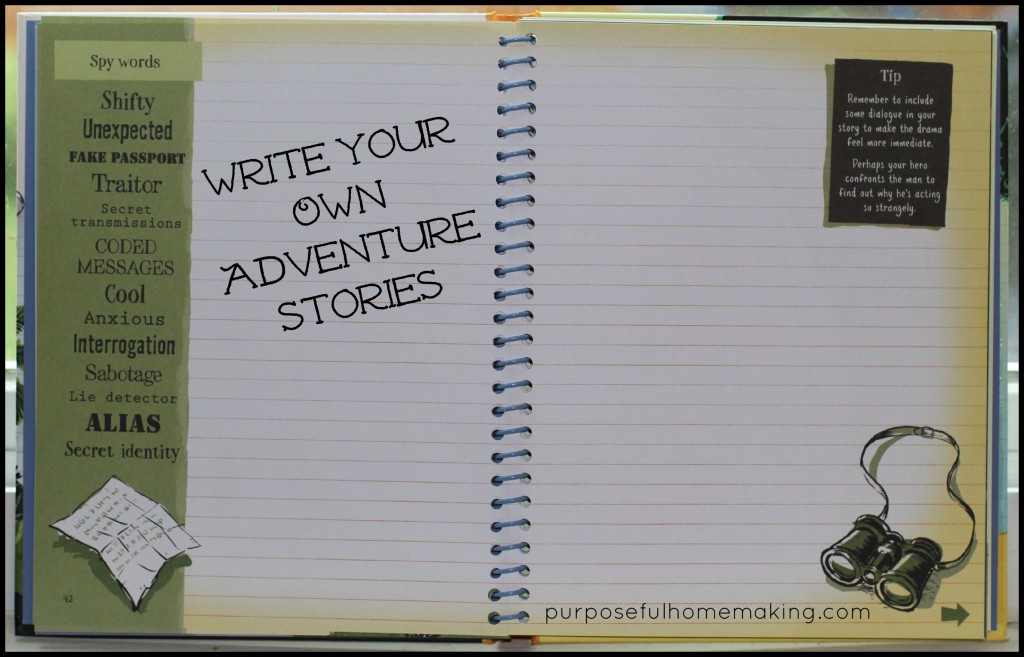 General Books/Resources for School Based on What We're Studying:
Famous Paintings (This is a boxed set of cards. There were about 4 I didn't care for but having these in a card form makes it much easier to remove them than if you were dealing with a book!)
Illustrated Dictionary of Biology (We are studying Anatomy from Apologia and I thought this would be a good extra resource.)
See Inside The First World War (This is a lift the flap book, but for older kids. We won't be studying the World Wars until next school year, but my son chose this one and he has really enjoyed it.)
Big Book of Big Bugs (Now this is a really cool book! It has 4 giant fold outs (which the kids think are so awesome!), lots of great pictures, details and colorful illustrations. A favorite around here.)
The Usborne Complete Book of the Human Body (Beautifully illustrated and wonderful photography, this book will be an excellent supplement to our Anatomy study)
First Thousand Words in Latin (The kids started learning Latin a couple of years ago but we have gone very slowly and at our own pace. I love this book because now that they have a little Latin under their belt they can explore this illustrated book at their leisure while learning at the same time.)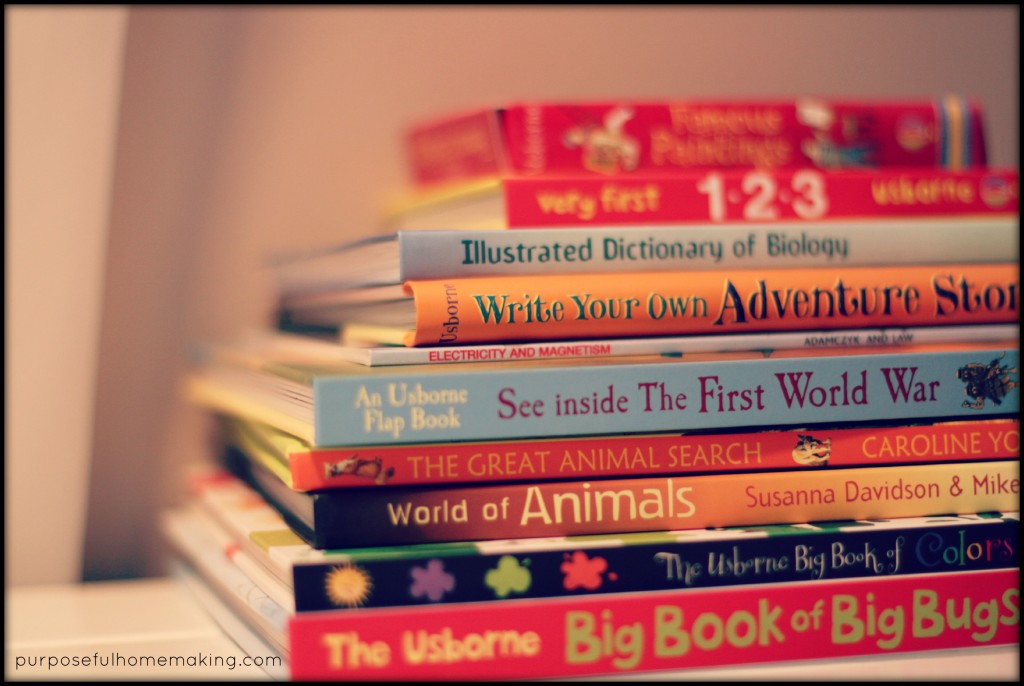 All of these books are heavy duty to withstand little hands spending hours flipping through them and even come with a ½ price replacement if the book accidentally gets destroyed. I love investing in books because I know the return is great! If you're interested in any of these books or hosting your own show, I know Sarah would be happy to help you.
Fun Snacks
I saw an idea on Pinterest that I just had to duplicate since we are giving our kids all of these great books for school. I'll probably also throw in a couple of special healthy snacks since as well but I just couldn't pass up the "For My Little Bookworm" idea! You can print your own book tags here.
[Tweet "Back to School Treats"]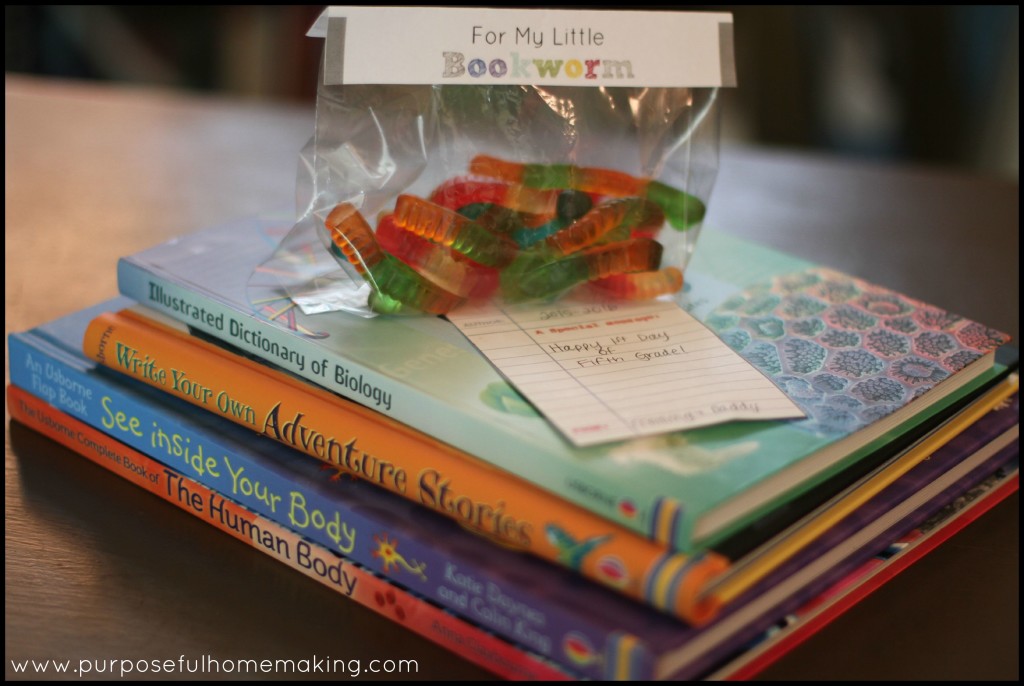 If you're looking for more back to homeschool ideas, these are some of my favorites plus, My Joy-Filled Life also has a lot of ideas to get you started.
I hope you have an amazing school year!
This post contributed by Becky at Purposeful Homemaking