Ancient Egypt is such a fun time period to explore with young kids. There are so many topics you can cover, allowing for lots of fun hands-on activities to be added into your studies. From King Tut, to the pyramids, to the Nile River, to Moses, there are so many amazing people, places, and events to study surrounding Ancient Egypt.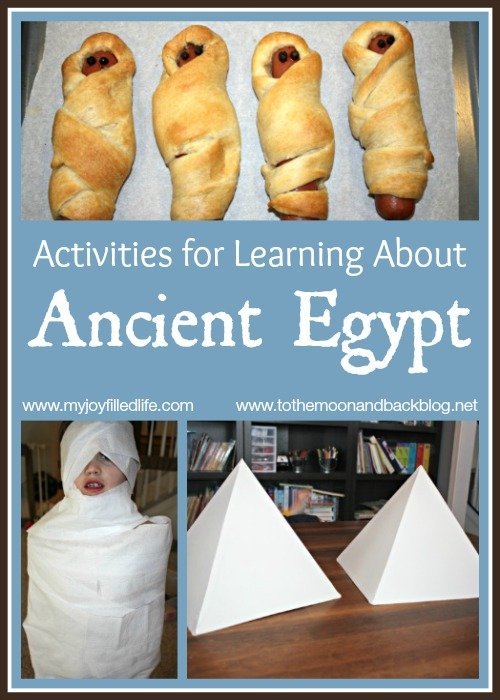 My kids and I touched on Ancient Egypt as we were working our way through Mystery of History Volume 1. During our Ancient Egypt studies, we incorporated several fun activities to make it memorable for the kids.
Here are the ancient Egypt activities that we did –
Toilet Paper Mummy
This one if fun for all ages, is very easy to do, and all you need is a roll (or maybe two) of toilet paper per person. Have whoever is being 'mummified' hold the end of the toilet paper in their hand and then slowly and gently walk around them until they are completely wrapped in toilet paper.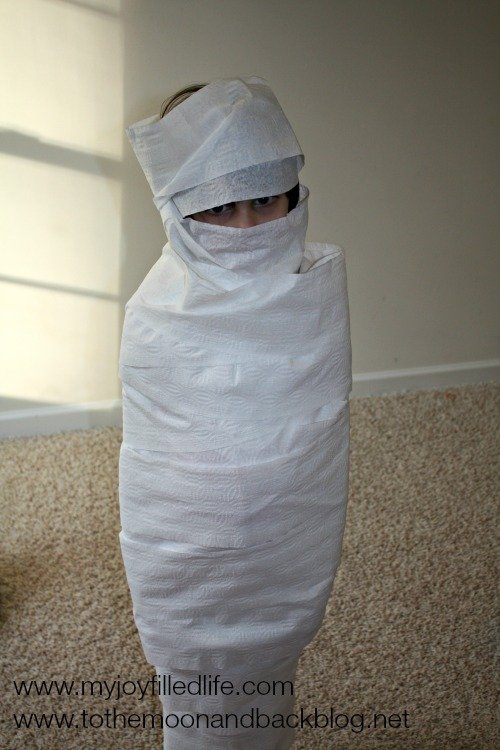 Mummy Dogs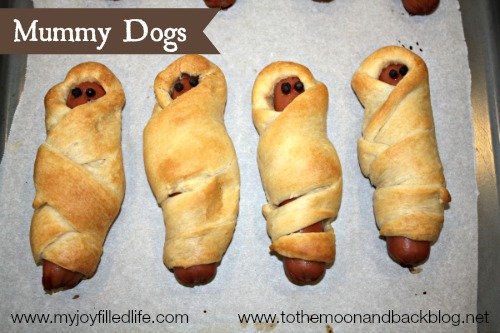 This is a unique and yummy lunch to make while you are studying Ancient Egypt. To make this lunch you will need a package of 8 hot dogs and one can of refrigerated crescent rolls.
These are very easy to make. Just separate all of the crescent rolls and then roll them out a little bit with a rolling pin. Then place a hot dog in the middle of each roll and cut a slit on each side of the roll as shown in the picture below.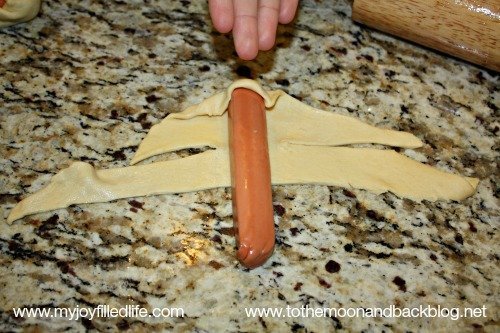 Then start wrapping your hot dog. First I folded down the top of the crescent roll and then just wrapped one side around and then the other. Just make sure you leave an opening at the top for his 'face.' Bake in the oven according to the crescent roll packaging. When they are done baking, place cloves, peppercorns, or dabs of BBQ sauce for the eyes.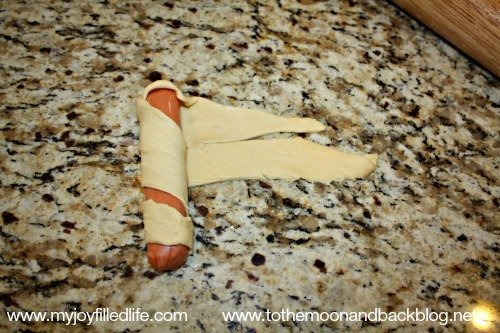 4D Pyramids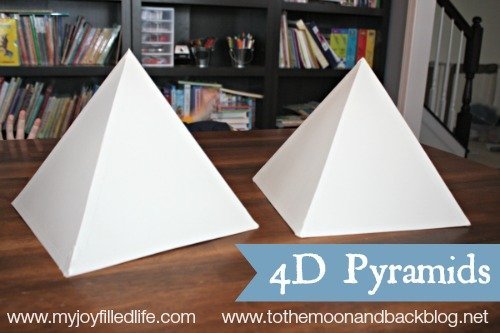 Unfortunately I can't seem to find the directions for the 4D pyramids that we made (we just moved and are still unpacking, so who knows what box marked 'School' it could be in), but I did find a little tutorial online. We made ours a little differently than the tutorial in that we used poster board instead of cardboard, tape instead of hot glue, and we finished ours off with textured, sand colored spray paint (which is hard to see from the photo, but they came out really well).
For even more ideas for learning with Ancient Egypt activities, you should check out the list below-
Lego Pyramid at Living Life and Learning
Cookie Nile Rivers at Raventhreads
Moses and the Plagues of Egypt Sensory Bin at Something 2 Offer
King Tut Mask at Creekside Learning
Ancient Egypt Art Lesson at Harrington Harmonies
The Story of Moses in a Nutshell – Exodus 1-12 and Exodus 12-13 at Future Flying Saucers
Sugar Cube Pyramids at Naturally Educational
Pharaoh Tic Tac Toe at Left Brain Craft Brain
Ancient Egypt Unit and Lapbook at Homeschool Share
Make Your Own Mummy at All That's Goood
Pyramids of Giza Rice Krispie Treat at Chasing Cheerios
Pharaoh's Headdress at Activity Village
Marshmallow and Toothpick Pyramids at Almost Unschoolers
Ancient Egypt Lapbook with Study Guide at A Journey Through Learning