It's easy to cheer on a child in his school efforts when he is growing in his knowledge and obviously producing excellent work.
But what about if you see that a child is making progress in a subject, and yet, you know that it's still not enough? Here's 9 questions to ask.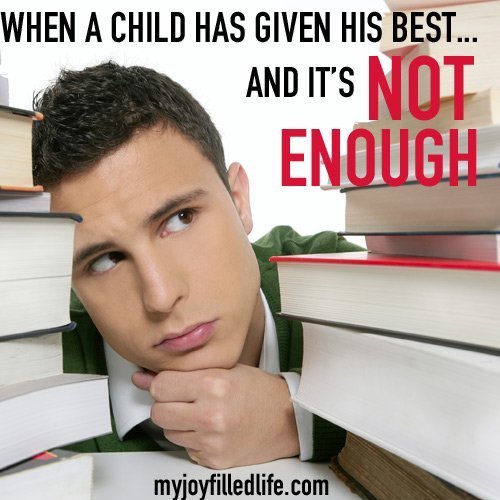 It was Wednesday, the day before our conference day with the teacher at our local homeschooling charter, and I was busily gathering up all the samples of work from each of my kids.
Everything seemed to be in order as I pulled samples from my ten-year-old and seven-year-old files.
And then I took a deep breath as I opened up my twelve-year-old's school box.
It was full of good work, to be sure. Together, we'd been working hard at keeping his easily-distracted spirit on-task and on-time. And, honestly, I was super proud of all the progress he'd been making, especially in self-managing his assignments.
And then I looked at his essay for this period.
It was lackluster at best. In fact, it was downright lousy.
As a result, to put it nicely, I was "overcome with frustration." Alright, so this mama got a little unglued.
Why was I angry? I knew that he could do better. He had put in the effort, but his work certainly didn't show it.
As I stared at him with disappointed eyes, my precious son gave me the saddest, most shame-filled glance. He obviously understood that this wasn't his best, and yet he'd given his best.
And suddenly, I realized what my son needed at this moment. He didn't need a critical lecture; he needed loving compassion.
Compassion Not Criticism
For me, one of the hardest parts of parenting is having to swallow my pride and make the hard choice to love when it is not easy or comfortable. This was obviously one of those moments.
Isn't it much easier to inspire our kids on when they're already doing well? Those "atta-boy" phrases come quickly and easily out of our mouths when our child scores the winning game goal or gets 100 percent on a test.
But determining how to encourage a child becomes much more challenging when he has given his best… and it still falls short of what's expected.
9 Questions to Ask When A Child's Given His Best (and it's Not Enough)
1) Look at the big picture. I ask myself, "How have I seen this child grow recently? Is this work indicative of that growth?" Growth is the real goal here, right?
2) Consider the effort based on that child's individual capabilities. My son has some learning and social challenges, and I knew that these challenges made this type of assignment extra difficult for him. This encouraged me to have grace with him and to allow myself to let go of some perhaps unrealistic expectations.
3) Consider how outside situations may have influenced the outcome. Were we really busy during the last few weeks that he had been working on the assignment? I saw immediately that yes, I had been very distracted during this time with other family needs and perhaps hadn't been able to support him through the assignment in the manner required.
4) Examine the assignment and teaching method. Was the assignment clear? Was it taught in a way that made sense to him? In this case, I could see how my son was overwhelmed and confused by the instructions.
5) Look for a pattern. Do I see this less-than-stellar schoolwork happening in other subject areas? Do I see this happening over and over in a particular subject (which may mean that I need to change the teaching style or method)?
6) Determine if there are deeper issues going on. Does this behavior indicate a less-than-stellar character issue present in the child? Or perhaps is his heart hurting in some way and this schoolwork is evidence of a cry for help?
7) Expect imperfection. My child is a developing human being on his path toward adulthood. Even we adults aren't perfect, so how much more grace we need to give our kids when we ask them to do difficult tasks! This fact doesn't excuse lazy behavior or a lack of motivation. But it does cause me to ask, "Were my expectations unrealistic here?"
8) Ask, "According to Who?" Examine what standards you're using when making the assessment that the work is "not enough." We all develop at different paces in our educational journey. However, there is also the fact that children need to be on some sort of learning curve in relation to their peers in order to be prepared for college and other high-level academics. It's a hard call to make, but we must consider all aspects of this question.
9) Praise the improvements, no matter how small. Just like there is truth to the statement "There is always something to be thankful for," I am a firm believer that there is always something we can praise a child for. What new thing did the child try? How did they attempt to solve a problem differently than before? What can I praise here that will encourage (not discourage) the child's growth?
Growing Souls Before Growing Bigger Brains
Yes, I am my child's teacher and my goal is to give him a solid, well-rounded education.
But before I am his teacher, I am his mama. And that means that my goal is to look at the heart issues before I consider academic progress.
It means that I need to ask the deeper questions and to support the growth of his soul before I encourage the growth of his knowledge.
Your Turn:
We all have those moments when a child's schoolwork disappoints us. How do you handle them? What tips do you have? How have you been able to grow closer to your child (and perhaps to God) through these situations?
This post contributed by Alicia from Your Vibrant Family