This is a post from Kathie Morrissey of The Character Corner
We have heard it many, many times: "You have EIGHT kids?! How do you afford it?" Others add comments about how they can't afford the 2 or 3 they have. Many times people who say this really mean they can't have a large family AND the high standard of living they desire. I'm going to share 8 tips that helped us afford a large family, as well as learn to trust God.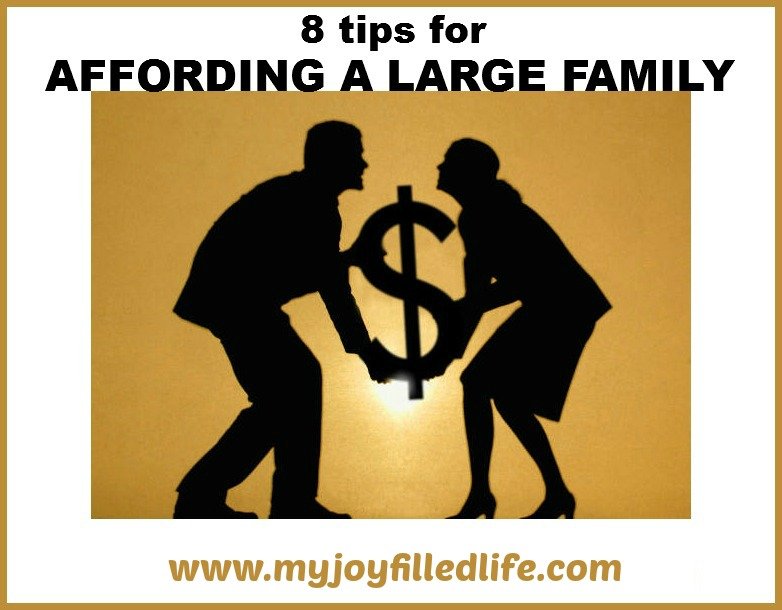 My husband and I decided when we had our first little one, that I would stay home to care for her, and any children that came after. We didn't have much at the time, but we knew we had a God who promised to supply our needs, and we could trust Him. I will say there were many times when things were tight and we had to scrimp, but we always had our needs met!
God does promise to provide, but He also expects us to be good stewards of the money He has given us. We need to be wise and careful in how we use it. I'm going to share some tips we learned as we raised our 8 kids on my husband's income.
8 TIPS TO AFFORDING A LARGE FAMILY
1. Be in agreement with your spouse.
It's very important to sit down with your spouse, and set up a budget that you can both agree on. A married couple is supposed to be a team, and it won't work if one of you is off doing your own thing financially. Once you agree on the budget, you both need to follow it. For instance, if you need mortgage services, a Mortgage Advisor in Belfast can get you a good DSCR mortgage loan rate.
2. Always tithe!
No matter HOW tight the budget is, this is a Bible principle that we need to obey. If you get into the habit of tithing, you don't even really think about it. And God promises to bless you when you are faithful in tithing. (Malachi 3:10)
3. Don't go into debt!
The biggest thing that gets families into debt is the use of credit cards. We agreed to have a credit card for certain things like booking a motel, or emergency car repairs. However, we agreed that we would ALWAYS, ALWAYS pay the bill in full the next month, so we never incur any finance charges. If you don't have the self-discipline for this, it's better to get rid of the cards, and use a cash envelope system.
4. Plan ahead and save regularly for big ticket items you are going to need, or want.
For example, if you know your washer is nearing the end, start saving for a new one. When you reach the goal and can buy the items you've saved for, you really appreciate them more. If you choose Vigilant Wealth Management to help you manage your finances, check out the team who you will work with.
5. Don't overspend on gifts.
As Christians, we aren't supposed to be materialistic, and if we don't start buying our kids lots of stuff, they won't expect it. Instead, they will appreciate it more when they do get things. Decide on a reasonable amount that you are going to spend for birthdays and Christmas, then stick to that amount.
When our kids were young, I got most of their toys from garage sales. You can find many nice toys, almost like new, at garage sales for a fraction of the original cost. Second hand shops are great too. The same thing goes for kids clothes. They outgrow them so fast that you can buy them used, but like new, and save a lot of money.
6. Make a menu, and stick to it.
Write a grocery list to include what is needed for the menu, and buy only what is on the list, for example, eggs, additive free canned meat variety pack, etc. When shopping without a list you automatically end up spending more, as you pick up an extra thing here and there.
Also, try to shop where prices are lowest. For many years when the kids were young, my husband went to Aldi and bought almost all of our groceries there. We were able to spend a surprisingly small amount on groceries, compared to what most families spend.
Another things that helped us save on groceries: we never bought junk food. We didn't buy sugary cereals, chips, or pop when the kids were young. That alone cut quite a bit off our grocery bill. I would bake once a week, and that was a treat we all looked forward to.
7. Combine trips, and shop online.
With a big family, going to the store for frequent, leisurely shopping trips is impossible, not to mention that it wastes time and money. Before going out on errands, make a list of all the places you need to go, the things to look for or buy, and do it all at once. When you focus like this, you can get a lot done in a short time, AND you don't just randomly go spend money on things. Buying things online is also a money and time saver.
8. Learn to pray and trust God.
I can look back at so many times when we had to pray and trust that God would supply certain needs. Over time we learned to leave the need with Him, sit back, and watch to see what He would do.
It has been SO exciting to see the many times, and ways that He has provided for us. Even MORE exciting was that my kids SAW God provide, and they too, learned to trust Him. You can read my favorite story of how God proved Himself to us here: "I Said I Couldn't Trust God."
Following these 8 tips to afford a large family has helped us over the years. We may not have always had the best of everything, but we always had enough. Also, through the many times of seeing our needs supplied, we
learned to depend on AND trust God.