When it comes to teaching our children we don't often think of art as a priority, but rather something to fit in if we can. The benefits of including art in your children's education are endless and there are so many creative ways to incorporate art into your homeschool if you look!
Since my children were young they have shown not only a great interest in art but great talent as well. Because of their talents and interest in anything to do with drawing, painting and crafting, I have tried my best to create an environment that is conducive to creating great art.
"Whatever the natural gifts of the child, it is only so far as the habit of attention is cultivated in him that he is able to make use of them." Charlotte Mason
Homeschooling has been so great for us because there is more time to delve into art and incorporate it in many of our subjects. I have found that the best way to really get them interested in what we are learning is to add some form of art to it. It's amazing the difference it makes and I believe when they document and draw what we are learning about, it really imprints it in their minds.
Here are some ways that we have found to incorporate art into our homeschool and you can too!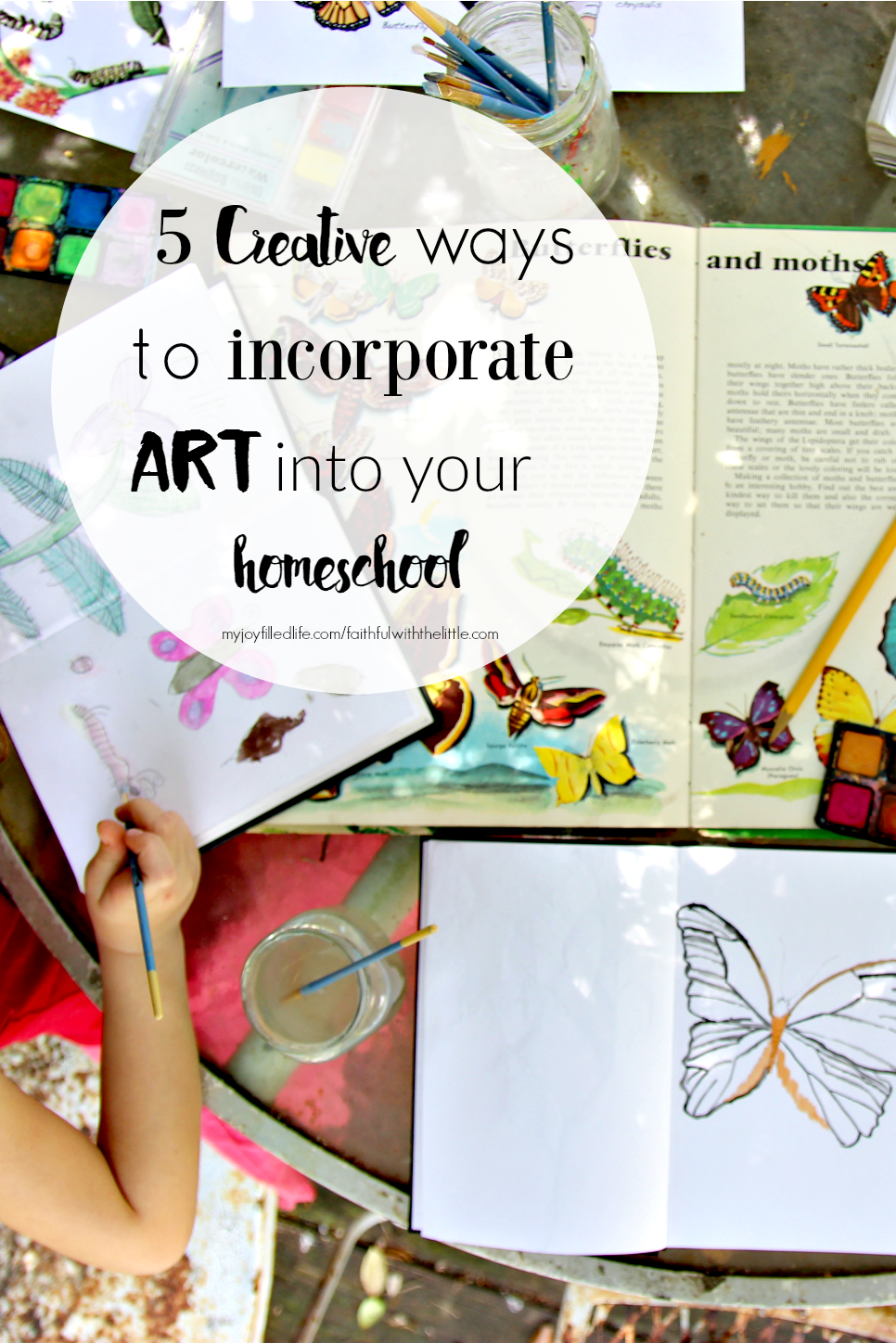 1. Art in Nature
Combining nature and art through nature journaling has been a big hit in our homeschool. My children love anything to do with animals and plant life and being able to document what we are learning in the world around us through art has always been met with excitement. I have to say that my favorite time of learning with my children is through nature studies and nature art. I love joining in with them and trying my best to paint or draw what we are studying, though my artwork is nothing compared to my kids.
All you need for nature journaling is:
A desire to investigate and study the world around you
Not only do my children love journaling about nature but they have gathered quite a collection of rocks, shells, butterflies, shark teeth and fossils!
The best way to start nature journaling is to get out and explore through Nature Walks and Field Trips to local Parks.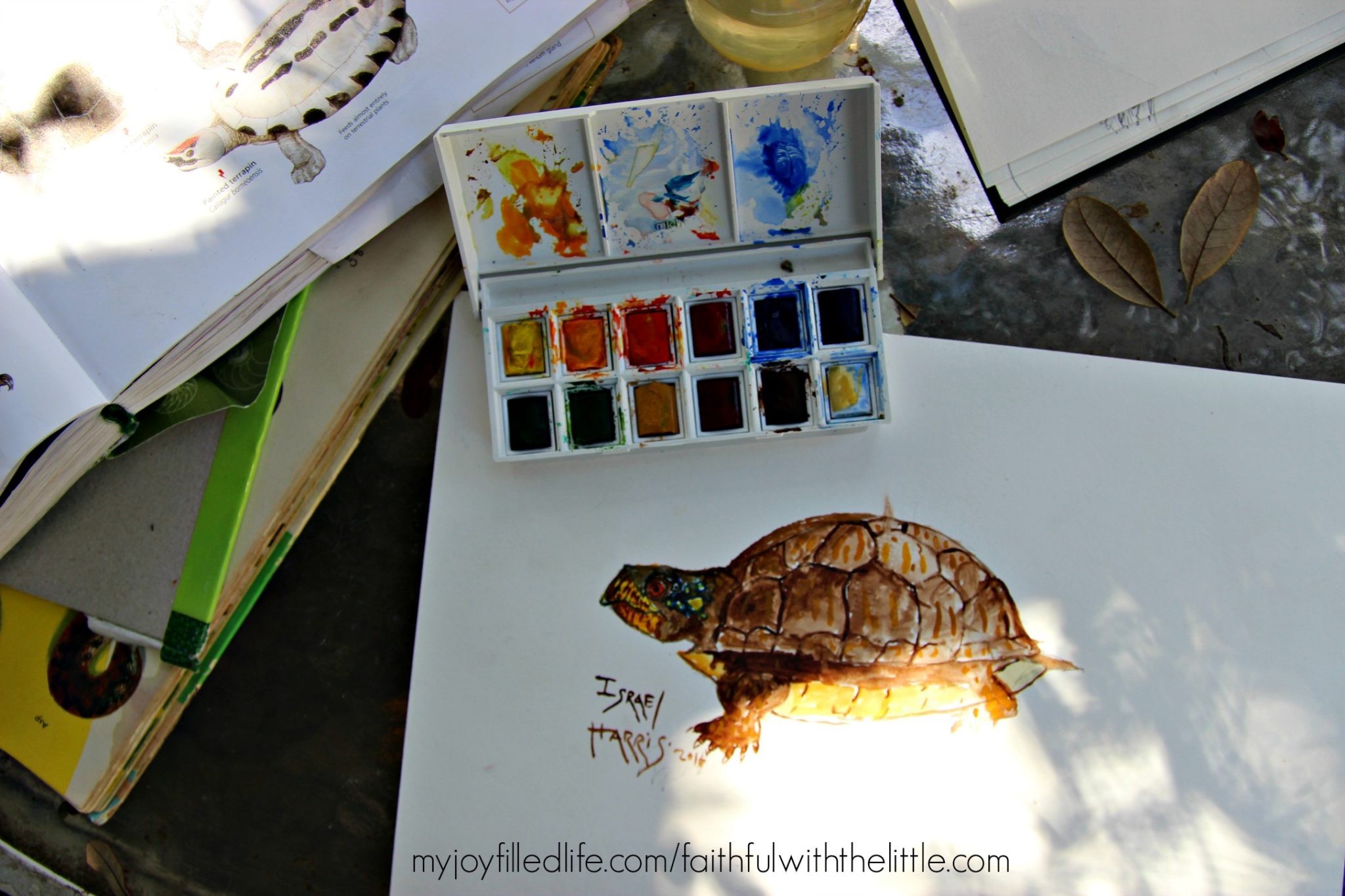 2. Art in Language arts
Reading/Writing/Language
Writing has not always been my children's strong point. I guess they did not inherit my passion for writing. I do have 4 boys though, so that might be why. Hopefully they will learn to love it in the future, for now I try whatever means I can to get them excited about writing. Art has been one way to do that. We read aloud a book every day and when we are done I have them narrate it back to me or I dictate a few paragraphs to them. When they are done they love illustrating the stories they read about. They also love making up their own stories and drawing pictures to go with them. Not only is art great in adding so much to stories but also poems as well.
Spelling
Spelling can get old real quick a great way to liven it up is to have your students draw their spelling words in creative ways with different types of handwriting. You can also have them draw a picture to illustrate each word in their spelling list. Use stamps or stencils for another fun way to create spelling words.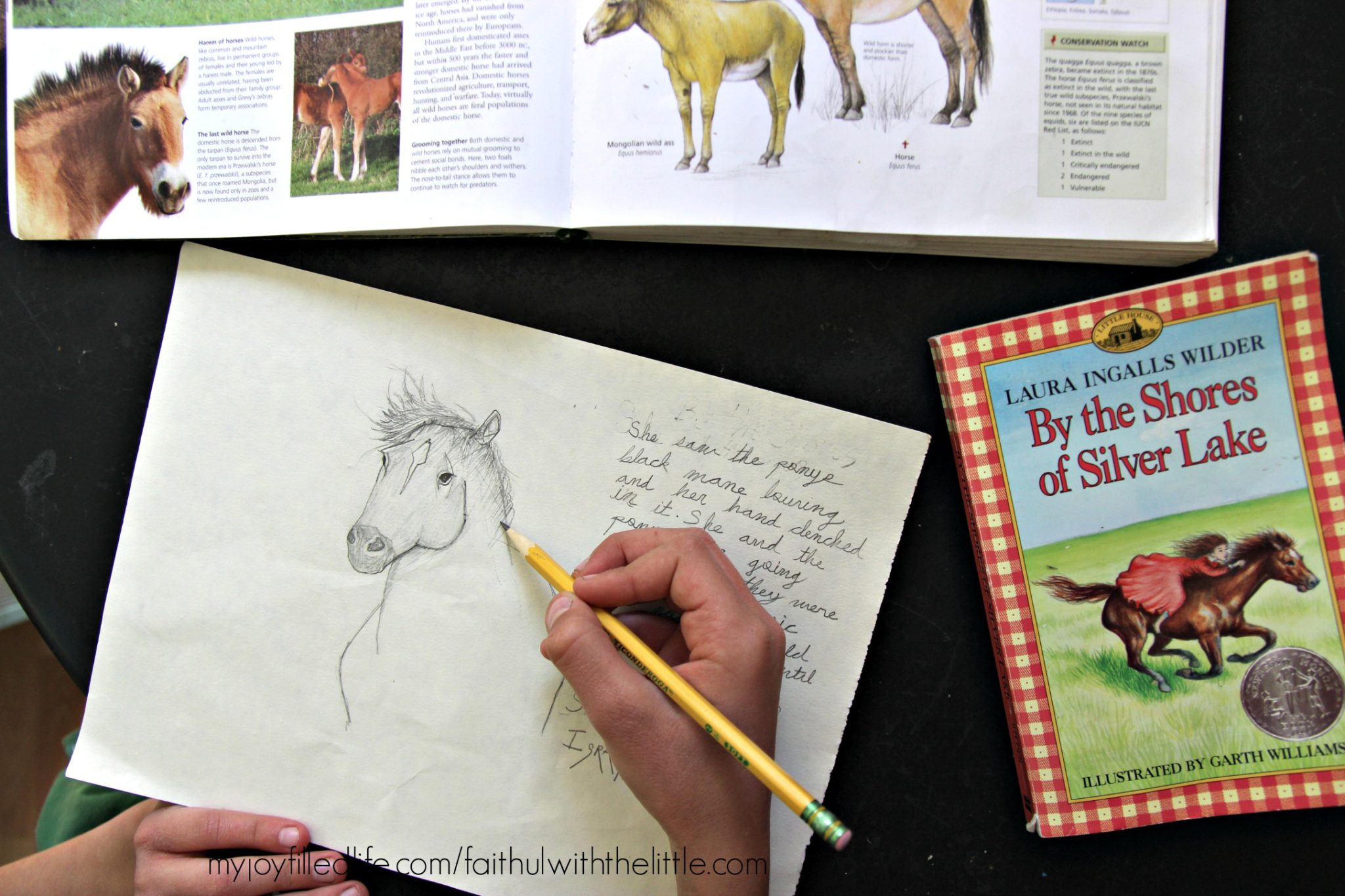 3. Art in History and Geography
Studying the art of different cultures and countries is a great way to learn about them. We have learned a lot about other places on the planet by studying their methods of art and creativity. We have made paper out of papyrus, painted in hieroglyphics, learned the art of origami, painted on water with marbling techniques, made vessels out of clay, and gyotaku fish prints etc…etc…
Another way to learn more about history is to study the artists and their artwork from different time periods. It's amazing to see how art has changed and developed through the different ages.
It's always fun to learn new art techniques and the countries and people they come from. You can learn so much about another country and time by how they expressed themselves through art!
We have also brought our Bible time to life by incorporating art as well.
4. Art in Science
Art does not have to be confined to just paint, pencils and paper. There are so many forms of art that can be found right in your home. I keep a box in our school room supplied with paper towel rolls, yarn, popsicle sticks, paper clips, straws, macaroni and whatever odds and ends we have around that house that can be turned into art by my kid's imaginations.
The kitchen is also a great place to incorporate art. Making play dough for instance is a product of science, teaching them how when different components are heated or added they can take on a new form. Cooking also for that matter is a form of art and science. Using fruits and vegetables to make into stamps for printing is a great way to for little ones to learn in the kitchen through science and art.
Anytime we perform experiments I will have my children not only document in writing but also in drawing how the experiment went.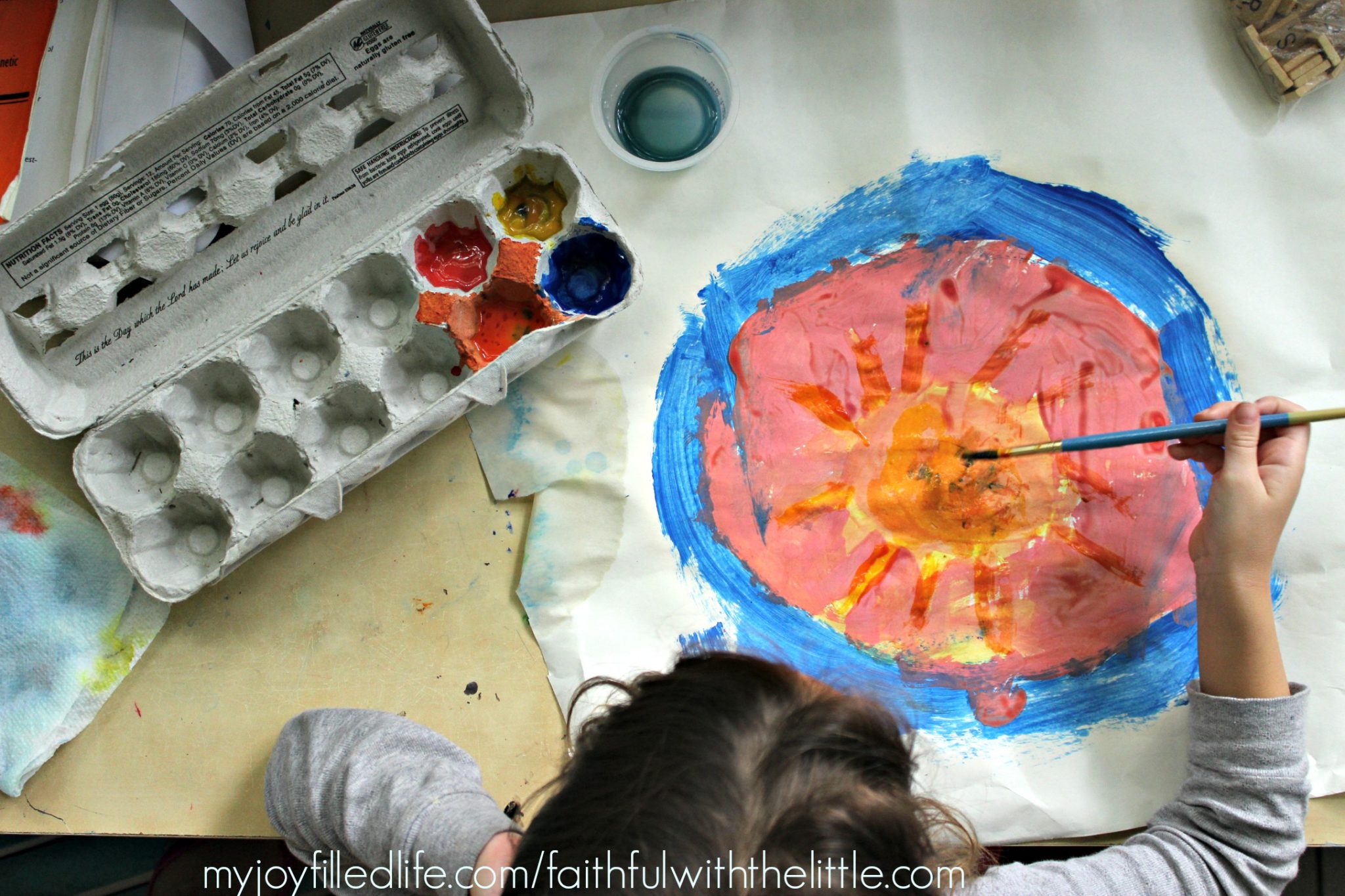 5. Art in Math
Art and math might not seem like they go together but there are many ways to incorporate art into math.
1.Word problems
2.Drawing shapes
3.Using measurement to draw precise shapes and distances( geometric art)
4.Tessellation( repeating a shape over and over again on a surface without any gaps or overlaps)
5. Painting by number
6. Making patterns
7. Using Pointillism(The technique of using tiny dots of various colors to create one picture) in learning percentages, fractions and decimals
Another way that we love to add art into our homeschool is to go on field trips to Museums, Art Events and explore the local art in our city. Make sure to take advantage of Free Museum Day in your city, September 24, 2016.
Whether you or your children are naturally gifted in art or not there is no excuse not to add art into your homeschool. The possibilities to create and learn through art are endless!
"Every child is an artist." Picasso
Here are some more great ideas and resources to help you cultivate a love of learning and art in your children!
Discovering Great Artists for kids
The following two tabs change content below.
Rebekah is living out her dreams as wife to her best friend and homeschooling mama to 5 crazy, beautiful little ones. She loves to encourage and empathize with other women and moms as she shares her heart, faith, joy and struggles on her blog
faithful with the little
. In the midst of meeting all the needs for her ever needy family you can find her running, thrifting, crafting, taking pictures, baking, writing and finding ways to be efficient and organized in her 2 bedroom home. Most of all she loves snuggling with her children and watching them play, create and learn. She lives in sunny Florida on a little farm in the city consisting of children, chickens, bees, gardens and lizards.