Did you know that according to the USDA, the average family of 4 spends anywhere from $720-$1100 a month on food?! That's crazy! Groceries can be expensive, but there are so ways for you to save money on groceries. Having a large family, I've had to learn over the years many different ways to stretch our dollar at the grocery store. Even when we only had 2 or 3 kids, I still tried my best to be frugal when it came to groceries.
I've done different things to save during different seasons of motherhood. I used to do 'extreme couponing' and stock up on pantry items and toiletries, but now I don't have time to coupon at all! There used to be a time when I would buy the majority of our groceries at the local wholesale club, but now I only go there occasionally for a few things. And I used to do a once-a-month grocery haul, but now I go on a weekly basis.
Regardless of the season you are in, I hope that some of the ideas listed below will help you save money on your next grocery trip. Every little bit helps; am I right?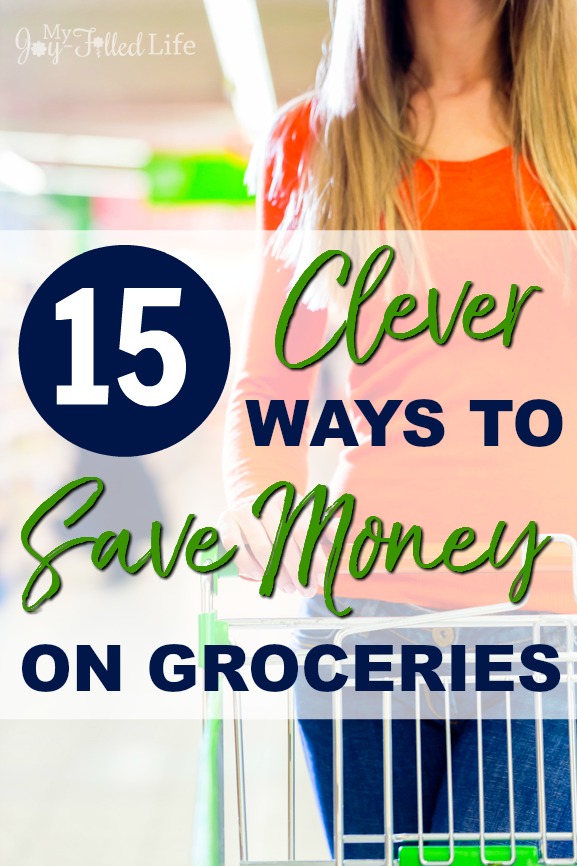 Different Ways to Help Save Money on Groceries
Coupons
Whether you clip coupons, use digital coupons for the grocery store you are shopping at, or eCoupons. They all will help you in saving money.
Shop Sales Ad
Try to plan meals around your sales that are in the ad for the week.
Meat on Sale
Shop for the meat that is on sale that week. That will help save money on protein. Buying protein can really add up.
Plan Meals
Planning your meals can help. If you look at the sales ad for the week, plan your meals around what items are on sale. This will help you cut down costs.
Look in Pantry
Before you head out, look in your pantry and see if you have items for meals you want to make. This saves money and sometimes we forget what is in the pantry.
Money Saving Apps
Checkout 51 and Ibotta are the most popular apps right now to give you a rebate on select foods. Just download on to your smartphone and use instantly. They have tons of stores to choose from, and add new food items for rebates often. You can even get money back for select restaurants now.
Store Loyalty Program
See if your store offers a loyalty program. Most stores offer discount prices if you are a member, and it is free to sign up. Get special deals, and more when you join. Just ask a cashier or manager if they have a loyalty program.
Don't Shop Hungry
Never ever go to the store when you are starving, it will make you buy more than you need.
Buy Frozen Fruits and Vegetables
If you are going to be making stews, casseroles, cobblers, consider buying frozen. You can save a lot of money and if you are tossing into a dish, frozen works just as well.
Generics
Consider shopping generics! Some generic items won't taste any different than name brand and cost a lot less. When you buy say five generic items it can add up in savings.
Shop Less often
If you can shop once a week instead of every few days, it will help save money. Buying more at one stop will save money down the line. Don't go to the store, just use what you have on hand. It makes you get more creative on meals.
Buy Dried Beans
Did you know that dried beans are less expensive. Plus you get way more for a bag of dried beans vs a can.
Eat Leftovers
Try making it a point to eat leftovers. If you have leftover steak or chicken, toss it in a salad so it seems like a new meal. Get creative or just eat the same meal over again.
Buy Cold Cuts at Deli
You can pay $6 for a pound of sliced ham at the deli and pay the same price for a container pre-cut for 1/2 pound. So go to the deli and get your lunch meats cut up for you, and you can choose how much you want.
Pack Lunches
Consider packing your lunches, that will save a lot from eating out each day. You can find so many neat lunch ideas off Pinterest. From make ahead salads, chicken wraps, bowls and more. Take your sides like crackers and cookies and put in sandwich bags, vs buying individual bags. Those are nice buy way over-priced. A sandwich bag works just as good.
I hope these clever ways to save on groceries does come in handy next time you head out to the store. You can cut down spending cost without sacrificing all the things you eat. You just have to think about what you are spending and is it worth that much money.
What are some ways you save money on groceries?
You might also like: