I'm so excited; it's finally here! The Build Your Bundle Homeschool Sale has officially started!
The Build Your Bundle Homeschool Sale is in its 4th year and each year it only gets bigger and better.
First, if you aren't familiar with the sale, let me give you a quick rundown….
The Build Your Bundle Homeschool Sale only happens once a year and it's an excellent opportunity to SAVE BIG on digital homeschool curriculum. This year, you can save up to 96%!! Unlike large bundle sales with 100+ products, we have packaged smaller "themed" bundles for you using popular homeschooling curriculum resources you will love! You can purchase grade or themed bundles of relevant products for YOUR homeschool without getting tons of other materials you may not need or use. If you prefer, you can even BUILD Your OWN Bundles!
This year there are 20 preassembled bundles and three build your own bundle options. Bundle prices start at just $9.95 and when you buy 2 bundles, you get 1 FREE. There are 240 products, from 112 authors, including several of Cathy Duffy's Top Picks (so this isn't a bunch of fluff; it's good, quality content and products). Plus, with every Build Your Bundle purchase, you get a FREE Bundle of Bonuses Book that has over $500 worth of freebies and offers from many of your favorite homeschool companies.
The Build Your Bundle Homeschool Sale also has a dozen online memberships and classes that you can snag for 50% off their regular price. And when you buy one of the memberships or classes, you'll get $5 off a Build Your Own Bundle!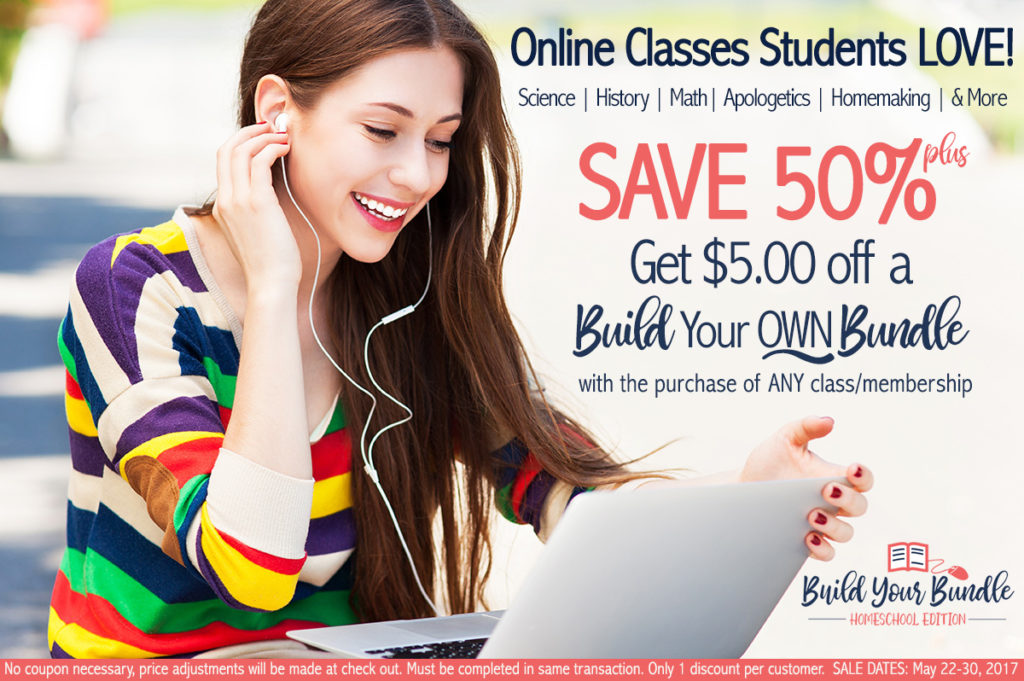 Now, if you are an old pro at the Build Your Bundle Sale, there are a few changes that you should know about….
First, we have a brand new look and a brand new website. Our hope is that it will make your shopping experience simpler and more enjoyable (not that it was bad before; we've just made it even better).
We have more bundles than ever before – 20 bundles this year, plus 3 build your own options.
We have a NEW Build Your Bundle option with NO PRICE CAP!
No duplicates in any of the bundles
No duplicate products from previous years (except for Ellen McHenry products because they are so popular; so popular that we actually put all of them in their own bundle).
$5.00 off a Build Your OWN Bundle with the purchase of a Premium Product (online membership/classes)
6 Months to download files instead of 30 days
And lots of new publishers that you will recognize and LOVE!

All of the bundles (except one) has a product in it that exceeds the price of the bundle itself, so you are really getting a fantastic deal. For example, Grammar Galaxy is normally $50 and it's in the Elementary #1 Bundle that is priced at $39.95. So not only do you get Grammar Galaxy for less than its regular price, you get 11 other resources for your elementary student. The total value of that bundle is $280.86.
The very popular Mystery Bundle is back again for just $9.95 (valued at $215.47), as well as the buy 2 bundles, get one free offer. If you are visual like me, here is a graphic to show you how great the Buy 2 Get 1 FREE offer is. *A note about the B2G1 FREE offer – the 3 bundles you purchase must all be preassembled bundles or all build your own bundles (you can't mix and match BYO and preassembled for this offer). You may have to do multiple transactions to get the best bang for your buck.

And as always, we have the Bundle of Bonuses Book that is full of freebies and discounts just for customers of the Build Your Bundle Sale. Everyone that makes a purchase receives this awesome bonus gift.
The Build Your Bundle Sale can be overwhelming, I know! You can use this handy shopping list printable and buyer's guide to get your thoughts organized and to put your plan in action.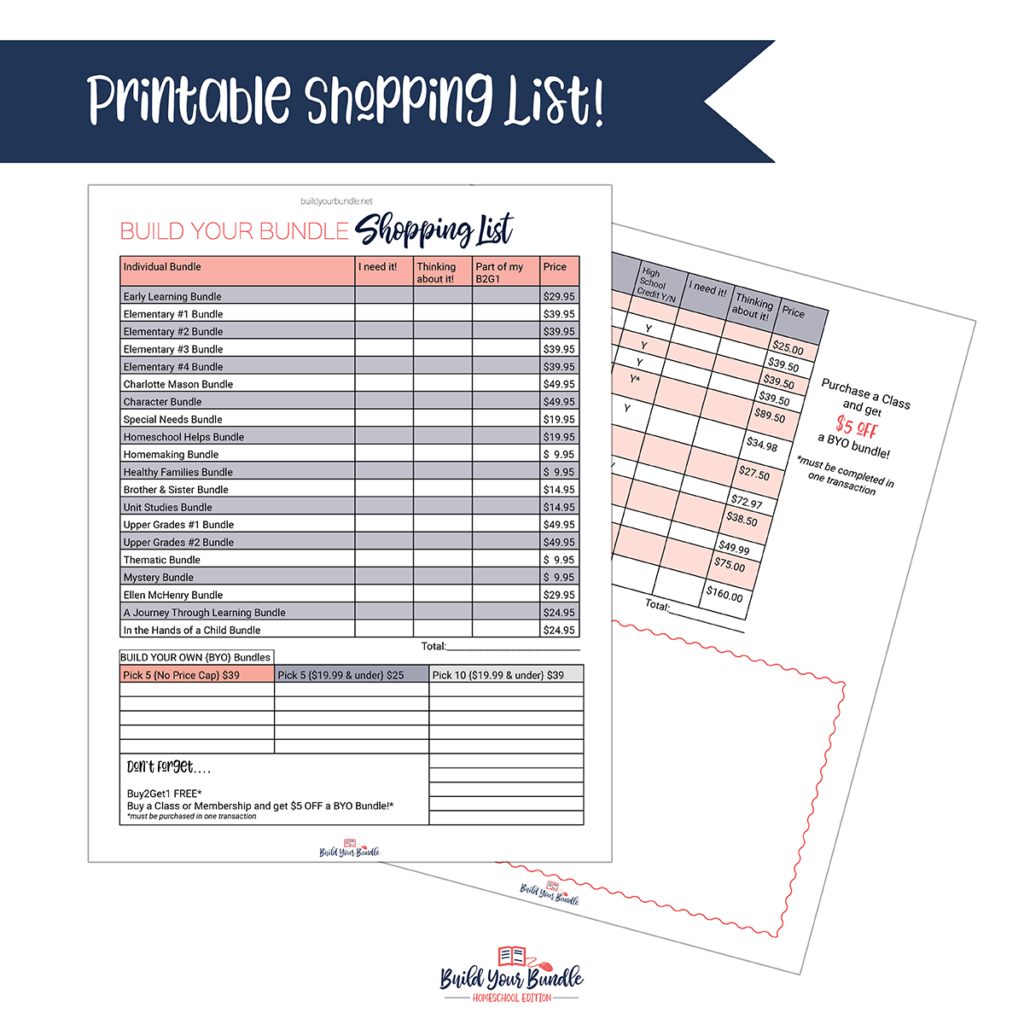 The Build Your Bundle Sale is only going on for 9 days – May 22nd – 30th. Don't miss this amazing opportunity to SAVE BIG on homeschool resources and curriculum!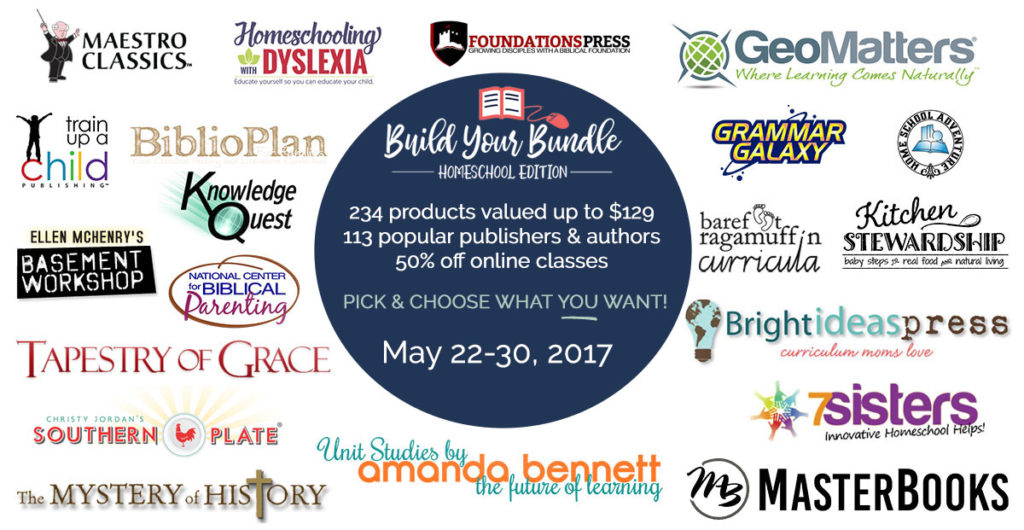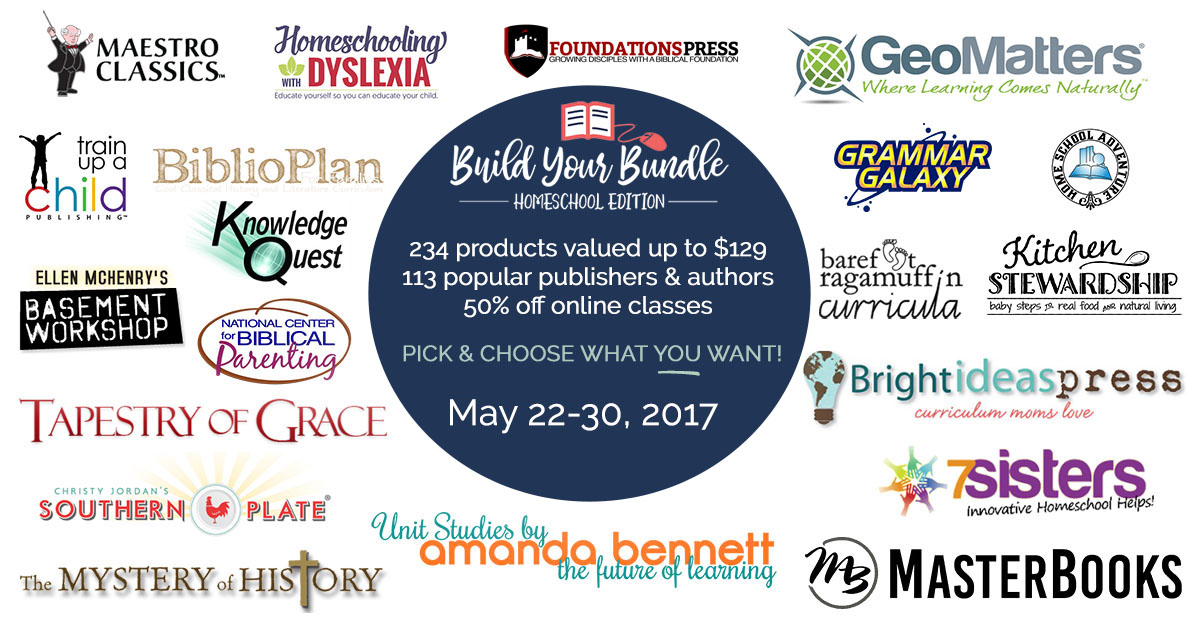 And now for that BIG giveaway that I mentioned in the title of this post!
I've teamed up with some of my very best homeschool blogging friends and I'm very excited to announce that one of you will win a $400 Build Your Bundle Gift Certificate!!! YES! $400 will definitely help your homeschool budget go a lot farther. This $400 Gift Certificate can be used on ANY purchase from the 2017 Build Your Bundle sale!! Can you say "curriculum shopping spree"?! How fun is that?! Click here to view the products in this year's sale!
To enter, simply use the Rafflecopter form below. All entries will be verified. The giveaway will close on Wednesday, 5/24/17 at 11:59 p.m. EST. The winner will be announced by email on Thursday 5/25/17. Be sure you have signed up to receive emails from me. If you aren't sure, click here to sign up now! Good luck!
a Rafflecopter giveaway