FLASH SALE on Usborne Sticker Books (priced 8.99)!
This is the perfect time to stock up on sticker books to beat summer boredom and to have activities on hand if you are taking any trips this summer – these are perfect for the car, plane, or train.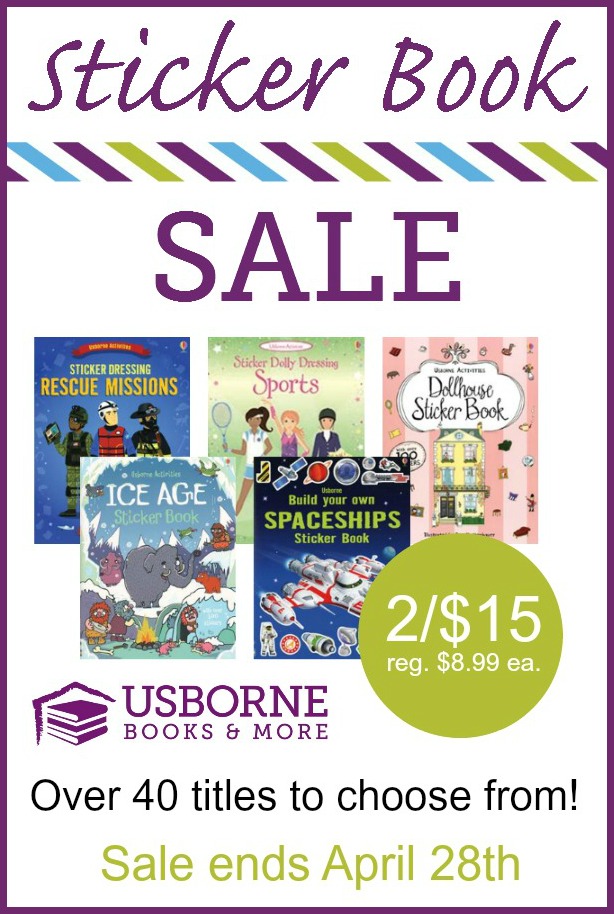 Get 2 sticker books for $15 (reg. price 8.99 each).
This sale ends 4/28/16 at 11:59pm ET.
There are over 40 sticker books to choose from for this sale.
You can see the whole collection HERE.
***DO NOT PLACE YOUR ORDER THROUGH THE LINK ABOVE! To get this special offer, fill out the form below.

At this time, I can only accept payment through Paypal.
Once you fill out the form, I will send you an invoice through Paypal. If you'd like to get more than one offer, fill out the form again.
Price includes tax; shipping cost is $1/book – order 8 or more books and get FREE shipping!
If you were to make this purchase directly from Usborne, you would pay $25.96 (cost of 2 books, tax, and shipping)

KIDS LOVE STICKER BOOKS! DID YOU KNOW……..
– Sticker books promote creative thinking, reasoning and understanding through matching and association.
– Peeling up the sticker and placing it on the appointed spot on the page helps develop fine motor skills and hand-eye coordination, to strengthen a child's ability to write words and draw.
– Sticker books tap into a child's 'area of interest' which promotes independence and confidence.
– Not only are Usborne sticker and activity books fun, but where applicable, are also historically accurate and informative.
These sticker books are for ages 4/5+
Interested in earning FREE books?!!
Book an online Usborne Book party with me and you could do just that. Hostesses in May can earn $75 MORE in FREE books on top of our already generous hostess rewards if they have a party with sales over $400. Plus, I'll throw in a FREE Shine-a-Light book too! Comment below or email me if you are interested in getting your party scheduled.