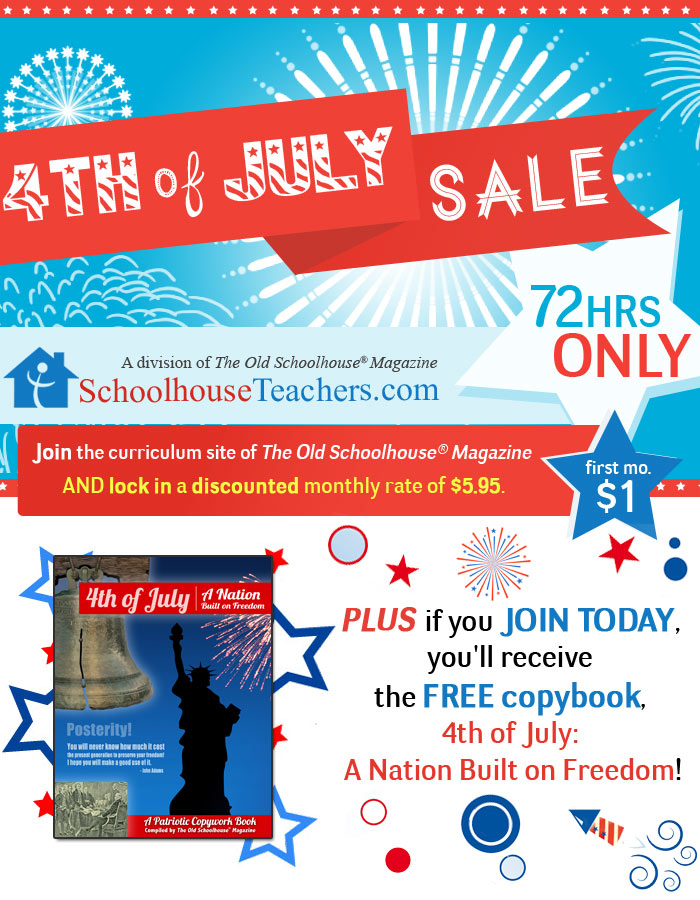 SchoolhouseTeachers.com is having an amazing sale!!
Try it for thirty days for only $1 during the 4th of July flash sale. Keep it and pay just $5.95 a month (normally $12.95/month) and lock in that rate for as long as you keep your membership, no matter how many new classes and features we add.
One membership to SchoolhouseTeachers.com serves your entire family, regardless of how many children you are homeschooling or their ages. There are no per-child fees or additional fees for textbooks, and courses are not live, so you can start them at any time.
If you are not familiar with SchoolhouseTeachers.com, check out my review on it. In a nutshell – it's an online resource for homeschooling families, that offers you tons of flexibility, all in one place. SchoolhouseTeachers.com offers daily, weekly, and monthly lessons that you can use as your sole curriculum, use to fill in any gaps in your curriculum, to supplement your curriculum, or as a means to take a break from your current curriculum and shake things up a bit.

Discounts valid July 3, 2015 through 11:59 p.m. PT on July 5, 2015. Sale prices are applicable only to new memberships and are not retroactive. Sale prices are non-negotiable and apply only as marked to the memberships on SchoolhouseTeachers.com. Sale prices cannot be combined with any other coupons, discounts, promotions, or offers. You can cancel your membership and stop recurring membership charges at any time.
*For new members, access to the 2016 Planners will be given after the first full month of membership.