The Mystery of History is our curriculum of choice when it comes to teaching world history for early elementary grades.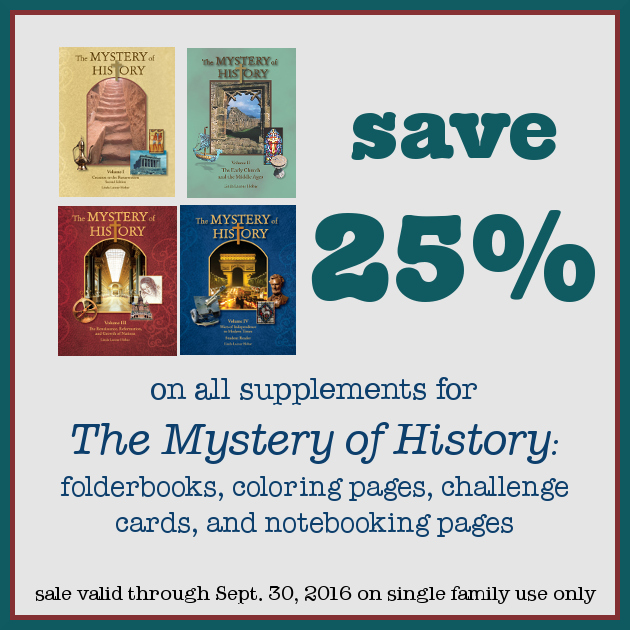 So I'm pretty excited to tell you that you can save 25% on all the wonderful supplements that you can get to go along with The Mystery of History – folderbooks, coloring pages, challenge cards, and notebooking pages!
Sale is valid through September 30, 2016 on single family use downloads or CDs. No coupon code is needed. Sale prices are already in effect in the store.
Supplements for The Mystery of History Volume I
The Mystery of History Volume I Challenge Cards
regularly $14.95; on sale 25% off at $11.21
The Mystery of History Volume I Coloring Pages
regularly $14.95; on sale 25% off at $11.21
The Mystery of History Volume I Folderbook
regularly $32.00; on sale 25% off at $24.00
The Mystery of History Volume I Notebooking Pages
regularly $19.95; on sale 25% off at $14.96
Get them all in the Super Supplemental Collection
regularly $59.95; on sale 25% off at $44.96
Supplements for The Mystery of History Volume II
The Mystery of History Volume II Challenge Cards
regularly $14.95; on sale 25% off at $11.21
The Mystery of History Volume II Coloring Pages
regularly $14.95; on sale 25% off at $11.21
The Mystery of History Volume II Cookbook
regularly $8.00; on sale 25% off at $6.00
The Mystery of History Volume II Folderbook
regularly $32.00; on sale 25% off at $24.00
The Mystery of History Volume II Notebooking Pages
regularly $19.95; on sale 25% off at $14.96
Get them all in the Super Supplemental Collection
regularly $59.95; on sale 25% off at $44.96
Supplements for The Mystery of History Volume III
The Mystery of History Volume III Challenge Cards
regularly $14.95; on sale 25% off at $11.21
The Mystery of History Volume III Coloring Pages
regularly $14.95; on sale 25% off at $11.21
The Mystery of History Volume III Folderbook
regularly $32.00; on sale 25% off at $24.00
The Mystery of History Volume III Notebooking Pages
regularly $19.95; on sale 25% off at $14.96
Get them all in the Super Supplemental Collection
regularly $59.95; on sale 25% off at $44.96
Supplements for The Mystery of History Volume IV
The Mystery of History Volume IV Challenge Cards
regularly $14.95; on sale 25% off at $11.21
The Mystery of History Volume IV Coloring Pages
regularly $14.95; on sale 25% off at $11.21
The Mystery of History Volume IV Folderbook Quarter 1
regularly $8.00; on sale 25% off at $6.00
The Mystery of History Volume IV Notebooking Pages
regularly $19.95; on sale 25% off at $14.96
Get them all in the Super Supplemental Collection
regularly $59.95; on sale 25% off at $44.96