Tell your story with an Origami Owl Living Locket
Wearing an Origami Owl Living Locket is a creative way to share who you are, where you've been, and where you're going – it tells your own unique story. They also make meaningful gifts for the special people in your life – let that special someone know just what they mean to you with a custom Living Locket that you made just for them.
Haven't heard of Origami Owl?
Origami Owl is a customizable jewelry company that helps you tell your own personal story and show off your personal style with jewelry. By choosing from the wide variety of chains, lockets, charms, plates, and dangles, you can make your own unique creation that is just as unique as you!
The company started back in 2010 when 14-year-old Bella had a dream of buying a car for her 16th birthday. Her parents told her to start saving her money, so she began selling customizable jewelry to family and friends, and now Origami Owl is sweeping the nation.
A Living Locket is a wonderful gift to give yourself, but it is also a great gift idea for any woman in your life – a sister, mother, aunt, friend, daughter….. With Christmas right around the corner, this is a great opportunity to get some of your shopping out of the way, and a great opportunity to buy a very thoughtful and unique gift for your loved one.
Here are some ideas to inspire you and get your creative juices flowing:
Celebrate Life
Spread Awareness
The Blessing of Family

Showcase Your Hobbies
Show Your Team Spirit
A Special Occasion
If you are ready to tell your story with an Origami Owl Living Locket, or bless a loved one with one as a gift, visit my website to place your order. When asked to input a Jewelry Bar Code during checkout, use this: SarahAvila62785
And…….. if you are ready to try and WIN an Origami Owl Living Locket with chain, charms, and dangle, use the Rafflecopter form below to enter.
I'm giving away one Origami Owl necklace that includes 1 Medium Rose Gold Living Locket, 1 18″ Rose Rolo Chain, 1 Clear Quatrefoil Dangle, and 5 charms (2 April Heart Birthstone Charms, 2 Rose Gold Snowflake Charms, 1 Pearl Charm).
Giveaway ends on November 19, 2013 at 11:59pm EST; winner will be notified by email.
Are you interested in earning FREE Origami Owl jewelry? Let me help you host an online jewelry bar (party) and you can do just that. Online jewelry bars are simple and convenient, for both you and your guests. Just send me an email with 'Origami Owl' in the subject line if you are interested.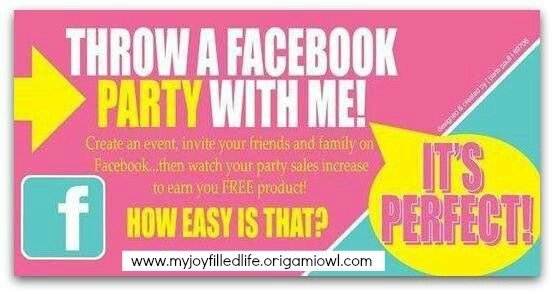 It's giveaway week at My Joy-Filled Life,
so make sure you come back tomorrow for another giveaway!