The biggest homeschool sale of the year is right around the corner and we are super excited. So to celebrate and get you all excited as well, we are having a HUGE giveaway for over $5000 worth of homeschool curriculum and resources, plus a FREEBIE and a coupon to use during the sale.
The Build Your Bundle Homeschool Sale starts this coming Monday, May 7th at 8am ET. The 2018 Build Your Bundle Sale is going to be amazing! With 20 individual bundles, 3 Build Your Own bundle options, a Buy 2 Get 1 FREE offer, and prices up to 95% off, this is the BEST Homeschooling Sale of the Year! Check out the graphic below to get a sneak peek at some of the wonderful contributors to this year's sale. Yours truly is one of them.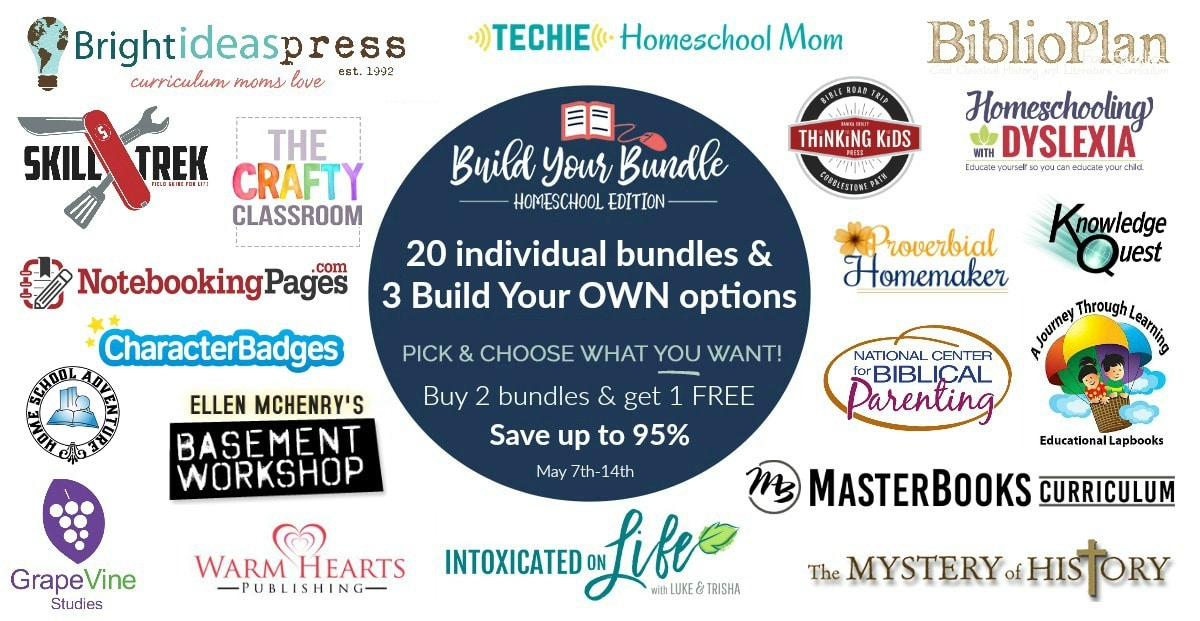 But before the sale starts, you could win ALL of the bundles from this year's sale!
One winner wins ALL 20 bundles – a $5000+ value!
One winner wins a Premium Build Your OWN Bundle of five – up to a $700 value!
You will earn 5 points for each referral who enters using your unique link (you will get your unique link to share after you enter)
If you refer a friend who wins – you BOTH win!
Everyone who enters will get a special coupon code good for a discount on a Build Your Own Bundle, plus a FREE Exclusive Homeschool Portfolio!

You'll be happy to know that the Buy 2 Get 1 FREE bundle offer is back again, the popular mystery bundle is back, and there are 3 Build Your Own options this year – one with NO PRICE-CAP!
So hurry over and enter the giveaway – it ends bright and early Monday morning at 8am ET (just before the sale starts). And don't forget to use your coupon when you shop!