You've heard of Black Friday, Small Business Saturday, Cyber Monday, Giving Tuesday, but what about Homeschool Thursday?
Homeschool Thursday began last year when a bunch of homeschool bloggers got together to bless our readers with a bunch of FREEBIES. Well, we are back for year two and are giving away even more free stuff than last year! Over $1200+ worth of FREE stuff – including volume 1 of my Character Copywork series!!
Your favorite homeschool publishers and bloggers of the Homeschool Blogger Network have come together to give EACH OF YOU a HUGE bundle of 70+ homeschool/parenting curriculum and resources valued at over $1200! This FREE bundle is ONLY available for 5 days…after Monday 12/3/18, it is gone forever!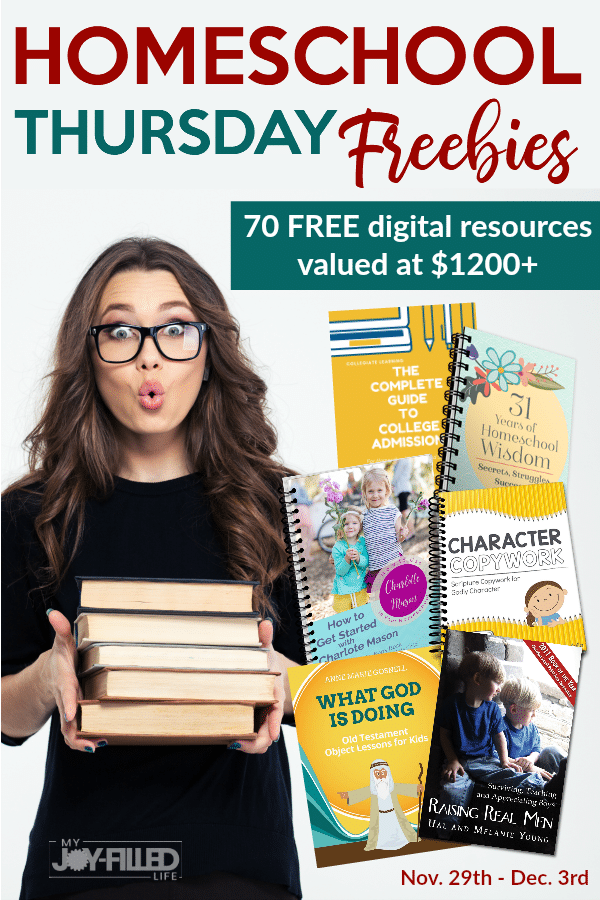 Here's what you'll get: eCourses, eBooks, video courses, curriculum, worksheet packs, planners, unit studies, wall art, games, copywork, Bible studies, chore systems, subscriptions, and more, all from the following categories…. preschool/elementary, middle/high school, resources for moms, resources for multiple ages, holiday/seasonal products.
Some of my favorite things from the bundle that I'm going to be sure to snag are…
Character Flashcards from The Modest Mom & Character Badges – $3.99 value
The Complete Guide to College Admissions for Homeschooled Students by Collegiate Learning Center – $97 value

What God is Doing: Old Testament Object Lessons for Kids from Future Flying Saucers – $19.97 value
Easy Peasy Chore System from Happy Unconventional Life – $17.99 value
Science in the Kitchen by Susan K. Stewart – $4.95 value
31 Years of Homeschool Wisdom eBook by Kathie Morrissey – $12 value

And my Character Copywork is one of my favorites, but I won't need to get that, but I hope you will!
You can get access to the ENTIRE bundle, or just pick the ones you are interested in.
Don't wait, these products will only be FREE in this bundle for 5 short days.