Head over to Thinking Kids Blog to get a FREE sermon notebook just for kids!
The My Sermon Notebook will allow your kids to take sermon notes, and stay engaged with what they're learning, while giving them something fun and hands-on to do during the service.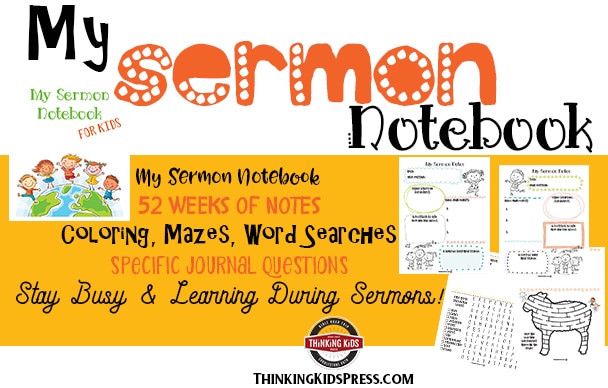 The My Sermon Notebook has several exciting and fun aspects to it:
107 page sermon notebook
52 weeks of notes
2 pages of notes per week
Instructions written directly to your child
Sermon notes prompts

Date
Main Passage
Other Scripture Passages
Three Main Points
A Question to Ask Mom and Dad About
A Song We Sang that I Liked
How I Can Apply This Sermon to My Life Right Now
Adorable Children to Color
Weekly Mazes, Coloring Scenes, or Bible-related Word Searches
This notebook values for $12, but it's FREE right now through March 14th, so hurry over and get yours!