The Online Homeschool Convention is officially open! For in-person conventions, if you didn't get your ticket by the time it started, you usually miss out. Not for this event. You can join any time from now through May 23rd. We have 44 dynamic speakers ready to share their insight and practical tips to help homeschool parents.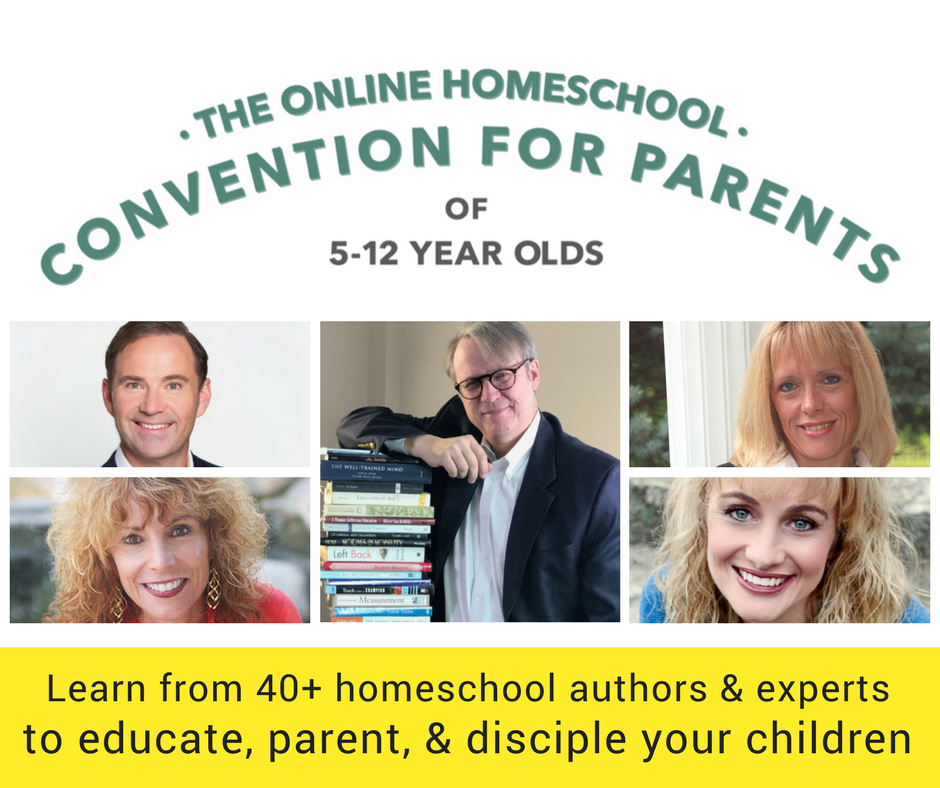 This fifteen day experience is built with you in mind. Live events are usually 2-3 days, but you'll get fifteen days of content to choose from with the Online Homeschool Convention. You may wonder, "Is this worth my time?" Here are just a few of the questions you may have…
What makes the Online Homeschool Convention different?
Our featured speakers are some of the most recognizable voices in the world of homeschool education. This is a collection of the 'who's who' in homeschooling. They know what it's like to do second grade spelling and fifth grade geography in the same day. They understand how challenging and inspiring it can be to homeschool your children.
Most importantly, they can give real-life advice with action steps attached for you to implement as a homeschooling parent.
How does the Online Homeschool Convention work?
We will feature four different speakers every day from May 8th through May 22nd. Each session is in an interview-video format hosted by Jeremiah and Kim Callihan, homeschooling parents of four. Both of our hosts and our speakers know what it's like to navigate this amazing journey.
Our speakers will be sharing from their offices or home, not on a stage at a distance. Think of this like a fireside chat with each speaker to hear their real-life stories that can change your life.
Each session will be FREE, but only for 48 hours after they are released.
You can purchase the Lifetime All-Access Pass to have immediate access to ALL of the speakers, whenever and for however long you need!
Is the Online Homeschool Convention right for me?
This experience is designed for homeschool parents of all backgrounds to be encouraged and inspired. We understand parents homeschool their children for a variety of reasons. Whatever your background or reason may be, we want you to connect with the right voices and resources to thrive as a homeschooling parent. We believe there is no greater calling than discipling our children as they learn.

What can I expect?
You can expect to receive great content. You can expect to connect with life-changing messages from other homeschooling parents who have been in your proverbial shoes. It seems like every homeschooling family hits the wall throughout the year. The Online Homeschool Convention will connect you with the right resources, curriculum, problem-solving paradigms, and next steps you need to push forward.
What if I miss a session?
We get it; everyone is busy! This is why we're offering our Lifetime All-Access Pass at just $99. You will receive on-demand access to every session video from the Online Homeschool Convention. The Lifetime All-Access Pass also gives you downloadable video and audio files as well as written session summaries.
You don't want to miss out on any of this amazing content. The Online Homeschool Convention has the power to change how you teach, parent, and disciple your children's future. Come join us!