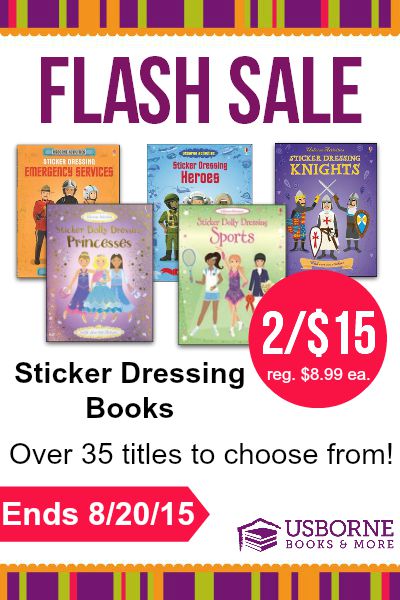 FLASH SALE on Usborne Sticker Dressing Books!
Get 2 sticker books for $15 (reg. price 8.99 each).
This sale ends 8/20/15 at 11:59pm ET.
There are over 35 sticker books to choose from for this sale.
You can see the whole collection HERE.
***DO NOT PLACE YOUR ORDER THROUGH THE LINK ABOVE! To get this special offer, fill out the form below.

At this time, I can only accept payment through Paypal.
Once you fill out the form, I will send you an invoice through Paypal. If you'd like to get more than one offer, fill out the form again.
Price includes tax; shipping cost is $1/book
If you were to make this purchase directly from Usborne, you would pay $25.96 (cost of 2 books, tax, and shipping)

KIDS LOVE STICKER BOOKS! DID YOU KNOW……..
– Sticker books promote creative thinking, reasoning and understanding through matching and association.
– Peeling up the sticker and placing it on the appointed spot on the page helps develop fine motor skills and hand-eye coordination, to strengthen a child's ability to write words and draw.
– Sticker books tap into a child's 'area of interest' which promotes independence and confidence.
– Not only are Usborne sticker and activity books fun, but where applicable, are also historically accurate and informative.
These sticker books are for ages 4/5+