Summer is starting to wind down…and for most of us, that means homeschooling is starting to pick back up!
You might be trying to figure out curriculum for this year, making lists and schedules, and trying to figure out how to fit all the activities into your day.
You might even be feeling a little overwhelmed that the school year is about to begin again already! If you're like me, you might be needing a little dose of encouragement right about now. And that's why I am so excited to introduce you to the brand new….
I'm also excited because I am one of the speakers in the conference, alongside some amazing women and homeschoolers that have been MY mentors even before I started blogging over four years ago. I'm so humbled and honored to be speaking along with these women to bring encouragement to other homeschool moms.
But let me back up and explain what the conference is:
It's a brand new online homeschooling conference created to encourage and inspire homeschool moms! It's going to be a blast with conference sessions going up over 3 days, awesome bonuses (including a homeschool planner), and a private Facebook group where attendees can chat, fellowship, and share resources.
The online conference will be held LIVE August 3-5th. For each day of the conference, 3-4 video sessions will go live throughout the day, you will have a chance to chat with each speaker, and interact with all the other attendees.
It's like attending a real live homeschooling conference but without the travel, the expense, finding babysitters, etc! Now you can get the fun and fellowship of a convention…right from your very own home!
The conference schedule, speakers, and topics:
Wednesday August 3rd:
Encouragement for the Weary Mom – Jami Balmet of Young Wife's Guide
Practical Solutions: Teaching Toddlers Through Teens – Jennifer Ross of The Focused Homemaker
Self Education: The Pinnacle Ideal of the Charlotte Mason Way – Dollie Freeman of Joy in the Home
Thursday August 4th:
Instilling a Love for Reading in Your Child – Caroline Allen of The Modest Mom
Parenting Preteens – Hal &

Melanie

Young of Raising Real Men
Large Family Homeschooling – Amy Roberts of Raising Arrows
Helping Your Homeschool Excel with Special Needs – Heather Laurie of Special Needs Homeschooling
Friday August 5th:
Jesus Through Our Days – MacKenzie Monroe of Bold Turquoise
Consistency: A Key to Happy Homeschooling – Sean Allen of Character Badges
Homeschooling a Houseful – Sarah Avila of My Joy Filled Life
Head over to the conference main page to learn all about each session!
You can join us live for the conference, or follow along at any time, because once the sessions are posted, they are yours to keep forever! Watch them again and again or whenever you have the time.
Watch them anytime, anywhere, and on any device!
BONUS Homeschooling Planner
The organizers of the conference have put together this beautifully designed homeschool planner that you get as a FREE bonus when you register for the conference.
It's a 38 page planner designed to help you organize your school year, set goals, keep track of to-do's, and more! The planner normally sells for $14.99, but you will get it FREE when you register for the conference. How awesome!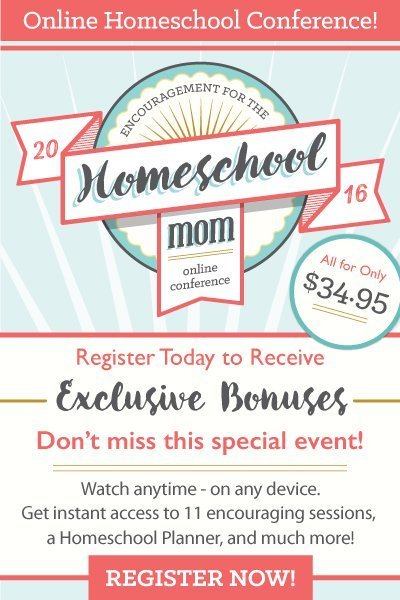 Save
Save
Save
Save
Save
Save
Save
Save
Save
Save