The 2016 Omnibus Homeschool Bundle is here!
What's the Omnibus Homeschool Bundle? It's a digital stockpile of books to carry you through the school year with encouragement and practical how-tos.
The Omnibus is available in 3 formats this year – download, thumb drive, or DVD – and is full of all kinds of resources from homeschool planners, marriage helps, help with mommy anger, how to write a transcript, getting started with homeschooling, and even a full preschool curriculum.
You will get 90 resources for just $25 (that's a $420 value)!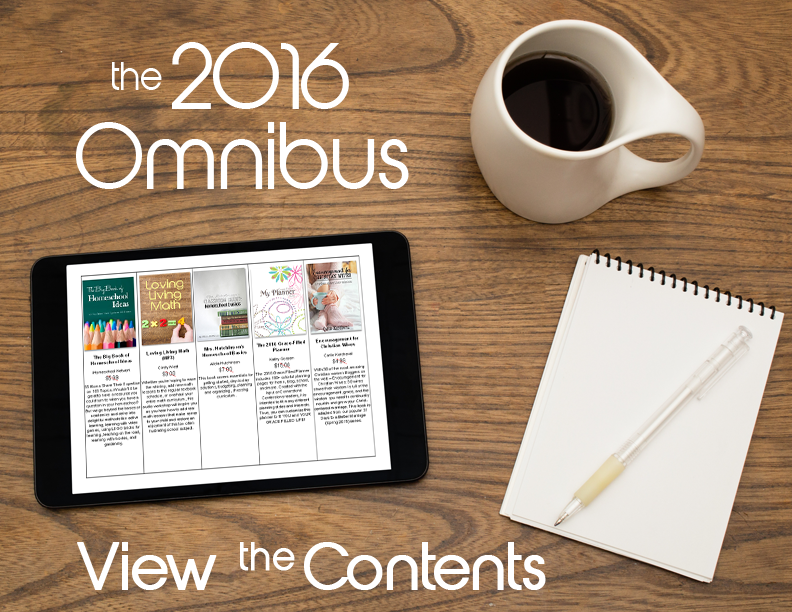 View the full contents of the Omnibus by clicking the above graphic.
OMNIBUS FACTS AT A GLANCE
90 total resources
for homeschoolers by homeschoolers
total value is $420
cost is $25 (with $9 DVD add-on or $11 thumb drive add-on)
cost is just 6% of the value
PDFs also come in Kindle/mobi format (where appropriate)
sale runs 10 days from April 29 to May 8, specifically 12:01 AM Eastern Time, April 29 to 11:59 PM Pacific Time May 8.
Files will be available online only until 11:59 pm Thursday, June 30.
Files on Thumb Drive or DVD will be shipped on May 31.
For more information, please see the Omnibus FAQs page.