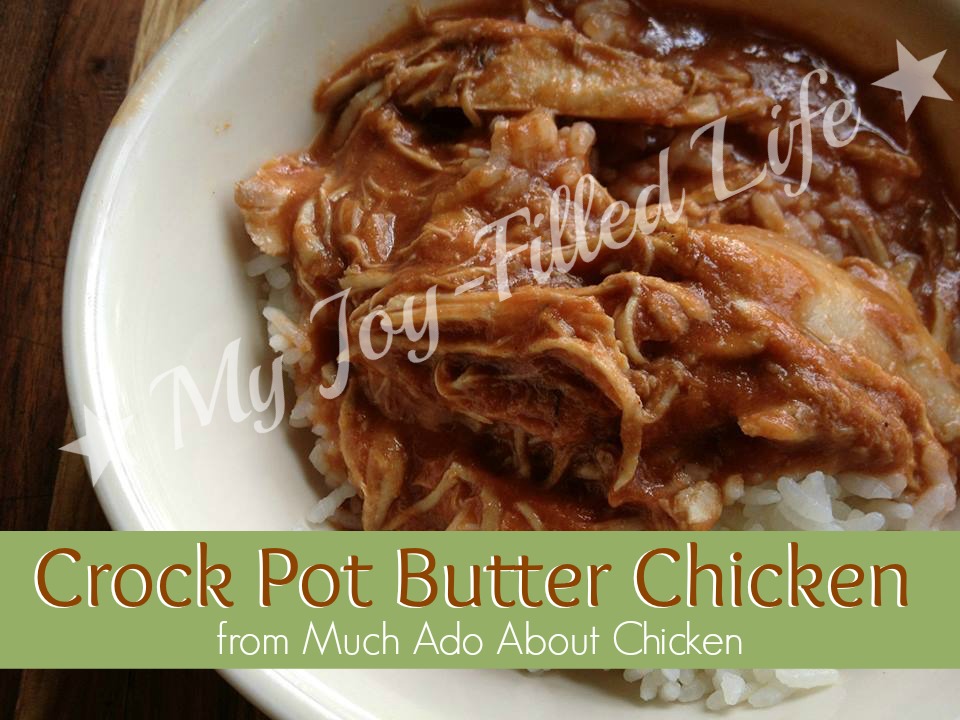 Crock Pot Butter Chicken
2013-09-19 09:09:54
Here is a busy-mommy, no-hassle version of a classic Indian dish. Dark meat cooks all day in a flavorful sauce, then you serve it over rice.
Ingredients
1 cup yogurt
6 Tbls. tomato paste
2 tsp. garlic
2 tsp. ginger
1/4 tsp. pepper
1/4 tsp. cayenne
1/4 tsp. cinnamon
2 Tbls.curry powder
Juice of one lime
1 cup chicken stock
6 Tbls. butter, melted
1 Tbls. onion powder
1/4 tsp. liquid smoke (optional)
2 1/2 tsp. salt
2.5lbs. boneless, skinless chicken thighs
1 1/2 Tbls. arrowroot
3 Tbls. water
1 Tbls. honey
Instructions
Mix together all but the last four ingredients.
Lay the chicken in the bottom of your crock pot.
Add the sauce over top.
Cook on low for 6 hours or high for 3 hours.
After cooking, the chicken will be tender, break up with a spoon or spatula into chunks.
Turn the crock pot up to high if you cooked it on low.
Mix together the arrowroot, water, and honey. Stir into the sauce and let cook another 30 minutes.
Notes
Serve over rice or noodles.
Adapted from Much Ado About Chicken
My Joy-Filled Life https://www.myjoyfilledlife.com/
You will find this recipe, plus 51 other allergen-friendly, real-food, and from scratch chicken recipes in Much Ado About Chicken by Debra Worth.
Much Ado About Chicken E-book is a wonderful resource for chicken lovers (and if you don't love it to convince you to). Informative and thorough, it not only provides a wide selection of chicken recipes, but helpful instruction on HOW to prepare and cook chicken as well. There are recipes from classic home style to spicy ethnic. This book has something to offer everyone.