If you have never heard of The Crafty Classroom, you are in for a real treat!
Valerie is the talented lady behind The Crafty Classroom. She has created lots of fun, engaging, educational materials for students of all ages. She has products available in a variety of topics – science, Bible, language arts, geography, and reading. She even has a full-year reading curriculum in her shop.
Not only are her products so well done, but her prices are so reasonable and affordable! They range in price from $3 to $25. She also offers classroom licenses for her products that do cost a bit more, but not much.
Here is a sample of some of the fun things you can find in your shop (be sure to enter the giveaway below to win a mini shopping spree in The Crafty Classroom online store):
Alphabet

Letter of the Week Simplified! Over 650 pages of downloadable resources for teaching children the Alphabet one week at a time. For each letter of the alphabet you'll receive 25 pages of activities, worksheets, charts, coloring pages, math explorations and more. Designed to keep the prep work to a minimum, our letter of the week Alphabet Curriculum can be spread over 26 weeks. View the sample pages above for a sample 3 and 4 day schedule. Suggested age range is Preschool to K4.
Geography

U.S.A. Activity Pack – 5o State Activity Pages: For each of the fifty states children map the location, capitol, landmarks, abbreviation, nickname, state flower, and state bird. Children color the state flag as well as the state flower and state bird with ample room to add interesting facts and notes. This activity pack includes two games to finish out your unit: USA Bingo & Roll Across America.
U.S.A. State Bird Art Cards – Children can color their way through our Nation's state birds with these fun and realistic art cards. Each bird is shown with it's unique markings for children to copy and color their own. Each bird features a coloring card, visual fact card for children to fill in, and memory matching cards. This set include 27 different birds as many states have the same state bird.
U.S.A. Maze Activity Pack – 50 Fun and Challenging U.S.A. State Mazes! These fun, hands-on activity pages are the perfect addition to your U.S.A. State studies.
Reading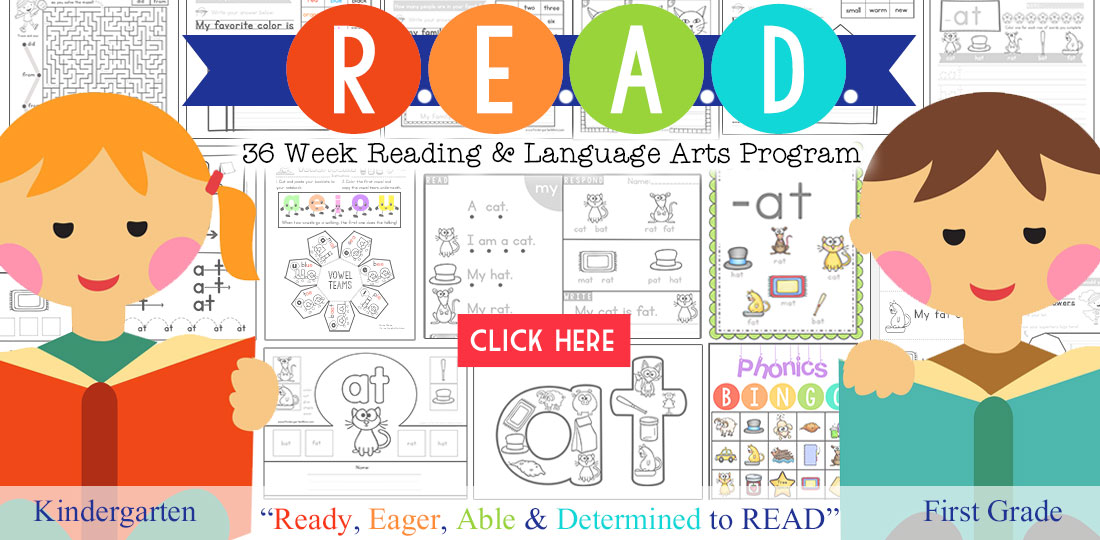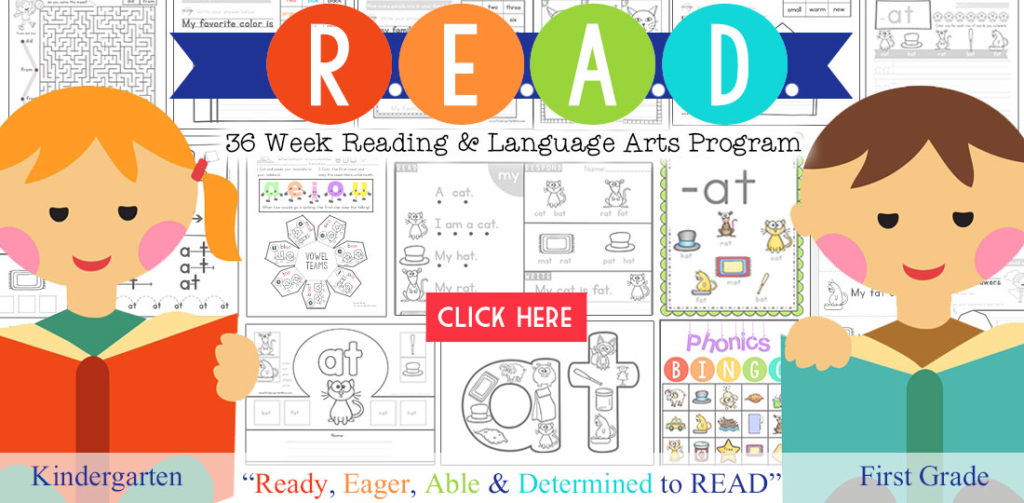 Ready, Eager, Able and Determined to READ! This 36 week curriculum provides you with everything you need to teach your child to read. Structured over a 4-day/week program you'll cover phonics, digraphs, blends, sight words, grammar and writing. Hands-on activities keep your child engaged and learning with little to no-prep required.
Science

Science Activity Packs
Periodic Table of the Elements Activity Pack – Learning about the Periodic Table of Elements can be fun with our interactive games, printables and worksheets.
Color Science for Kids – Color Science for Kids includes activity pages, charts and worksheets for children learning all about colors.
Super Sequence Activity Pack – Super Sequence Activity Pack is filled with 30 pages of Science and Writing resources you can use in your classroom. Children build 3-step sequences and learn to write short responses in a First, Next, Last format. Science topics include life cycles, plant growth, hibernation, states of matter and more. This is a fantastic supplement for Preschool-First Grade.
GIVEAWAY!
Use the form below to enter for your chance to win a $30 gift card to The Crafty Classroom online store. Giveaway ends Dec. 20th at 11:59pm eastern time.
Check out this giveaway too…..
Save