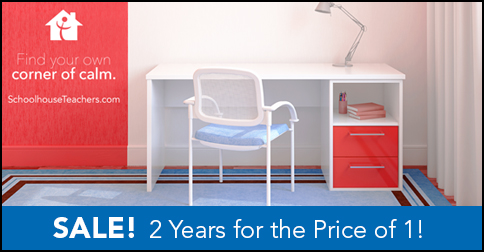 Everywhere you look, you can see it. Back to school is in the air and on the minds of homeschoolers across the country.
SchoolhouseTeachers.com is celebrating this time of year with a back to school special. From August 17-September 21, 1-year memberships are buy 1 year, get a second year free. That's 2 years for the low price of $139.
Plus you lock in that rate for as long as they keep their membership! That's pretty awesome!

SchoolhouseTeachers.com is an online resource for homeschooling families, that offers you tons of flexibility, all in one place.
SchoolhouseTeachers.com offers daily, weekly, and monthly lessons that you can use as your sole curriculum, use to fill in any gaps in your curriculum, to supplement your curriculum, or as a means to take a break from your current curriculum and shake things up a bit.
Check out the site for yourself! Take a site tour and check out some of the sample lessons to see if SchoolhouseTeachers.com would be a good fit for your family; you can also read my full review here.