This recipe is for a flavorful, nutritious snack that you can take with you, or just enjoy it at home as a dessert, or as breakfast! Yes – a recipe that can be dessert and/or breakfast!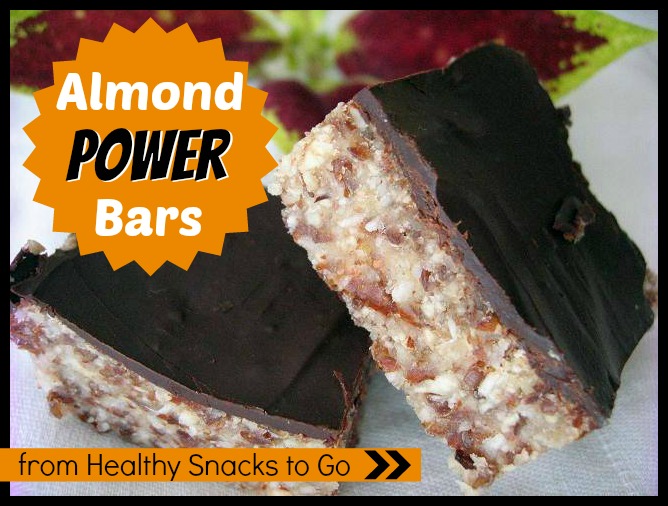 Almond Power Bars
2013-09-20 09:21:13
These bars have such incredible flavor, you'd never guess they don't have any sugar and only a smidge of natural sweeteners. Gluten free and with four Super Foods, they pack a nutritional punch, and really fill you up between meals. It's hard to say whether they're a dessert or a breakfast food!
Ingredients
2 cups almonds (raw or crispy nuts)
½ cup flax meal (flax seeds ground in a blender)
½ cup shredded coconut (unsweetened)
½ cup unsalted almond butter (like peanut butter, made from almonds instead)
½ teaspoon salt
½ cup coconut oil (unrefined is best; could probably sub butter here)
1-2 Tbs honey
1 Tbs maple syrup
2-3 teaspoons homemade vanilla extract (or at least real)
a few squares dark chocolate, less than half a bar needed for thin layer (optional)
Instructions
Place almonds, flax meal, shredded coconut, almond butter and salt in a food processor
Pulse briefly, about 10 seconds
In a small sauce pan, melt coconut oil over very low heat,
Remove coconut oil from stove, stir sweeteners and vanilla into oil
Add coconut oil mixture to food processor and pulse until ingredients form a coarse paste
Press mixture into an 8 x 8 glass baking dish
Chill in refrigerator for 1 hour, until mixture hardens
In a small saucepan, melt chocolate over very low heat, stirring continuously
Spread melted chocolate over bars; return to refrigerator for 30 minutes, until chocolate hardens
Remove from refrigerator, cut into bars and serve
Adapted from Healthy Snacks to Go
My Joy-Filled Life https://www.myjoyfilledlife.com/
You can find this recipe, along with over 45 others in Healthy Snacks to Go by Katie Kimball.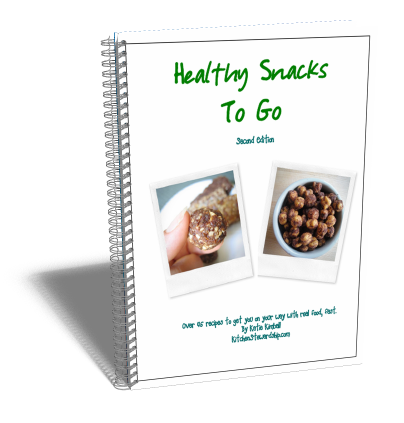 If taking real food on the go is a challenge for you, you're not alone. Join thousands of other happy owners of Healthy Snacks to Go, an eBook that is helping real foodies everywhere keep their families nourished (and kids happy) even when they need to pack a snack — without resorting to processed junk food or expensive health food store treats. With over a dozen different "bar" recipes alone, including many that are grain-free and contain zero refined sugar, I guarantee you'll find a new family favorite in Healthy Snacks to Go.