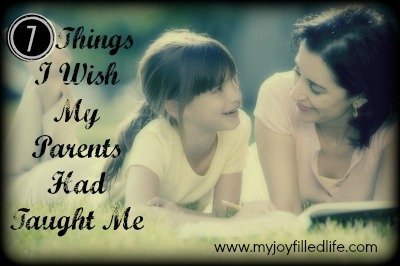 Jesus Died For Me
I didn't grow up in a Christian home, or in any kind of church for that matter. I vaguely remember going to an episcopal church when I was very young, but then we moved, and never went back to any church on a regular basis. Growing up, I had heard of Jesus, but I really didn't know who He was and why He was so important. Was He just a character in a story? Did He really exist? I really had no idea.
Who Himself bore our sins in His own body on the tree, that we, having died to sins, might live for righteousness—by whose stripes you were healed.
1 Peter 2:24
I have a Heavenly Father, and He loves me more than they do
Our God is an awesome God, for sure! When I think about how much my parents love me and how much I love my kids, it amazes me to think that God loves me even more than that! Praise Him!
For God so loved the world that He gave His only begotten Son,
that whoever believes in Him should not perish but
have everlasting life.
John 3:16
Life is sacred, a blessing, and a gift
When I was 16, I got pregnant. I made a very selfish decision and I aborted my baby. My parents supported me in my decision and never discussed other options with me. I regret this decision deeply and I cry every time I think of that innocent life. I'm so thankful that the Lord has since saved me and has shown me the Truth and the Light.
You can read more about my abortion story here and here.
Behold, children are a heritage from the Lord,
the fruit of the womb a reward.
Psalm 127:3
The thief comes only to steal and kill and destroy.
I came that they may have life and have it abundantly.
John 10:10
God has a perfect plan for my life; Trust Him
I had my life all planned out – go to college, get a job, get married, have kids, and ultimately be happy. That was my plan. God had other plans, and they are far better than mine.
For I know the plans I have for you, declares the Lord, plans to prosper you
and not to harm you, plans to give you hope and a future.
Jeremiah 29:11
Sex is to be saved for marriage
I don't remember having "the birds and the bees" talk with my parents. I don't recall them talking to me about sex, or "safe sex", or that sex should be saved until marriage. Everything I learned about boys and sex, I learned at school and from my older sister. So, regretfully, I was not a virgin on my wedding night.
Let marriage be held in honor among all, and let the marriage bed be undefiled, for God will judge the sexually immoral and adulterous.
Hebrew 13:4
My husband is my #1 earthly priority
Growing up, my mom always made us (my sister and I) her priority. And she's the one that wore the pants in the family. So that's what I knew and that was the norm for me.
I was definitely ill-prepared for a Christian marriage and it was difficult cutting those apron strings and realizing that my husband and I were our own family now and that was where my priority needed to lie. I'm thankful that the Lord convicted me early on in our marriage to be a submissive wife, as it has blessed our marriage tremendously, but it was tough those first few years when I felt stuck in the middle between my 'old' family and my 'new' family.
Wives, submit to your own husbands, as to the Lord. For the husband is the head of the wife even as Christ is the head of the church, his body, and is himself its Savior. Now as the church submits to Christ, so also wives should submit in everything to their husbands.
Ephesians 5:22-24
How to cook
Growing up, we never ate dinner together on a regular basis. My mom worked retail, so she often had to work evenings and my sister and I most likely had an extracurricular activity in the evenings.
So, family dinners were sporadic, as well as her cooking. I recall the occasional meatloaves and pot roasts (blah), and a chicken dinner here and there. And I remember my dad making spaghetti (A LOT). On the other nights, everyone would fend for themselves – maybe a can of spaghetti Os, a frozen pizza, Ramen noodles, or a bowl of cereal. Even with these few dinner dishes my parents made, no one taught me how to cook. I learned a little from watching, but everything else I learned on my own after I left home.
Now, I enjoy cooking (and baking) and actually think I'm pretty good at it (at least my husband thinks so). And we eat dinner as a family about 95% of the time!
She also rises while it is yet night,
and provides food for her household,
and a portion for her maidservants.
Proverbs 31:15
I love my parents; they are good parents and did the best they knew how. These are areas that I will strive to do differently with my children. I'm so thankful that my God, my Heavenly Father, has always taken care of my and has brought me to where I am today. I have Him as my strength and He gives me grace every morning to raise my, or rather His children, for His glory. I have faith and peace in knowing that He will provide where and when I can't and that He has a perfect plan for each of my children.
Train a child in the way he should go, and when he is old he will not turn from it.
Proverbs 22:6