Motherhood is busy! No matter how many kids you have, being a mom takes most of your time. Add in being a wife and taking care of your home, and that doesn't leave time for much else. And if you work, well, you know how busy you are.
You are juggling so many different plates and wearing so many different hats that you barely have time to eat or shower. I know, because I'm right there with you.
And as a Christian mama, you're also trying to fit in time with the Lord – time to get in His Word, pray, worship, and grow your relationship with Him.
As Christians, we know God is here for us every moment of every day. But, as we manage families, careers and all of the other aspects of our life, making time to truly connect with God can get lost in the to do list.
I know that you, like myself, desire to not only dedicate time with God in our daily lives, but also to pursue this time with intention.
That's why I wanted to tell you about a free class called 5 Steps to Meaningful Daily Time With God. I'm really excited about this class because it is something I so desperately need right now. So I thought I'd reach out in case you do to.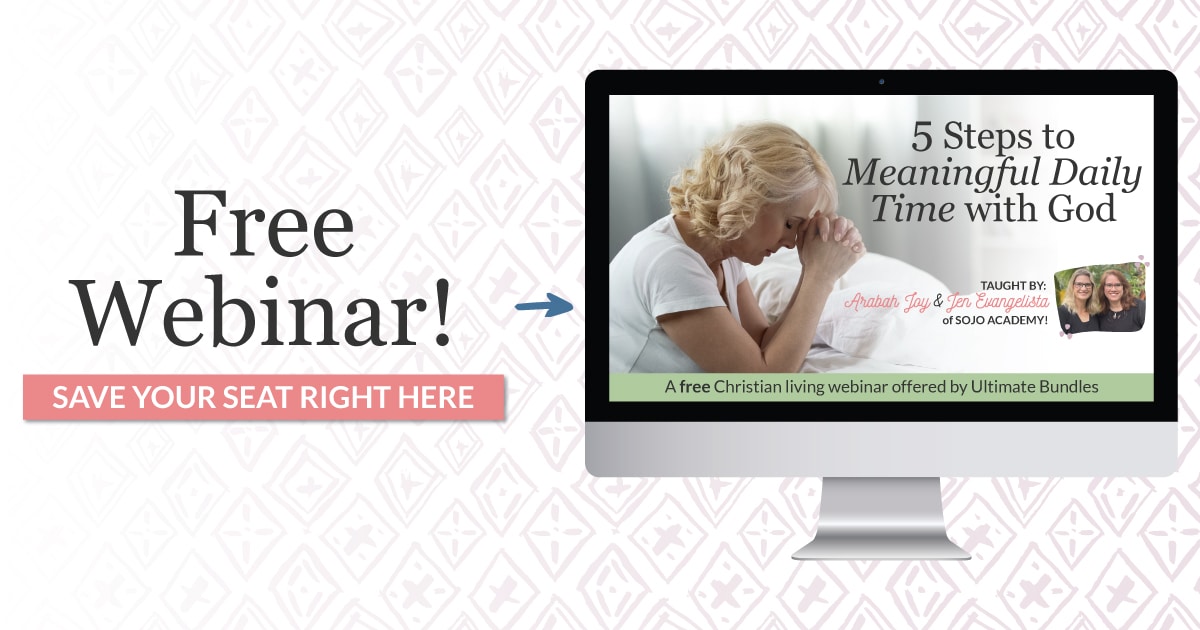 This class is being led by Arabah Joy and Jen Evangelista, founders of Sojo Academy, an online community for Christian women. Jen and Arabah are devoted to helping women JUST LIKE YOU to become the woman you were created to be and make real transformations.
In this LIVE class, you'll learn:
Why spending time daily with God is so essential
How to make time for this soul-nourishing practice
Practices for a meaningful and rewarding quiet time
4 things to pray about to get more from your time
Tips for dealing with distractions & staying focused
You'll want to attend this class LIVE for the opportunity to ask questions, and access a special BONUS – Raising Children of Faith: 26 Tips for Busy Christian Parents ebook. Arabah & Jen will be running this class twice, so choose the time that's right for you:
Tuesday, March 16 at 11am EST
Tuesday, March 16 at 8pm EST
If these times don't work for you, register anyway because there will be a replay for those that register.
Oh, and did I mention this webinar (and ebook for those that attend) are FREE?!! You have nothing to lose, so register now and put it on your calendar so you don't forget!! Hope to see you there!