The biggest homeschool sale of the year is right around the corner and we are super excited. So to celebrate and get you all excited as well, we are having a HUGE giveaway for over $4400 worth of homeschool curriculum and resources.
The Build Your Bundle Homeschool Sale starts this coming Monday, May 22nd at 8am ET. The 2017 Build Your Bundle Sale is our BEST sale yet! With 234 products in 20 individual bundles and prices up to 96% off, this is the BIGGEST Homeschooling Sale of the Year!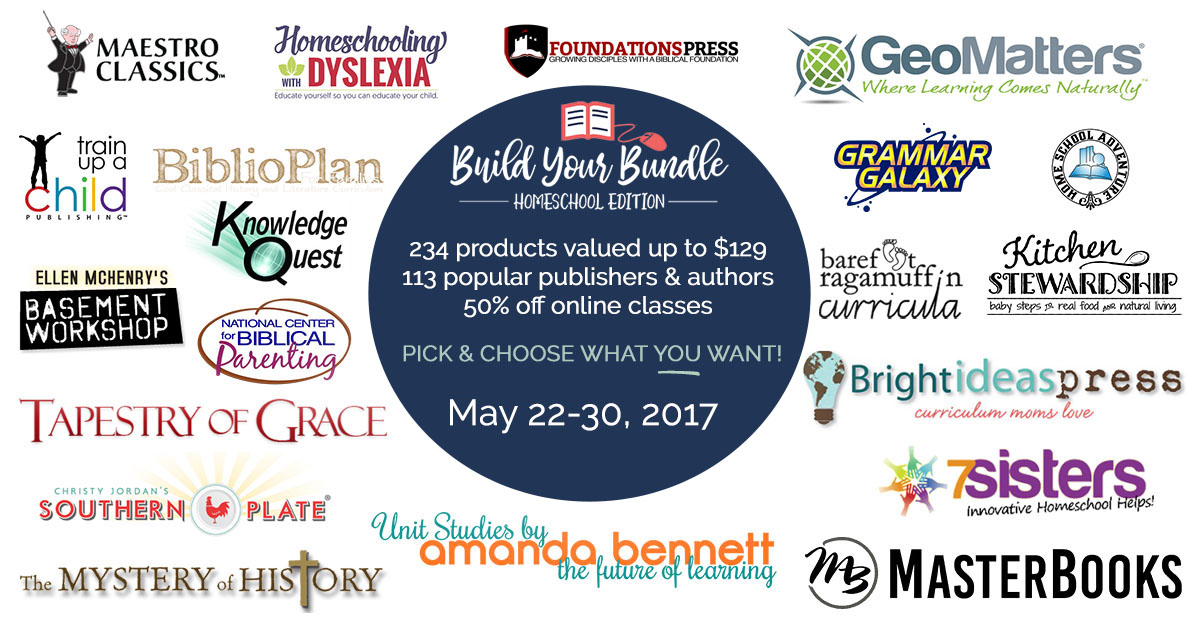 But before the sale starts, you could win ALL of the bundles from this year's sale!
One winner wins ALL 20 bundles - a $4400+ value!
One winner wins a Premium Build Your OWN Bundle of five - up to a $365 value!
You will earn 5 points for each referral who enters using your unique link (you will get your unique link to share after you enter)
If you refer a friend who wins - you BOTH win!
Everyone who enters will get a special coupon code good for a discount on a Build Your Own Bundle!

You'll be happy to know that the Buy 2 Get 1 FREE bundle offer is back again, the popular mystery bundle is back, and there are 3 Build Your Own options this year - one with NO PRICE-CAP!
So hurry over and enter the giveaway - it ends bright and early Monday morning at 7am ET (just before the sale starts) and you'll also get a coupon to use during the sale when you enter.

---
Join the party!!
We're having a party, on Facebook in the My Joy-Filled Homeschool Facebook group.
The party will be centered around one of many homeschool mom's favorite topics of discussion - curriculum.
Plus, many of us are in planning mode for the next school year, so this is the perfect time to get together and chat, fellowship, and have fun.
There will be games and prizes too, so I hope you'll be able to join in. The party starts Tuesday night, May 23rd @ 9pm CDT.
You need to be a member of the My Joy-Filled Homeschool Facebook group in order to participate; if you aren't already a member, you can join here.
I hope you can join us! Mark your calendar!