The wait is over!
And right now (through September 15th) you can get special discount pricing on the All About Reading Level 3 program. This discount will only apply to new Level 3 components (Interactive Kit not included).

Sale prices are as follows:
AAR Level 3 Materials (Teacher's Manual, Student Packet, 2 Readers): $99.95
AAR Level 3 Student Packet (includes Activity Book): $40.95
AAR Level 3 Activity Book only: $25.95
AAR Level 3 Teacher's Manual only: $32.95
AAR Level 3 Chasing Henry Reader: $16.95
AAR Level 3 Shipwreck! Reader: $16.95
AAR Level 3 Marvelous Monkey Stickers: $0.85
You can find more information about Level 3, as well as samples, on the All About Learning website.
If you are new to All About Reading and considering using it in your homeschool, check out their Pre-reading program, Level 1, and Level 2, and even try some samples from Level 1 and Level 2 with this FREE Activity Bundle download.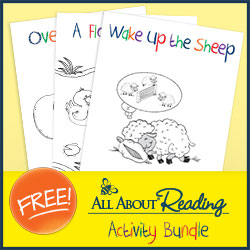 This post includes affiliate links. Thanks for your support of this site! Please see my disclosure for more information.
©2012-2013 My Joy-Filled Life. All rights reserved. All text, photographs, artwork, and other content may not be reproduced or transmitted in any form without the written consent of the author. http://myjoyfilledlife.com