Welcome to the "My Pregnancy Journal" Link-Up.
Before I formed you in the womb I knew you,
before you were born I set you apart...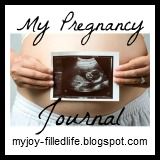 The My Pregnancy Journal Link-Up is for all posts pregnancy, baby, post partum, and birth related. Link up your pregnancy updates, birth stories (recent or from years ago), baby milestones, tips and advice, etc.
This is a place to connect with other women and offer each other encouragement, support, and prayer as we go through this season of life together.
Please keep these things in mind as you link up:
1. Please don't link up your blog's homepage; link to the specific post that you are sharing so that others will get right to the post they are looking for.
2. I'd appreciate it if you would grab the "My Pregnancy Journal" button and put it in your post and/or sidebar. Thanks!
3. Please visit (at least) the blogger that linked up before you and leave her a sweet comment.
*By linking up, you are granting me permission to use and/or re-post photographs from your blog.
I pray that this link-up bring glory to God; that this link-up becomes only what God intends; that this link-up be a source of encouragement, support and friendship to all those who participate

.
New at the My Pregnancy Journal Link-Up:

Featured Mom of the Week.
Besides listing the birth announcements and 35+ week moms, I will also feature one of your links! It might be a post sharing some helpful tips or advice, a post sharing a praise report, a post sharing a birth story, someone needing prayer, someone announcing a pregnancy, or it might just be the post with the most views.
This week's featured mom is Lilah @ Just a Sparrow
Lilah shares a perfect pregnancy-

related

analogy
on how God can take the ugliest of things and bring forth beauty.
God uses some of the ugliest things to bring about the most beauty.
Through the seemingly insignificant, He makes most significance.
You are almost there mommas!! Below are the moms that are 35+ weeks along. They need your prayers and support more than ever. These last several weeks can be tough!
Sharing with: