As a homeschooling mom with seven children, often times my little ones get put on the back burner and don't get as much dedicated mommy-time as the older kids get for school (blush). By no means am I saying I don't pay attention to my younger children, but it's so easy for me to be more concerned with the academics of my older children since we have very strict homeschooling guidelines in our state (sigh). I took the
Flowering Baby, LLC
review as an opportunity to dedicate academic time with my littles (smile).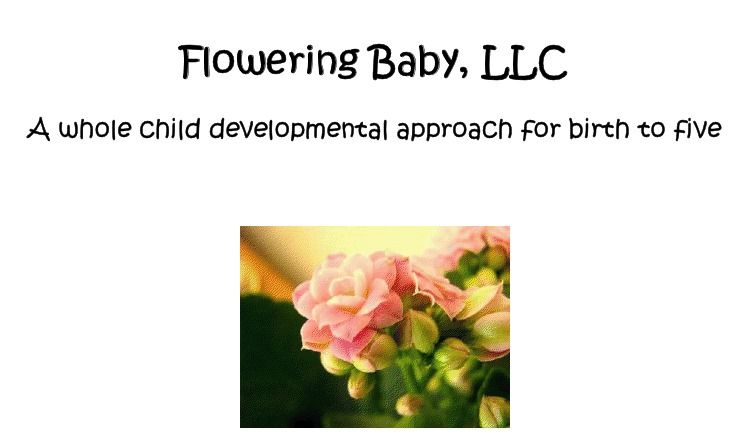 Flowering Baby uses "a whole child developmental approach" for children from birth to the age of five. This program was designed by a
mother/daughter team
to help parents and teachers nurture the development of the children in their care. The curriculum is broken down into five levels, with the execution and layout of the first three levels being slightly different than the last two levels.
All of the levels are broken down by month with 20 or more activities scheduled each month. Each level begins by providing the parent (or teacher) with information about what to expect at the age level they will be working with, as well as tips and suggestions for a successful year. The authors also provide a book list and supply list for the entire year at the beginning of each level. Then at the beginning of each month, they break the supply and book lists down even further so you know what you need at the beginning of each month. This is a very convenient feature for this busy mom!
The last two levels differ from the others in that they have a Monthly section and a Theme section. The Monthly section focuses more on academics and the Theme section incorporates more books and activities that are based around a theme. The idea is that you will choose two themes per month to add to the monthly section. You can see samples of each level by clicking on the levels above.
Each level comes in PDF format on a CD. The first three levels cost $30 and the last two levels cost $38. You can also purchase all five levels for $132.
I decided to explore this curriculum with my toddler twin boys that are almost two. We used the One to Two level and began toward the end, at the 23rd month. I like the fact that you can start the program at any time, with whichever level you choose.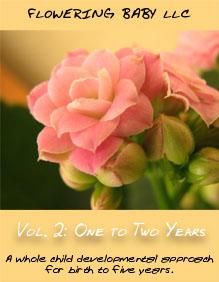 For each day, there is a simple, easy-to-execute activity scheduled, as well as a book to read, or a fingerplay, or song to sing, or music to listen to, or a couple of the aforementioned. The author warns not to let the simplicity of the activities fool you - all the activities are helping to develop a solid foundation for your child. Since each child develops at different rates and has different needs, the author also encourages you to "scale back or push ahead as needed."
At this age, the curriculum focuses on gross and fine motor skills, language development, music and reading appreciation, as well as emotional and social development.
At this level, I felt that the curriculum was very easy to use and easy to implement. It offered flexibility and it was easy to fit the 30-45 minute activities into our day. I'm sensing a theme here - easy! This curriculum showed me just how easy it can be to fit productive, meaningful, and fun activities into our day for the little guys, and give them the quality time they need.
First I checked to see what supplies and books we needed for the month and easily secured the books and music CD at our local library. I didn't have to go out and buy any supplies because everything we would need for the month I already had on hand.
We used the curriculum on a, roughly, daily basis. I didn't plan a set time each day to do the activities with the boys, I just did them when it was convenient for us or when I felt they needed it. If there was a lull in the action or if they were
whining
asking for attention, we would do the activity or read a book or listen to music. Some days we would do the activity and reading and music all together, and some days we spaced them out throughout our day. I didn't always follow the schedule in the order it was presented; I would skip around a bit depending on if the activity fit into our day. Some activities required more time than others, so if we didn't have time for it we would skip to one that didn't require a lot of time. And then there are just some days when this mom doesn't like getting out the messy stuff like finger paints and playdoh, so I saved those activities for the days when I had more energy.
My two older daughters (ages 4 and 5) would often join in on the fun. It was nice to have some little helpers and it was nice that I didn't have to have an extra activity planned to occupy them while I was spending time with their brothers. Some of the fun things we did together over the last month are:
Do the Hockey Pockey
Listen and dance to Latin music
Look through a picture album together (we looked at photo albums on the computer)
Play in a sensory box (we used rice and beans)
Play with Playdoh
Make a road (with masking tape) in the kitchen for their ride-on toys
Played "basketball" with small stuffed animals and a laundry basket
We enjoyed all the activities, but by far the favorites were looking at photo albums (we sat there for at least 40 minutes looking at pictures) and listening to Latin music; they loved dancing to the music and we would often listen to it at dinnertime.
I was really impressed with this curriculum and plan to continue using it with my twins and start using it with our youngest when he is about 3-6 months old. I loved the flexibility and ease-of-use, I loved the variety of activities, and I loved seeing the smiles on my boys' faces! I am very thankful for the opportunity to review this curriculum and make some fun memories with my littles.
If you are interested in making a Flowering Baby purchase, the vendor has graciously offered a 10% discount for you to use. Just use code
Blog10
at checkout.

Disclaimer: I received a free copy of this product through the Schoolhouse Review Crew in exchange for my honest review. I was not required to write a positive review nor was I compensated in any other way. All opinions I have expressed are my own or those of my family. I am disclosing this in accordance with the FTC regulations.
Sharing with: